Pădurea – o rețea socială

www.shutterstock.com
"Mai verzi sunt primăvara pinii, cei verzi întotdeauna." Minamoto no Huneyuki (poet japonez, secolul X)
O prietenă bună mi-a trimis două cărți fascinante despre regnul vegetal. Una, scrisă de un cunoscut forestier și om de știință, Peter Wohlleben, apărută în 2016, este despre lumea copacilor. Se numește The hidden life of trees. Cealaltă, scrisă de Stefano Mancuso, botanist, neurobiolog și om de știință, apărută anul trecut, este despre cea mai străveche națiune, cea a plantelor. Se numește The Nation of plants.
Sigur Bidzina Ivanishvili nu le-a citit. Amândouă sunt lecturi captivante, cărți atât de bine scrise și ușor de citit. Și mai presus de orice, dintre rânduri răzbate pasiunea obsesivă a autorilor pentru lumea verde. Ei, autorii, chiar iubesc copacii. Din aceste cărți aflăm că pădurea este o rețea socială, arborii sunt ființe sociale. Ei comunică între ei, cooperează spre binele lor, avertizează pericolele. Au o senzorialitate complexă, simțuri dezvoltate, senzații legate de miros, umiditate, căldură, zgomot, electricitate, radiații. Când sunt în pericol, copacii emit toxine care îi apără pe ei și pe vecinii lor de agresori, de cei care mănâncă frunze sau vor să-i distrugă. Dar cel mai prețios lucru este cooperarea și ajutorul mutual în cadrul acestei națiuni străvechi, lucru pe care oamenii l-ar putea învăța și folosi pentru viața lor. Lumea verde are 300 bilioane de ani pe planeta noastră și fără ea nici animalele, nici oamenii, nu ar putea trăi. Națiunea plantelor este cea mai extensivă națiune pe pământ, copacii fiind în număr de peste trei trilioane (informație științifică din 2015).
Citește continuarea articolului în ediția de martie 2022 a revistei Psychologies sau abonează-te și primește în dar cartea "Știutorii" cu autograful lui Mircea Cărtărescu.
✖
Mulțumim pentru că vrei să fim prieteni!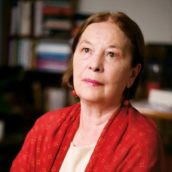 Aurora Liiceanu
Aurora Liiceanu, doctor în psihologie, a lucrat în cercetare și a predat psihologie la diferite universități din București, dar și la UQAM (Canada) sau EHESS (Franța). În prezent este cercetător senior la Institutul de Filosofie și Psihologie "Constantin Rădulescu-Motru" din cadrul Academiei Române.