Festival Urban "Femei pe Matasari"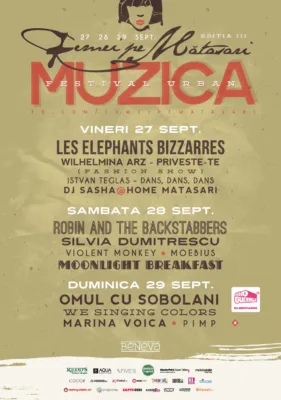 Ajuns la a 3-a editie, Festivalul "Femei pe Matasari" sta de data aceasta, sub semnul EXCELENTEI! Trei zile, o strada, zeci de proiecte, moda, dans, spectacole de teatru si o scena pe care vor urca multi artisti in doua zile dedicate muzicii.
In ultimul weekend din septembrie sarbatorim excelenta definita de femeile puternice din jurul nostru: prietene, iubite, surori, mame, sotii. Femei care au depasit limite, prejudecati, granite, realitati. Femei pentru care s-au inventat complimentele, superlativele si verbele "a fi", "a deveni", "a reusi".
Pentru ele organizam festivalul urban Femei pe Matasari, pe ele le aplaudam timp de trei zile cu invitati de seama.
Pe parcursul celor trei zile Home Matasari se va redefini ca spatiu deschis artistilor plastici si va lansa un dialog intre arta si public prin proiectul WoMANYn COLOURS. Artisti vizuali emergenti un vor aborda subiectul feminitatii prin pictura, sculptura cat si prin noile medii (fotografie, video, video-performance).
PRIVESTE-te – fashion show Wilhelmina Arz cu sustinerea Cristinei Batlan, Madalinei Lazar Mocanu si a lui Laurent Tourette pe muzica live a celor de la Les Elephants Bizzarres. Seara se va incheia cu Dj [email protected] Matasari ( vineri 27 septembrie)
Marina Voica si Silvia Dumitrescu ne vor onora cu excelenta lor in muzica.
Plimbati-va pe Matasari sambata si duminica si veti avea surpriza sa va intalniti cu prietenii nostri de la OCS , MOONLIGHT BREAKFAST, Robin and the Backstabbers , We singing colors, Pimp, Moebius,Violent Monkey, cu Emanuel Mirea , Muse Quartet si multi altii.
Mai multe detalii pe www.facebook.com/Femeipematasari sau www.femeipematasari.ro
✖
Mulțumim pentru că vrei să fim prieteni!