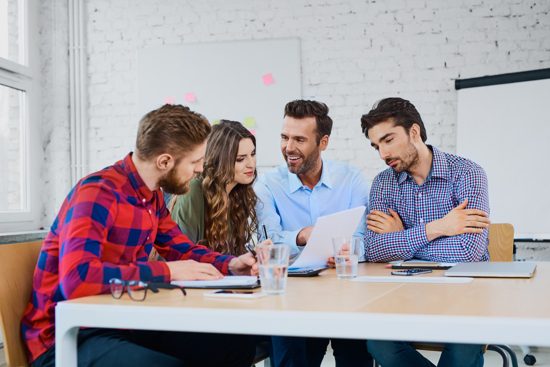 Au aparut diferite persoane care vand pe la companii pachete de coaching, promit marea cu sarea si nu au rezultate. Dar ce este, in realitate, coaching-ul? La ce ajuta si la ce nu?
Psychologies: Ce este si ce nu este coaching?
Adriana Costisanu Savu:  Este un "proces interactiv, care ii ajuta pe indivizi si organizatia pentru a se dezvolta rapid si a produce rezultate satisfacatoare; ca urmare a coaching-ului, clientii isi seteaza mai bine obiectivele, actioneaza, iau decizii mai bune si isi folosesc mai bine abilitatile".
Fiind un parteneriat intre coach si client, coaching este un proces de dezvoltare profesionala sau personala, in functie de alegerea clientului, desi, de cele mai multe ori, cele doua se intrepatrund.
Cele mai cunoscute si folosite tipuri de coaching sunt business coaching, career coaching si life coaching, insa toate vizeaza acelasi lucru, si anume atingerea performantelor maxime si valorificarea potentialului clientului si imbunatatirea unui aspect fie in viata profesionala, fie in viata personala.
Coaching este un demers de renuntare la rutina mentala si vine dintr-o conceptie holista a omului asupra lumii sale, este un proces de interactiune dinamica, care se bazeaza pe comunicare bilaterala, fara sa se dea instructiuni sau sfaturi.
Avand caracter non-directiv, ajuta clientul sa-si gaseasca toate resursele necesare pentru a performa.
Coach-ul isi ajuta clientul sa lucreze pe stima de sine, sa aiba incredere in el, sa fie mai atent la propria persoana, precum si la lumea in care traieste; este ghidat sa se asculte, sa respecte ceea ce simte – in felul acesta, isi poate dezvolta autonomia si isi poate imbunatati relatiile cu ceilalti.
Coach-ul nu impune, nu sfatuieste si nu interpreteaza, ci isi insoteste clientul in procesul de evolutie, dezvoltare si schimbare.
Coaching nu este consiliere, consultanta, mentorat sau psihoterapie. Exista diferente mai mici sau mai mari intre aceste concepte, insa cel mai mult coaching este confundat cu un fel de psihoterapie, ceea ce este total gresit.
In timp ce psihoterapia este orientata spre trecut, in vederea unei restructurari a personalitatii, pentru a permite pesoanei sa-si traiasca mai bine prezentul si este centrata pe rezolvarea simptomatologiei, coaching este orientat spre viitor, pentru valorificarea potentialului si atingerea scopurilor personale sau profesionale.
Gina Costisanu Bianu: Referindu-ne la etimologia cuvantului, termenul coaching isi are radacinile in mediul sportiv.
Timothy Gallwey detaliaza acest aspect in cartea sa The Inner Game of Tenis explicand ca, inainte de a pretinde ca isi va intrece concurentii, orice sportiv trebuie, mai intai, sa infrunte adversarul din sine si sa treaca peste obstacolele si barierele interioare care-l impiedica sa-si puna in valoare intregul potential.
Concret definit, coaching este procesul prin care o persoana isi gaseste propriile solutii la problemele sale, personale sau profesionale, cu ajutorul altei persoane, numita coach.
Altfel spus, coaching inseamna acompanierea unei persoane pana la atingerea obiectivelor pe care aceasta si le propune.
Coach-ul nu il invata pe client ce sa faca, pentru ca, in definitiv, asa cum bine a spus Carl Rogers, nimeni nu poate invata nimic pe nimeni.
In plus, nimeni nu detine solutia perfecta, nici coach-ul, nici clientul indrumat, ci solutia se naste din intersubiectivitate, din confruntare.
Rolul sedintelor de coaching este de a ajuta persoana sa constientizeze, sa vrea sa se transforme, sa vada lucrurile dintr-o alta perspectiva, sa apeleze la toate resursele sale pentru a facilita schimbarea, evolutia, dezvoltarea, reusind in felul acesta sa-si creeze o viata pe care si-o doreste.
Fiind vorba despre un parteneriat intre cei doi, coach-ul nu poate fi numit terapeut sau consilier, ci, mai degraba, facilitator al schimbarii si evolutiei clientului.
Coaching nu vizeaza doar o mai buna cunoas­tere de sine, a propriei persoane in raport cu ceilalti, ci si o mai buna cunoastere in raport cu sine, fiind un proces complex, profund, transformational, care "antreneaza" oamenii sa isi atinga potentialul.
Coaching poate fi folosit pentru depasirea unei difi­cultati (in cariera sau in viata personala) sau pentru optimizarea punerii in practica a unui proiect, sau a unui comportament si acopera trei aspecte:
Coaching pentru rezolvare – care vizeaza depasirea unei dificultati;
Coaching pentru dezvoltare – care se refera la pro­gresul intr-o anumita directie;
Coaching strategic – cu ajutorul caruia se poate dez­volta un plan de evolutie.
De obicei, coaching se adreseaza mai mult vietii profesionale, dar exista si un alt tip de coaching, denumit life-coaching, care abordeaza situatiile vietii private, cum ar fi: comunicare, branding personal, relatii sociale, educarea copiilor, relatii interpersonale, proiect de viata, depasirea unei crize etc.
In cadrul procesului de coaching sunt identificate tiparele obisnuite de gandire a clientului si, prin dialog si intrebari structurate, acesta este mobilizat sa identifice si sa testeze solutii noi, creative si originale, adaptate realitatii sau situatiei cu care se confrunta.
Astfel, se pot deschide noi optiuni si posibiltati de actiune. Coaching nu este psihoterapie, desi a imprumutat cateva din tehnicile acesteia.
Se diferentiaza insa prin faptul ca, la terapie, vin oameni care considera ca ceva nu merge in viata lor, sunt nemultumiti de o anumita situatie, pe cand, la coaching, cineva poate apela doar pentru a-si imbunatati viata, pentru a fi mai bun in ceea ce face.
Coaching nu este nici consiliere, nici consultanta, intrucat nu se ofera solutii, ci se ofera asistenta pentru a gasi clientul cea mai buna solutie.
Coaching nu este training, deoarece nu se transfera cunostinte, ci clientul doar este acompaniat pentru a-si pune in valoare propriile resurse.
Care sunt derapajele care pot fi vazute in companii azi
Cand lucrurile nu mai merg bine intr-o companie, cand se intrevede o scindare la nivel de perceptie asupra modului in care ar trebui sa se intample lucrurile, cand exista provocari si derapaje evidente, se poate apela la diagnoza organizationala – un instrument care analizeaza climatul si cultura organizationala.
Astfel, pot fi identificate problemele existente in companie si pot fi propuse solutii personalizate. Cele mai intalnite provocari/derapaje cu care se poate confrunta o companie sunt: gradul scazut de motivare si implicare a angajatilor, comunicarea defectuoasa, stresul la locul de munca si conflictele intre angajati.
Demotivarea angajatilor
Demotivarea apare din cauza lipsei de coerenta a erorilor in management, a controlului prea strict, a discrepantei intre salariu si munca depusa, a monotoniei activitatii sau a lipsei de apreciere.
Importanta este si implicarea angajatilor in luarea anumitor decizii, conform statutului lor, cum ar fi atunci cand se initiaza un nou proiect sau se fac schimbari care-i vizeaza direct.
Comunicarea defectuoasa apare pe fondul unor bariere in comunicare, precum, spre excemplu, cele de limbaj.
Apar dificultati de exprimare, care duc la expresii sau cuvinte confuze ori cu sensuri diferite pentru persoanele implicate in actul de comunicare, deoarece limbajul folosit trebuie sa fie unul adecvat situatiei, dar si partenerului de comunicare.
Apar de asemenea si bariere de mediu caracterizate prin poluare fonica ridicata, de exemplu sau bariere de conceptie – atunci cand este vorba de exprimarea gresita a mesajului sau de lipsa de interes a receptorului fata de mesaj.
Din acest motiv, informatiile nu mai circula normal pe caile prestabilite, fluxul informational nu circula eficient, ideile sau conceptele nu mai ajung in formatul originar la destinatar, astfel ca sarcinile sunt interpretate gresit, zvonurile creeaza confunzie in interiorul organizatiei, iar activitatea organizationala este grav perturbata.
Confuziile, neintelegerile sau, mai rau, indeplinirea defectuoasa a sarcinilor angajatilor sunt cele mai frecvente efecte ale barierelor de comunicare organizationala.
Stresul la job
Un alt derapaj existent in companii este stresul la locul de munca, iar acesta poate fi generat de mai multi factori: volumul excesiv de munca, schimbarile organizatorice necorespunzator gestionate, confictele cu colegii, cerintele contradictorii din fisa postului sau nesiguranta locului de munca.
Mai putem vedea teama angajatului de a nu face fata cerintelor postului, neintelegerea indatoririlor, atmosfera tensionata la locul de munca, conditiile de munca precare sau presiunea termenelor.
In timp, toate acestea pot avea efecte negative la nivel psihologic, fizic sau social si, daca nu se iau masuri, duc, in final, la epuizare (sindromul burn-out) sau chiar la depresie.
Efectele stresului se vad imediat la nivel comportamental, prin performanta scazuta, lipsa de interes, absenteism, precum si la nivel psihologic, prin irascibilitate, frustrare, senzatie de oboseala, labilitate emotionala sau.
Adriana Costisanu Savu este psiholog clinician, psihoterapeut, doctorand in Medicina, UMF "Carol Davila"
www.adrianasavu.ro
Gina Costisanu Bianu este psiholog clinician, psihoterapeut, doctorand in Medicina UMF "Carol Davila"
a consemnat Iuliana Alexa
Foto: shutterstock.com
✖
Mulțumim pentru că vrei să fim prieteni!