De ce nu tolereaza romanii homosexualitatea?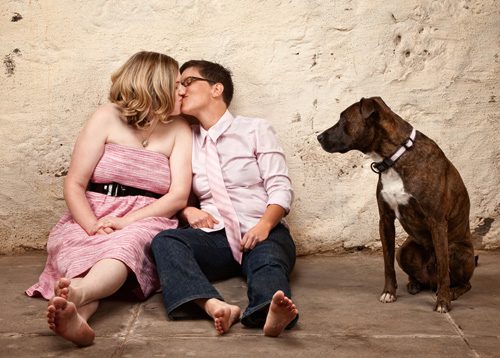 De curand a avut loc la un cinema bucurestean un incident tragicomic. Prezenti la proiectia unui film in care protagoniste erau doua lesbiene, spectatorii s-au trezit cu huiduieli din partea unui grup de militanti contra comportamentului homosexual.
Dincolo de luarile de pozitie partizane, se cade o analiza a fenomenului. De ce nu tolereaza romanii homosexualitatea? Este intoleranta aceasta un comportament izolat? Sunt romanii intoleranti la nivel de masa sau doar grupuscule radicale se exprima poate prea vocal? Am facut apel la cativa oameni reprezentativi in aceasta problematica, mai complexa din punct de vedere sociologic decat pare la prima vedere. Dau cuvantul unor specialisti din diverse arii de expertiza, care au legatura cu acest subiect fierbinte, si va las sa trageti concluziile singuri. Am adaugat si confesiunea a doua femei prezente la proiectia de film, pentru a avea acces la ceea ce simte persoana discriminata. Pentru inceput, o explicatie stiintifica. Persoanele de orientare homosexuala au pur si simplu creierul altfel…
DRAGOS CIRNECI – SPECIALIST IN NEUROSTIINTE
"Homosexualitatea este un fenomen foarte raspandit in natura, nu e ceva legat de «pacatele» oamenilor. Dat fiind ca ea apare la mai mult de 450 de specii, oamenii de stiinta s-au gandit ca sigur este vorba despre ceva biologic. Se stia din anii '90 ca zonele din creier care se ocupa cu determinarea sexului – adica partea anterioara a hipotalamusului – difera la oamenii homosexuali. Astfel, aceasta zona este de doua ori mai mare la barbati decat la femei, iar la barbatii homosexuali are aceeasi dimensiune ca si la femei. Iar aceasta particularitate ii face pe homosexuali sa raspunda la feromonii emisi de persoane de acelasi sex si nu de sex opus." (http://dragos-cirneci.blogspot.ro/2013/02/homosexualitatea-efect-secundar-al.html)
CRISTIAN JURA, DOCTOR IN DREPT, SECRETAR DE STAT, CONSILIUL NATIONAL PENTRU COMBATEREA DISCRIMINARII
Contextul in care s-au petrecut evenimentele de la cinematograful din Bucuresti este ciudat. Un grup de persoane intrerup un eveniment finantat de Ambasada Olandei la Bucuresti, de ERSTE Foundation si de Ambasada SUA. Cele trei institutii decid sa finanteze proiectia filmului The Kids Are All Right, din 2010. Filmul este proiectat in cadrul festivalului Luna LGBT. Distributia filmului este remarcabila: Julianne Moore, Annette Bening, Mia Wasikowska, Mark Ruffalo. Filmul a fost distins cu Golden Globe, iar subiectul este de mare actualitate: procentul tot mai mare al femeilor care recurg la inseminare artificiala sau la fertilizare in vitro pentru a putea avea un copil. In film, doi copii conceputi printr-un astfel de procedeu doresc sa-si cunoasca tatal si sa se implice in viata de familie.
Un grup de persoane patrunde in cinematograful din incinta MTR si intrerupe proiectia filmului, intoneaza cantece bisericesti si scandeaza lozinci homofobe… Astfel de manifestari, tulburari ale linistii si ordinii publice, sunt de competenta firmelor de paza, politiei si jandarmeriei. De altfel, Ambasada SUA in Romania si-a exprimat regretul ca fortele de ordine nu au intervenit pentru a se putea continua proiectia filmului.
Consiliul National pentru Combaterea Discriminarii a condamnat public manifestarile homofobe care au avut loc miercuri, 20 februarie 2013, la MTR. Boicotarea si impiedicarea organizarii unui astfel de eveniment constituie o incalcare a dreptului fundamental la libertatea de constiinta, libertatea de exprimare, dreptul la informatie si libertatea intrunirilor prevazute in Constitutia Romaniei si in tratatele internationale privind protectia drepturilor fundamentale ale omului, la care Romania este parte.
Ce este, din punct de vedere legal, discriminarea, si cate plangeri de genul acesta vin la CNCD? Prin discriminare se intelege "orice deosebire, excludere, restrictie sau preferinta, pe baza de rasa, nationalitate, etnie, limba, religie, categorie sociala, convingeri, sex, orientare sexuala, varsta, handicap, boala cronica necontagioasa, infectare HIV, apartenenta la o categorie defavorizata, precum si orice alt criteriu care are ca scop sau efect restrangerea, inlaturarea recunoasterii, folosintei sau exercitarii, in conditii de egalitate, a drepturilor omului si a libertatilor fundamentale sau a drepturilor recunoscute de lege, in domeniul politic, economic, social si cultural sau in orice alte domenii ale vietii publice". Contraventiile prevazute de O.G. 137/2000 se sanctioneaza cu amenda de la 400 lei la 4.000 lei, daca discriminarea vizeaza o persoana fizica, respectiv cu amenda de la 600 lei la 8.000 lei, daca discriminarea vizeaza un grup de persoane sau o comunitate (potrivit art. 2, alin.1 din O.G. nr. 137/2000, republicata).
Procentual, petitiile adresate CNCD pe criteriul orientarii sexuale reprezinta aproximativ 1% din numarul total al petitiilor. Cum sunt ele tratate? La CNCD nu se face nicio discriminare in solutionarea lor. Atunci cand a fost cazul, CNCD a constatat fapta de discriminare si a aplicat sanctiuni. Dar au fost si cazuri in care nu am putut constata fapte de discriminare. De exemplu, in cazul unei persoane de sex masculin care era imbracata cu haine feminine si care a dorit sa isi deschida un cont. Banca a refuzat deschiderea contului pentru faptul ca nu exista o concordanta de identitate intre actul de identitate si identitatea afisata de persoana care s-a prezentat la ghiseu… In acest caz, decizia bancii a fost justificata obiectiv, de un scop legitim.
IRINA NITA – FUNDATIA ACCEPT
La aproape toate evenimentele Lunii Istoriei LGBT 2013, participantii au fost intr-un numar dincolo de orice asteptari. La vernisajul expozitiei Inside Insights au fost cam 300 de oameni, iar la Biblioteca vie, desi am avut 15 «carti», cititorii au fost nevoiti sa astepte si sa se programeze, ca sa ajunga la ele. Mi se pare semnificativ si faptul ca organizatiile si institutiile care ni s-au alaturat, au facut-o, majoritatea, din proprie initiativa. Contributia partenerilor a fost adesea consistenta, acestia organizand integral evenimente asezate sub umbrela Lunii. Este o schimbare foarte mare de la primii pasi, in care ACCEPT era singura voce care aducea in spatiul public discutiile despre orientare sexuala si identitate de gen.
Pe de alta parte, cresterea vizibilitatii actiunilor noastre aduce automat si o crestere a intensitatii raspunsului extremist. In aceasta luna, reactiile homofobe au fost fara precedent. Se vede asta in special online si prin actiunile de boicot care au culminat cu blocarea unuia dintre evenimentele noastre. Mi se pare inacceptabil ca niste oameni s-au folosit de o gresit inteleasa libertate de exprimare ca sa saboteze o proiectie de film si mi se pare incredibil ca fortele de ordine nu au actionat pentru remedierea situatiei. Daca niste spectatori ar fi blocat proiectia unui film oarecare, in mod sigur acestia ar fi fost indepartati de paza cinematografului, de jandarmi si de politisti. De aceasta data, fortele de ordine au fost confuze si… echidistante!
Pentru noi, sper ca acesta sa fie un moment care sa ne ajute sa facem mai clara distanta uriasa care exista in Romania intre lege si practica. Legea romana garanteaza nediscriminarea si sanctioneaza infractiunile motivate de ura, dar in realitate fortele de ordine sunt ineficiente ori de cate ori inainte amintitele legi ar trebui aplicate. Avem nevoie de traducerea in viata de zi cu zi a protectiei oferite teoretic de lege persoanelor LGBT, si situatiile de felul boicotului de la MTR sunt de natura sa determine o schimbare in aceasta privinta. Sper.
"Legile din tara mea nu ma protejeaza de discriminare – TIBERIU
Sunt revoltat ca cineva indrazneste sa intre neinvitat in viata mea, sa ma agreseze si sa i se permita acest lucru. Revolta mea nu vine de la faptul ca acei oameni au oprit proiectia filmului de la MTR. Nicidecum! Am inteles de multa vreme ca lumea e plina de nebuni. Sunt revoltat ca autoritatile din tara mea permit ca cei care striga «moarte homosexualilor!» sa se bucure in continuare de libertate.
Sunt revoltat ca traiesc intr-o tara in care Biserica are mai multa putere decat a avut in Evul Mediu si o foloseste impotriva mea, ingradindu-mi farama de libertate. Sunt revoltat ca, desi platesc aceleasi taxe ca si prietenii mei heterosexuali, nu ma bucur de aceleasi drepturi si libertati. Ca mi se cere in permanenta sa ma justific sau sa ma disculp. Sunt revoltat ca legile din tara mea nu ma protejeaza de discriminare si ca am ajuns sa ma bucur de libertate numai cand imi petrec vacantele in tari in care a fi gay este la fel de normal ca a fi saten. Realitatea este ca m-am saturat sa-mi cenzurez gesturile fata de omul pe care-l iubesc, atunci cand ies pe strada.
M-am cam saturat sa tooooot incerc sa schimb mentalitatile unor oameni incapabili sa vada dincolo de «normalul» lor… sexul oral si cel anal sunt practici obisnuite in cuplurile heterosexuale. Niciodata nu am inteles de ce sunt considerate «perversiuni» daca in pat sunt doi barbati. Sunt revoltat ca oamenilor din tara mea le lipseste educatia! De fapt, cred ca de aici pleaca totul. Ma intreb daca romanii au auzit de live and let live. Personal, nu vreau sa fiu «acceptat». Nu consider ca trebuie sa dau explicatii nimanui despre ceea ce fac, cu cine si de cate ori pe noapte. Vreau doar sa fiu lasat in pace."
✖
Mulțumim pentru că vrei să fim prieteni!
Iuliana Alexa
Iuliana Alexa a fost redactorul-sef al revistei Psychologies de la aparitia primei editii a revistei până în anul 2019. Iuliana a absolvit Facultatea de Litere si este coach.