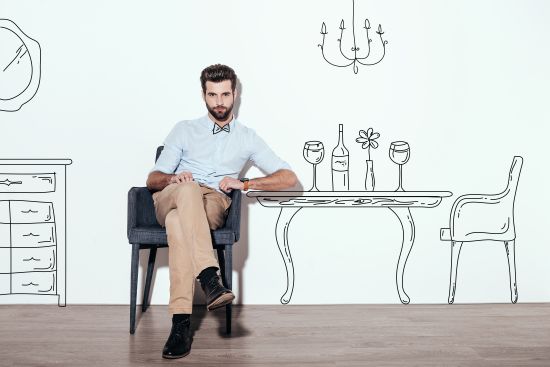 Ce le mai place femeilor la un bărbat? Care mai e moda? De-a lungul timpului, canoanele de frumusețe, de performanță și reperele a ceea ce este dezirabil se schimbă. Cu siguranță, ce le-a atras pe bunicile noastre la… bunici, e depășit azi.
Pe vremuri, femeile țineau să se mărite cu un bărbat stabil, care să aducă banii acasă. Să nu le facă de rușine când merg la neamuri sau să nu se îmbete prea tare…
Moravurile au evoluat extrem de mult în câteva decenii și azi vrem, de la bărbatul de la lângă noi, ceva mai mult de atât. Dar ce?
Observăm că femeile au pretenții destul de nuanțate. Unora le plac hipsterii, altora – nu. Pentru unele contează stilul lui, altele observă doar dacă și-a schimbat șosetele.
Citește și:
De ce atragi același tip de bărbați
Test: Ce succes ai la bărbați? Folosești corect armele seducției?
Ana Maria – Îmi plac bărbații fercheși, bine rași, care miros frumos
"Eu recunosc că mă uit la felul cum se îmbracă. Îmi plac bărbații care se preocupă de aspectul lor fizic, dar nu în exces. Asta mi se pare că îi feminizează.
Nu știu de ce un bărbat nu pricepe că a fi îngrijit nu presupune să împrumuți de la femei toate izmenelile lor. Nici ei nu se dau în vânt după femei care sparg lemne sau conduc tractorul și nu se epilează pe picioare.
De ce ar fi invers în cazul nostru?! Îmi plac, deci, bărbații fercheși, bine rași, care miros frumos, dar niciodată puternic. Dacă îți pot simți parfumul de la un metru, nu e bine, nu vreau să te mai văd!
Parfumul e o chestie extrem de intimă, o miroși când ești în spațiul personal al lui (e valabil și la femei), la câțiva centimetri de gât, de ceafă, de obraz. Parfumul puternic e la fel de țipător ca și rozul combinat cu galben!
Îmi plac bărbații care știu să poarte un costum și nu arată totuși ca niște ciocli. A purta cum trebuie un costum, presupune mult rafinament. Nu pot privi pantofii fără șosete și nici bermudele.
Bermudele ar trebui interzise la ambele sexe, ele taie piciorul, vizual, și te fac mai scund și fără stil. Îmi plac bărbații manierați. Cei care se ridică de pe scaun când intră o femeie, fie ea și bucătăreasa.
Cei care nu folosesc politețea ca pe o armă de seducție, ci e în natura lor. Pentru seducție, au și alte arme… Politețea mă impresionează pentru că e complicată și nu e de colo să știi să mănânci corect un biban cu tacâmurile aferente.
Îmi plac bărbații discreți, care nu vor să demonstreze neapărat ceva. Care știu să tacă. Cei care au o umbră de ironie și te ascultă de parcă spui prostii, cu zâmbetul la colțul mustății (da,îmi plac mustăcioșii demodați).
Îmi plac bărbații fideli, fidelitatea e o probă de maturitate și de caracter. Dacă știu că e bogat, deștept, elegant, dar calcă strâmb și își înșală prietenele, mă întristez. Nu e nimic sexi în a lăsa «baie de sânge» în urmă."
Mihaela – Apreciez ambiția, încrederea în sine, curajul și înțelepciunea
"Îmi place bărbatul îngrijit, preocupat de sănătatea lui. De asemenea, este important ca bărbatul de lângă mine să fie empatic, grijuliu, să aibă cultul familiei, să fie răbdător, iubitor. Aici vorbesc despre soțul meu, desigur!
Fiind o familistă, am ales bărbatul cu care să am o relație echilibrată și care să-și dorească familie la fel de mult ca și mine.
Apreciez și ambiția, încrederea în sine, curajul și înțelepciunea, grija pentru mediu și animale, dorința de autodepăsire și de muncă. Ce nu îmi place… Lista este lungă…
Mitocănia, violența, consumul de alcool fără limite, minciuna, trândăvia, bârfa și vorbitul mult despre nimic. Nu-mi plac bărbații efeminați.
Nu mă văd mergând de mână cu o păpușă ultrapensată și epilată și cu gusturi vestimentare îndoielnice. Indiferent de cât de bine arată un bărbat, dacă lovește un animal sau aruncă o hârtie pe jos, este la fel de dezgustător ca și unul care zace beat în șanț…"
Adina – Să nu se mai creadă the ultimate male in the world
"Bărbatul pe care îl vreau eu? Să fie bun lover, bun la suflet, darnic, calm. Defecte pe care nu le pot tolera: să nu se mai creadă the ultimate male in the world, să nu râgâie și să nu tragă pârțuri, chiar dacă sunteți împreună de 20 ani;
să nu mai creadă că doar el e important în pat sau că doar el o are mare. Și că mărimea contează…"
Andreea – Să nu fie afemeiat, infidel, inconstant, mincinos
"Să nu fie băiatul mamei, influențabil, imatur, «netrăit». Nici carierist obsedat  nu este bine. Nu arondat «haitei de băieți», cu care vrea să cutreiere lumea și cluburile.
Să nu fie afemeiat, infidel, inconstant, mincinos. Să nu consume alcool în exces, să nu se drogheze. Să nu fie bătrân!
Cu maxim nouă-zece ani mai mare ca mine. Să nu fie zgârcit. Să nu fie prost crescut, bădăran, să nu aibă intervenții și glume de proastă calitate. De preferat, să aibă aceleași preferințe muzicale ca și mine."
Julia – Să știe să asculte și să fie calm și răbdător
"Vreau să fim compatibili. Să împărțim același soi de nebunie și, foarte important, să nu simt nevoia să port măști, să mă simt bine așa cum sunt. În rest, mi-ar plăcea să știe să asculte și să fie calm și răbdător.
Și să aibă resurse să mă încurajeze și să mă susțină atunci când am nevoie de asta. Dacă are și doi neuroni, dintre care unul cu simțul umorului…, deja vorbim despre un ideal.
Calități atrăgătoare: să știe să se descurce în viață și să fi realizat ceva prin forțe proprii. Îmi plac bărbații motivați și hotărâți."
Oana – Nu mă pot apropia nicicum de oamenii care mi se par urâți
"La modul general, un bărbat care să-mi întoarcă privirile trebuie să fie în primul rând îngrijit, manierat, cu simțul umorului și autoironic.
Pe vremea când nu eram nevastă, dacă un bărbat și-ar fi dorit să mă cunoască, avea șanse doar dacă se purta frumos, era amuzant și autoironic, mirosea bine și arata la fel. 
Știu că sunt superficială, dar dacă un bărbat mi se părea cumplit de urât, ar fi putut fi cel mai bun, amuzant, manierat, îngrijit bărbat din lume, că nu aș fi ajuns niciodată să aflu asta;
pur și simplu nu mă pot apropia nicicum de oamenii care mi se par urâți, evident, există posibilitatea ca ceea ce văd eu urât să fie minunat pentru altcineva, dar… frumusețea e o noțiune subiectivă și vorbesc strict de mine.
Și dacă și la o a doua, a treia privire mai atentă omul se dovedea a fi la fel ca la prima vedere, avea și șanse. Dar și niste teste de trecut, pentru că nici eu nu sunt tocmai cea mai comodă persoană.
Adică trebuia să treacă de exemplu testul autocunoașterii (nu-mi plac deloc ei care nu știu ce vor) și testul răbdării (pot fi al naibii de enervantă și îmi place să apăs butoane sensibile)."
✖
Mulțumim pentru că vrei să fim prieteni!