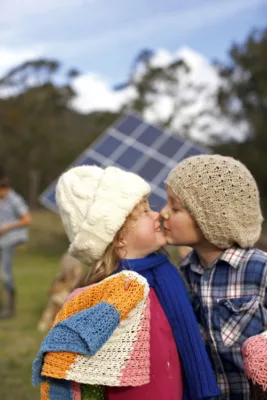 O intrebare la care par sa fi incercat un raspuns aproximativ numai poetii. Psihologii studiaza abia de cateva decenii mecanismele neurale ale iubirii, iar concluziile sunt departe de a fi la indemana simtului comun…
Starea aceea de gratie, de nebunie si de entuziasm, pe care nu prea o mai experimentam in alte situatii din viata, starea aceea la care se gandesc cu jind si melancolie chiar si cei trecuti de varsta reproductiva (care contrazice ideea ca dragostea nu este decat o constelatie de comportamente si emotii puse in creierul nostru pentru a servi scopul orb al perpetuarii speciei)…
In Patericul Egiptean, culegere de pilde despre sihastrii din pustiul Egiptului, se mentioneaza calugari indragostiti la 72 de ani! – te intrebi atunci de unde vine (ca experienta anterioara nu au avut-o, hormonii s-au stins de mult, etc.), starea aceea de maxima inspiratie, de chef de viata, de optimism si de sens pe care o da primul capitol dintr-o poveste de iubire…
Da, ramane la fel de enigmatica, desi se incearca explicarea ei. Psihologii incearca sa clasifice comportamentele legate de iubire, antropologii sa le inscrie in tipare culturale. Specialistii in neurostiinte sunt cei mai prozaici. Ei pun la RMN oameni atinsi de Cupidon si fac harti cerebrale ale acestora atunci cand subiectii se pierd in reverii cu partenerul si au electrozi lipiti pe cap.
CHIMIA EXTAZULUI SI A IADULUI
Helen Fisher este o celebra cercetatoare a creierului inamorat. Cartea ei, Why We Love (2004), propune un raspuns la aceasta intrebare pe care ne-o adresam si noi obsesiv, mai ales atunci cand lucrurile ies prost si am vrea sa scapam mai repede de chinul si frustrarea care ne inghit toata energia uneori si ne fac nefunctionali pana la… vindecare. Pentru ca ne vindecam noi la un moment dat! Dar oamenii, de-a lungul istoriei, au ucis si s-au sinucis din dragoste. Parting is all we need to know of hell, scria Emily Dickinson. Despartirea ne da o idee clara despre iad, nu?
Atunci, de unde vine forta aceasta uriasa de a motiva comportamente extreme? Aria cerebrala care se activeaza in creierul indragostit la evocarea partenerului este aceeasi care se coloreaza atunci cand creierul este… drogat. Da, indragostirea e foarte asemanatoare cu adictia. De fapt, din punct de vedere biologic, neurologic, procesele sunt identice. Sunteti scandalizati de lipsa de romantism a acestei concluzii? Sa nu fiti! Dimpotriva, mi se pare ca deschide o portita catre descoperiri optimiste. Cine a vazut iar si iar Eternal Sunshine of the Spotless Mind stie ca oamenii isi doresc vindecarea rapida, stergerea cu buretele a amintirilor din vremea iubirii, pentru a-si recapata echilibrul. Chiar daca suna prozaic, daca pe viitor vreun biochimist va descoperi medicamente de "dezindragostire" s-ar putea sa se imbogateasca…
MISTERUL ALEGERII IN AMOR
Helen Fisher a descoperit totusi de ce ne indragostim. Sau de ce ne cade cu tronc o anumita persoana. Octavio Paz, poetul mexican care a luat in '90 Nobelul pentru Literatura, spunea ca misterul iubirii sta in alegere, in exclusivitate. De ce ea? De ce el? Cand exista atatia potentiali parteneri "pe piata"… Freud avea propria teorie, cum ca alegem partenerii in functie de imaginea parintelui de sex opus, in opozitie sau in congruenta si competitie cu acesta. Poate. Sa recunoastem: coerenta teoriei lui Freud o face sa reziste si sa faca epigoni culturali (Woody Allen a facut o cariera din relatarea nevrozelor omenesti reflectate in amor).
Dar Fisher are propria teorie. Oamenii se aleg intru iubire conform unor criterii de care nu sunt constienti, dar care au legatura cu propria personalitate. Oamenii cauta inconstient ceva care ii completeaza ca personalitate si gasesc parteneri care le ofera experiente satisfacatoare criteriilor personale si valorilor proprii. Imaginati-va situatia urmatoare: un artist experimental, ahtiat dupa experiente noi, originale, intense. Se va simti el atras de o femeie pragmatica, inexpresiva din punct de vedere emotional? De o femeie care nu-si doreste decat o gospodarie normala, copii si se teme de experiente extreme?
Putin probabil. Helen Fisher a decelat cateva profiluri de personalitate si a facut o schema a alegerilor acestora. Constantele exista si ele. Ne indragostim de oameni din acelasi strat social, cu aceleasi valori politice sau religioase, cu acelasi nivel de inteligenta si atractivitate (se numeste "cuplare asortativa", adica nu veti vedea prea des pe strada un barbat urat cu o zana; de obicei, oamenii frumosi se cupleaza cu oameni frumosi, si invers).
Experimentatorul: este ahtiat dupa nou, impulsiv, independent, energic, vesel, nu-i pasa de stabilitate, e inclinat catre multiplicitatea partenerilor si sexualitate bogata si inselare. Nu da multe parale pe stabilitate. Curios, va alege, in majoritatea cazurilor, alti Experimentatori.
Negociatorul: el e un filozof. E calm, rational, destul de rece emotional; e introspectiv, analitic… Are imaginatie si prefera sa vada contextul cel mai larg, dar nu neaparat sa ia decizii, pentru ca el contempleaza; tinde sa se cupleze cu Directorul, pentru ca este mai agreabil, mai sociabil, decat cel din urma si il compenseaza pe acesta la acest capitol. El e, prin definitie, cel care cauta solutiile win-win. Negociatorul face partida buna cu Directorul.
Directorul: logic, rational, teoretic, exact, ambitios. Pragmatic, competent, dar inexpresiv emotional. Independent si analitic. Au nevoie sa aiba autoritate. Sunt persoane cu nivel mare de testosteron, asertivi, dominatori. Nu sunt foarte simpatici, in general, tocmai pentru ca vor sa domine. Femeia Director merge catre barbatul Negociator. Dar barbatul Director tinde sa se apropie (din proprie initiativa) de femei la fel de puternice ca el, de Directoare.
Constructorul: traditional, conventional. Constructorii muncesc, au rabdare. Respecta autoritatea, sunt calmi, cooperanti, concreti, ordonati, persistenti. In general, femeia Constructor se cupleaza cu un barbat Constructor, si viceversa.
Sigur, clasificarea este foarte generala, oamenii pot avea trasaturi din fiecare. Dar un anumit temperament biologic e dominant. Si nici macar asta nu da un raspuns definitiv la intrebarea "de ce ne indragostim"? Creierul este o entitate capricioasa si contextul este esential. Poate ca vremea de afara te face mai putin deschis la indragostire, faptul ca ai de invatat pentru licenta la Medicina te face indisponibil emotional etc. Dar sa recunoastem: ne place misterul iubirii si nu-l vrem devoalat.
✖
Mulțumim pentru că vrei să fim prieteni!
Iuliana Alexa
Iuliana Alexa a fost redactorul-sef al revistei Psychologies de la aparitia primei editii a revistei până în anul 2019. Iuliana a absolvit Facultatea de Litere si este coach.