Sex de la prima intalnire?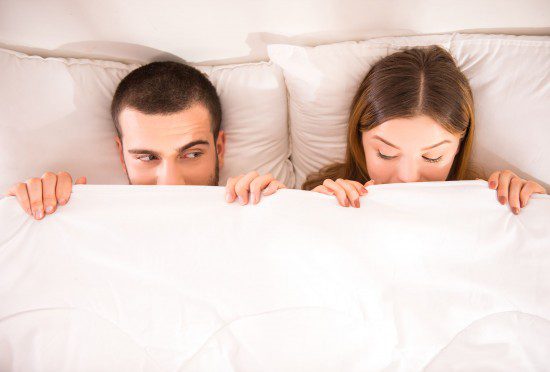 Deseori ne intrebam care este raspunsul la aceasta intrebare. Atractia exista, am vrea sa facem acest pas, dar este prima intalnire si ne impiedicam de "dar daca…". Iata o explicatie.
Etichete…
Imginati-va un barbat care-si impune aceasta regula. Ar fi perceput drept un tip care nu prea le are cu sexul, nu-i asa? Dar o femeie, alta treaba!
Femeia trebuie sa isi infraneze impulsurile, ceea ce, de-a lungul istoriei, a fost perceput drept pacat si desfranare…
In plus, sexualitatea nu ar trebui sa treaca inaintea sentimentelor, nu-i asa? Sa fie doar o incununare a acestora…
Iata-le, asadar, pe aceste fete de moravuri usoare care nu rezista dorintei, fete care se supun dorintelor masculine. Ce sa credem despre ele? Ca nu stiu ce vor, ca nu au respect de sine, ca sunt prea masculine in comportamentul lor?
Femei incapabile sa regizeze sentimente, femei superficiale si frivole. Nu-i asa ca va deranjeaza aceste etichete?
Ei bine, ele sunt inca lipite cu generozitate pe fruntea fetelor si femeilor care prefera sa nu se complice cu o relatie, bucurandu-se, in acelasi timp, de placere si de sex.
Frivolitate sau nu?
Culmea ironiei: o femeie care se vrea libera de prejudecati e incondeiata drept "frivola". Si nu sunt putine femei care eticheteaza alte femei cu astfel de adjective.
Nu e greu de ghicit de unde vine: dintr-o educatie de cateva generatii facuta fetelor care trebuiau sa fie "pure" inainte de casatorie.
Ideile cu care mamele si bunicile noastre au crescut, nu dispar nici din inconstientul nostru asa de repede. De aici, culpabilitatea, jena, ba chiar acceptarea nefericirii conjugale din cauza acestui conservatorism sexual.
Dar daca…
Dar daca am lasa femeilor corpul lor? Daca le-am invata ca si din punct de vedere sexual informatia este importanta?
Si ca, daca afla mai repede cat de compatibile sunt la orizontala cu un barbat, acest fapt nu poate fi decat unul pozitiv, care le scuteste de pierderea timpului si de atasamente premature cu cineva cu care nu sunt pe aceeasi lungime de unda?
Daca ne-am invata fiicele ca sexul nu este doar un drept masculin si ca, daca sunt responsabile si privilegiaza sanatatea, este un drept care le apartine in egala masura?
Daca le-am spune ca nu orice barbat cu care au facut dragoste trebuie sa devina sortitul lor? Ca sexul este mai bun daca e lipsit de culpabilitate si de presiunea sociala de a… duce undeva?
Ca nu trebuie sa transforme in sot orice amant si ca asta nu le face sa fie nici frivole, nici iresponsabile, ci pur si simplu… femei?
Feminismul
Vor mai trece, probabil, cativa ani pana cand invatamintele feminismului vor fi integrate corect si nu vor mai duce la excese (nu orice femeie este precum Samantha din Sex and the City, dar nici ca Charlotte). Cert este ca anumite culpabilitati subzista, iar "sexul din prima" este una din acestea.
Foto: 123rf.com
✖
Mulțumim pentru că vrei să fim prieteni!