Conventia Yin&Yang, provocari pentru minte si corp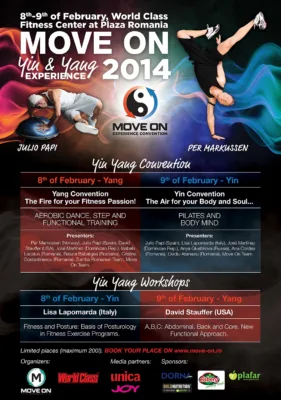 Fitness, dans, yoga, concepte noi de antrenament, campioni internationali – Yin & Yang Convention ti le aduce pe toate pe 8 si 9 februarie, la World Class Fitness Center din Plaza Romania.
"Fitnessul este pentru toata lumea!" indeamna Julio Papi, director Move On si organizator al evenimentului. Iar alegerea va fi simpla: daca nu ai facut sedinte de coregrafie, opteaza pentru Ziua Yin, dedicata experientei Body and Mind. In caz contrar Yang este pentru tine.
"Vrem sa facem un tip diferit de eveniment", explica Julio "Suntem o organizatie noua, dar cu 25 de ani de expertiza. De aceea am hotarat sa cream o conventie alternativa pentru un numar restrans de «connaisseuri», pentru cei care ne cunosc pe mine si pe Per Markussen, si pe toata echipa pe care o antrenam, dezvoltam si lansam in Europa."
Astfel a fost conceput primul eveniment dedicat in proportie de 50% traditionalului group fitness (in principiu celor mai noi tendinte din aerobic, step si tipuri de sesiuni de conditionare) si 50% partii de Body and Mind (yoga, Pilates, Port de bras, stretching si bioenergetica).
In cadrul conventiei va fi lansata si competitia Romanian New Faces of Fitness, pentru prima data cand o scoala de fitness din Romania organizeaza o asemenea competitie.
Ziua Yang – redescopera-ti corpul
Ti se potriveste daca ai ceva experienta in sedinte coregrafiate si iti plac orele cu multa energie.
Vei incepe cu Good morning Zumba, asa ca ia-ti cu tine pantofii de fitness si buna dispozitie. Urmeaza Friends Team Dance, Step Party, Aerobic Queens, Functional Training with Step, Apple Break (moment surpriza!) si Latin Step. Cel mai exploziv moment al zilei vine la Dance Full Party, 45 de minute intense de miscare si muzica la sfarsitul carora sase dintre cei mai buni practicanti vor prezenta o sesiune scurta de Aerobic sau Step, la New Faces of Fitness Finals.
Ziua Yin – upgrade pentru minte
Ti se potriveste daca esti pasionat Body and Mind, lucrezi ca fizioterapeut ori ca antrenor.
Vei incepe cu 90 de minute de Hatha Yoga. Urmeaza patru clase diferite de Pilates in functie de viteza si experienta participantilor, Port de Bras, singura sesiune bazata pe muzica din intreaga zi, si Awakening of the Yin, cand Corpul si Mintea ta vor fi pregatite sa atinga o noua stare.
Profesori cu medalii
Unii dintre cei mai cunoscuti prezentatori internationali, din Spania, Norvegia, SUA, Italia, Republica Dominicana si Rusia, vor sustine ateliere specifice pentru profesionisti. Cap de afis sunt David Stauffer, fost campion de Fitness,, Lisa Lapomarda, specialista in Pilates modern, Jose Martinez si rusoaica Anya Glushkova, unul dintre cei 20 de instructori internationali certificati PortDeBras.
Selectia de instructori romani este si ea impresionanta: de la campioni europeni la gimnastica aerobica pana la profesori de sport cu ani buni de experienta si dansatori cu premii internationale. Te vei intalni cu Ana Georgescu, Ana Cordea, Ovidiu Atanasiu, Cristina Nedelcu, Isabela Lacatus, Raluca Babaligea, Cristina Constantinescu, Cristina Neacsu, Sara Bucurescu, Andreea Belu.
Intra pe move-on.ro/yin-yang-convention.php si urmeaza instructiunile de pe site. Poti opta pentru o singura zi, dar daca vrei o experienta completa si in premiera, nu rata nici Yin, nici Yang.
✖
Mulțumim pentru că vrei să fim prieteni!