Forța imprevizibilului: "Banii sunt bani" din 21 septembrie la cinema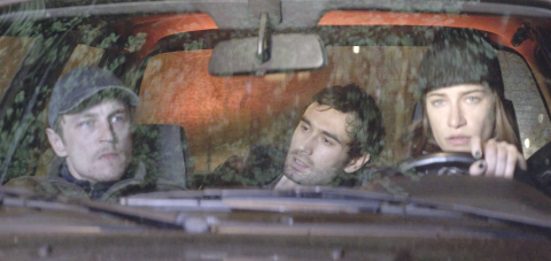 "Banii sunt bani" ​/ "​Money's money"​,noul thriller al regizorului georgian ​Géla Babluani​, explorează același teritoriu ​noir​cu care ne-a obișnuit de la debutul său premiat la ​Sundance: lumea ascunsă a violenței, relația oamenilor cu banii și capcanele pe care unii și le pot construi, dacă se lasă ghidați de lăcomie.
Filmul va rula în cinematografele din România începând cu ​21 septembrie​, distribuit de Transilvania Film. Produs în Franța, ​"Banii sunt bani" ​surprinde trei prieteni seduși de ideea de a avea un câștig rapid, care vor să dea lovitura furând o valiză de bani a unui tip înstărit din Le Havre, însă ajung prinși într-o pânză de evenimente departe de controlul lor.
"Când oamenii ajung în situații total neașteptate, fac alegeri mult mai interesante, care pe mine mă interesează cinematografic. Cu cât e mai imprevizibilă situația, cu atât alegerile sunt mai instinctive. Mă interesează cum ajunge cineva să facă o gafă uriașă, să o încurce rău de tot sau, la polul opus, să se salveze dintr-o situație aparent fără scăpare" mărturisește Géla Babluani într​-un interviu pentru The​ Electric Sheep​,revistă online dedicată unei cinematografii subversive.
Capacitatea regizorului de a explora aspecte mai întunecare ale firii umane prin scenarii capabile să te țină la marginea scaunului de cinema, întrebându-te ce urmează, a fost remarcată în ​Seattle Times​de criticul Moira MacDonald, care scria în 2006: "La doar cei 26 de ani pe care îi are, ​Géla Babluani ​pare a ști mai multe despre crearea de suspans decât au învățat unii regizori în întreaga carieră."
"Revelația anului" așa cum îl introducea ​Cineuropa​pe cineast la debutul său în lungmetraj (cu filmul "13 Tzameti") Géla​ Babluani​îi amintește criticului de film de la ​The New York Times, Stephen​ Holden​,de​ un Polanski​​la început de drum, cu întorsături de situație și trucuri regizorale captivante.
Născut în Georgia, la Tbilisi (țara era atunci parte din URSS), Géla​ Babluani este​​fiul​ celebrului regizor de film​Temur Babluani​,care a produs singurul film georgian nominalizat vreodată la Premiile​ Oscar​("​A Chef in Love​"). Își dezvoltă o atenție deosebită pentru imagine de mic, având ca influențe condițiile în care tatăl său își edita filmele. La 17 ani pleacă în Franța la studii, unde rămâne și se stabilește. Primul său lungmetraj, "​​13 Tzameti​"​(2005), distribuit în România de Transilvania Film, este premiat la ​Festivalul de Film de la Sundance cu​ Marele Premiu al Juriului:​"World​ Cinema – Dramatic", film prezentat și la Festivalul​ de Film de la Veneția​(distins cu 2 premii). În 2008, obține​ titlul de ​Cel mai bun film european la Premiile Gopo.
"Banii sunt bani"/ "Money's money" va​ fi distribuit în cinematografele din țară din​ 21 septembrie ​de Transilvania Film.
✖
Mulțumim pentru că vrei să fim prieteni!