(P) Inelul ales in functie de personalitate – un reper pentru barbatii fara idei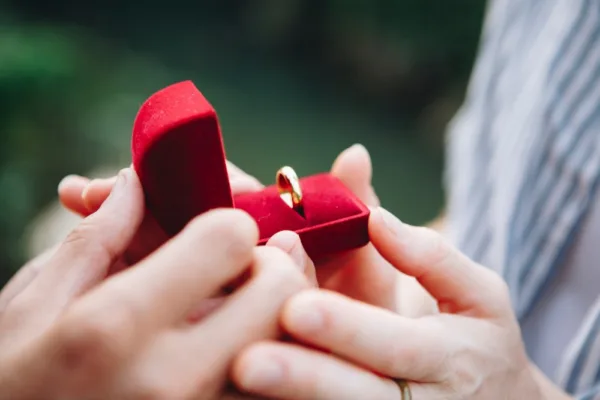 Momentul logodnei este unul mult asteptat, insa vedeta este desigur inelul. Acesta intruchipeaza toate asteptarile posibile, intrucat de el se leaga de toate traditiile stravechi legate de acest moment, precum si toate asteptarile femeilor. Acestea vad adesea in acest eveniment un test de rascruce, ca si cand dragostea partenerului lor este mai relevanta pe masura efortului depus pentru alegerea acestei bijuterii.
Inelul de logodna este desigur dorit a fi ales dintre cele mai spectaculoase. Conteaza si bugetul, desi stilul suprem se pare ca se leaga de diamant. Desi este un cliseu, aceasta piatra pretioasa a ramas in topul preferintelor. Dar barbatii vor dori sa pluseze si automat sa gaseasca acel inel ce o va surprinde pe partenera, fie el diamant sau nu. Un joc interesant este legat de personalitate si ce se potriveste din acest punct de vedere. Iata si reperele:
Inelul de logodna cu piatra rotunda
Un tip de inel clasic este clar cel rotund. Aceasta forma a pietrei centrale se potriveste celor care au gusturi clasice, desigur. Se spune despre diamantele care au aceasta forma ca au 58 de fatete, iar scopul este de a oferi stralucire maxima. Simbolic se pare ca reprezinta dragostea nemarginita, are un aer romantic si este, dupa cum se pare preferat in mare pare de mai toate reprezentantele feminine.
Inelul de logodna cu piatra patrata
Se numeste, de fapt stilul printesa si este un tip de piatra regasita in cazul inelelor cu alura moderna. A devenit si ea tot mai populara in ultimul timp, fiind considerata o imbinare perfecta intre stilul clasic cu cel modern. Acest tip de piatra este cu unghiuri sofisticate, ascutite si deci straluceste extraordinar. Acesta este mai degraba o preferinta a femeilor cochete si cu gusturi moderne desigur, cele poate surprinzatoare intrucat le place acel mix intre traditional si stil de actualitate.
Se spune despre femeile cu astfel de preferinte ca sunt adesea dornice sa iasa in evidenta, ca tanjesc dupa acest lucru, insa fac si tot posibilul sa se afirme.
Inelul de logodna cu piatra in forma de smarald
Aceasta taietura este si ea interesanta. Creeaza un efect deosebit intrucat taietura dreptunghiulara este atipica. Iar despre cele care prefera un astfel de stil ca sunt femei cu multa incredere in fortele proprii si cu o stima ridicata de sine. O vorba celebra spune ca acest inel este un accesoriu, ca femeia de stralucire acestuia si nu invers.
Dar despre piatra ovala?!
Din punct de vedere al stilului, acest tip de inel cu forma ovala a pietrei este recomandat celor cu degete scurte. Acesta poate crea acel efect de alungire. Este, poate la fel de complex precum cel cu taietura rotunda. Poate fi de regula o alegere pentru traditionaliste, insa care pare ca au si tendinte spre schimbare, catre invidualism.
Desigur, astfel de repere sunt generale si desigur ca alegerea depinde de buget si de preferinte personale. Un diamant este pana la urma interesant in orice forma ar fi el, in orice culoare, poate din principiul ca o piatra pretioasa este magulitor sa o detii.
In completare, cand vine vorba de metalul pretios, aurul de asemenea. Acesta poate fi de culori diverse, desigur la randul lor fiind o expresie de stil, preferinte si personalitate. Se spune despre aurul galben ca este pentru traditionaliste, cel roz pentru pretentioase si cel alb pentru femei moderne care nu doresc sa mentina vreo legatura cu acele concepte traditionaliste.
Atipic sau clasic? Se spune ca nu poti da gres niciodata atunci cand alegi un stil clasic. Aici depinde de purtatoare si de personalitatea sa. Nu va lasa garda jos, nu va lasa lasa la o parte preferintele ei intrucat este inelul pe care il va purta de acum inainte, cel care marcheaza desigur un moment de maxima importanta in viata ei sentimentala. Clasic poate fi un inel cu piatra centrala, chiar si simplu, in timp ce unul atipic poate fi batut cu pietre sau de ce nu chiar colorat.
Un astfel de stil a fost propunerea pentru frumoasa blonda din Sex and The City, respectiv un diamant negru. la intrebarea fireasca a personajului despre o astfel de alegere barbatul a motivat ca trebuia sa aleaga ceva special, precum insasi femeie ce o iubea. Deci, este fana a acestui scenariu?!
✖
Mulțumim pentru că vrei să fim prieteni!