(P)Festivalul care #willputaspellonyou in aceasta vara: SPELLGROUND FESTIVAL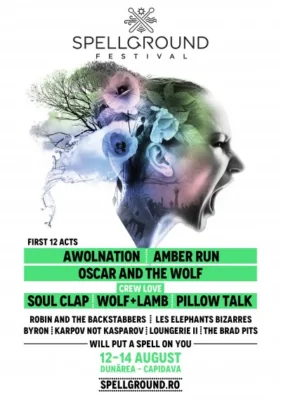 Intr-o vara ce sta sub semnul festivalurilor Spellground Festival se anunta  ca o experienta de 72 de ore de muzica live, activitati artistice si culturale, distractie si vibe pozitiv, toate in aer liber, pe un taram neatins, in singurul weekend prelungit al verii.
In perioada 12-14 August  drumul tau spre si dinspre mare va fi deturnat spre o locatie neasteptata in zona situata intre satele Seimeni si Dunarea, un spatiu de 12 hectare care va prinde viata pe principiul "Will Put A Spell On You".
In apropiere de Cetatea Capidava, pe malul Dunarii la 160 de km / 1 ora si jumatate de Bucuresti sau 65 de km/ 40 minute de Constanta pe Autostrada Soarelui se afla destinatia de bifat a acestei veri.
Cele patru mari elemente: Pamantul, Soarele, Apa si Aerul se vor uni cu un al cincilea element: Vibe-ul vostru, intr-o experienta fara precedent in judetul Constanta.
Spellground Festival este experienta pe care trebuie sa o traiesti o data pe an, experienta ce te va lasa fara cuvinte.
Un teritoriu neatins urmeaza sa prinda viata special pentru tine si se va transforma in locul unde distractia, relaxarea, fericirea  nu au termen de comparatie.
Te vei indragosti de oameni ca tine, vei descoperi ca natura ti-e cel mai bun prieten, vei asculta muzica pe care o iubesti si vei descoperi muzica pe care o vei iubi.
Spellground Festival anunta FIRST 12 ACTS
AWOLNATION   |   OSCAR AND THE WOLF   |   AMBER RUN
CREW LOVE
SOUL CLAP  |   WOLF+LAMB  |   PILLOW TALK
ROBIN AND THE BACKSTABBERS  |   LES ELEPHANTS BIZARRES  |   BYRON
KARPROV NOT KASPAROV   |   LOUNGERIE II   |  THE BRAD PITTS
& 3 SCENE
Scena Headliners | Scena Electro | Scena New Comers
Acesta este doar inceputul! Urmeaza noul val de Headlineri si alti artisti…
 Primele abonamente pentru Spellground Festival sunt puse in vanzare pe www.eventim.ro si in reteaua de distributie.
Asigura-te ca nu ratezi pretul care ad literam will put a spell on you: doar 2000 de abonamente pe 3 zile la pretul de 200 lei + taxe.
Pentru ca la Spellground nu vei vrea sa fii in trecere, vei vrea sa locuiesti,   ne-am asigurat ca vei avea totul de la cort, la confort. Check out accommodation info.
Cine spune ca in Romania vin in concert doar trupele pe final de cariera?
Sau ca la festival te duci pentru concerte si atat?
Si cine spune ca trebuie sa mergi in alta tara daca vrei sa vezi un festival "adevarat"?
Este timpul ca aceste pareri se se schimbe.
Este timpul pentru prima editie a Spellground Festival.
✖
Mulțumim pentru că vrei să fim prieteni!