Președintele ICR, Liliana Țuroiu, a semnat Ordinul de numire a Comisarului General Europalia România 2019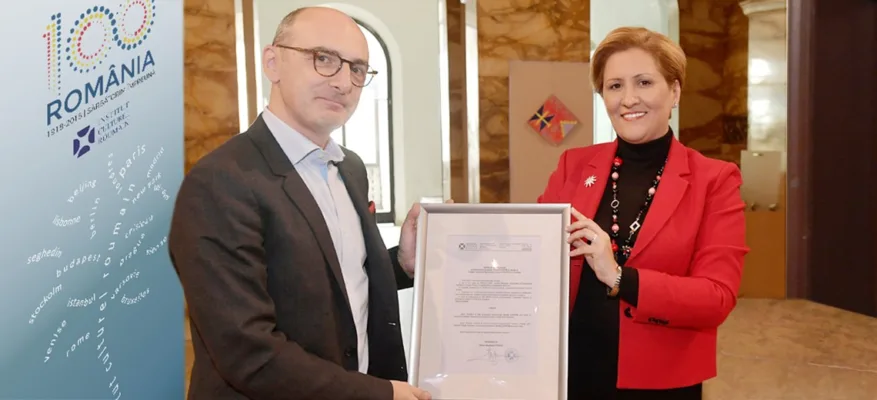 Fondatorul Art Encounters, Ovidiu Șandor, a fost desemnat Comisarul General al părții române pentru Festivalul Internațional de Arte Europalia 2019, la care România are statut de țară invitată.
Documentul a fost semnat de președintele Institutului Cultural Român, Liliana Țuroiu, în baza prerogativelor conferite de OUG nr. 16/2018, care desemnează ICR ca instituție cu atribuții în coordonarea părții române în vederea participării la acest Festival.
Ovidiu Şandor este un antreprenor din Timişoara, fondator și CEO al companiei  Mulberry Development, cunoscută la nivel naţional în special pentru dezvoltarea cu succes a proiectelor City Business Centre Timişoara şi The Office Cluj Napoca.
De asemenea, în 2016, Ovidiu Şandor a lansat proiectul ISHO din centrul Timișoarei, un proiect imobiliar mixt, premiat, în curs de dezvoltare în Timișoara. Om de afaceri și colecționar de artă contemporană, dar și doctor în computer science al Royal Institute of Technology, Stockholm, Suedia, Ovidiu Șandor a inițiat în 2015 cea mai importantă bienală de artă contemporană din România.
Ajunsă la a doua ediție în 2017, Art Encounters a reunit peste 300 de lucrări realizate de 150 de artiști din România și din străinătate care expun în 13 spații din Timișoara și Arad, transformand regiunea -pentru cinci săptămâni- în capitala artei contemporane.
Potrivit OUG nr 16/2018, Ovidiu Șandor va îndeplini, în mod simetric, atribuțiile pe care le exercită și Comisarul General al Europalia International, Philippe Vlerick. Acesta este, la rândul său, un cunoscut antreprenor belgian, membru în boardurile unor instituții academice, precum și al unor bănci, colecționar și iubitor de artă.
Funcția de comisar general este una onorifică, comisarii ambelor părți, române și belgiene, acționând în mod benevol și neremunerat în beneficiul țărilor pe care le reprezintă, ca ambasadori ai Festivalului în rândul societății civile și al mediului de afaceri.
"De la preluarea misiunii de coordonare a Festivalului Europalia, ICR colaborează cu specialiști de vârf ai mediului creativ românesc și a avut numeroase consultări și discuții pe marginea proiectelor reprezentative. Cooptarea lui Ovidiu Șandor în echipa Europalia România, în calitate de comisar general, a ținut seama de performanțele incontestabile atât în domeniul antreprenorial, cât și în cel cultural, dar, mai ales, de faptul
că aceste calități profesionale sunt dublate de o calitate umană remarcabilă. Sunt, cu siguranță, numeroși profesioniști în domeniul cultural, dar sunt doar câțiva aceia care întrunesc, în egală măsură, calitățile unui adevărat ambasador. Consider că Ovidiu Șandor este omul potrivit la locul potrivit și îmi face plăcere să constat entuzaismul cu care boardul Europalia Belgia a primit vestea nominalizării domniei sale. Orizontul tuturor proiectelor de anvergură organizate de ICR în următoarea perioadă este Europa" a declarat președintele ICR, Liliana Țuroiu.
"Sunt recunoscător Institutului Cultural Român pentru încrederea acordată și onoarea de a fi desemnat Comisar General al părții române pentru Festivalul Internațional de Arte Europalia 2019 și aștept cu nerăbdare să începem activitatea în cadrul echipei mixte româno-belgiană. Este o șansă pentru țara noastră de a avea o componentă pozitivă, cea culturală, care să ne reprezinte la Bruxelles, în inima Europei. Ne vom prezenta ca o națiune europeană modernă, în plină dezvoltare culturală. Am convingerea că mediul român de afaceri va dori să se implice și să contribuie la această formă de promovare a României." a declarat Ovidiu Șandor, după numirea sa.
Imediat după numire, Președintele Institutului Cultural Român și Comisarul General al Europalia România 2019 au avut o întrevedere cu ministrul afacerilor externe, Teodor Meleșcanu, MAE fiind, alături de Ministerul Culturii și Identității Naționale (MCIN) și Secretariatul General al Guvernului (SGG), instituția cu care ICR colaborează pentru pregătirea și organizarea Festivalului Europalia România 2019.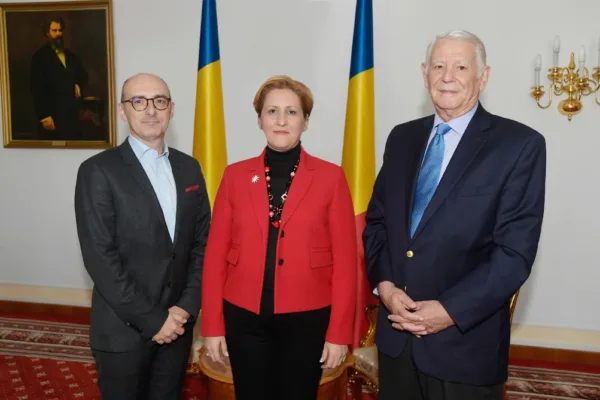 Festivalul Internațional de Arte Europalia
Festivalul Internațional de Arte Europalia este unul dintre cele mai importante festivaluri de artă din lume și este considerat manifestarea culturală de cea mai mare amploare din Belgia. Acesta acoperă, pe o rază de 400 km, un public potențial de peste 50 de milioane de persoane.
Evenimentul este organizat o dată la doi ani, sub patronajul Familiei Regale a Belgiei, la Bruxelles și în diverse orașe belgiene, dar și în cele din zonele limitrofe din țările vecine – Franța, Olanda, Luxemburg și Germania. Ediția din 2019 este dedicată României și va avea loc în perioada octombrie 2019 – ianuarie 2020.
Au fost selectate din piața artistică peste 300 de propuneri de proiecte care fac obiectul unei selecții riguroase, pentru a fi transmise de ICR spre aprobarea pentru finanțare de către statul român.
"Avem bucuria unui feedback extrem de bun din partea artiștilor care s-au dovedit a fi foarte interesați de Festivalul Europalia, așa cum avem satisfacția că acestea au fost apreciate de partenerii belgieni. Am primit la ICR o multitudine de proiecte valoroase pe care le-am supus discuției echipelor din partea română și cea belgiană, acestea urmând să fie selecționate și agreate de către muzeele și galeriile din Belgia." a declarat, la finalul proceduri de selecție, Liliana Țuroiu, președintele Institutului Cultural Român.
"Aștept cu nerăbdare să lucrăm împreună la acest minunat proiect și să pregătim un festival fantastic. Apreciez ca fiind extrem de inspirată propunerea președintelui ICR și îi mulțumesc pentru profesionalismul său și al echipei pe care o coordonează" a declarat directorul general Europalia, Koen Clement, în urma desemnării domnului Ovidiu Șandor drept comisar al părții române.
De altfel, în urma celei mai recente întruniri a grupurilor de lucru române și belgiene, care a avut loc la București, managerul general Europalia a exprimat satisfacția echipei Europalia International în legătură cu colaborarea cu partea română: " Pregătirile Festivalului Europalia România se derulează foarte bine și într- un ritm accelerat.(…) Am discutat sute de proiecte, într-o întâlnire intensă de lucru cu doamna președinte Liliana Țuroiu și echipa sa extraordinară. Ediția din 2019 a Festivalului Europalia promite să fie cu adevărat impresionantă!"
Festivalul EUROPALIA, care în 2019 se va afla la cea de-a 50-a ediție, reprezintă pentru România o oportunitate de dialog cultural şi diplomaţie, cu numeroși parteneri, instituţii de cultură publice și private din țară și din străinătate. Festivalul Internațional de Artă EUROPALIA a debutat în 1969 și are un caracter multidisciplinar: arte vizuale, artele spectacolului, muzică, film, literatură, educație culturală.
Printre ţările invitate de onoare la ediţiile precedente s-au numărat: Italia (1969 şi 2003), Franţa (1975), Spania (1985), Portugalia (1991), Republica Cehă (1998), Polonia (2001), Federaţia Rusă (2005), R. P. Chineză (2009), Brazilia (2011), India (2013), Turcia (2015), Indonezia (2017).
Toate edițiile precedente ale Festivalului Europalia s-au desfășurat în prezența Familiei Regale a Belgiei, a Președintelui României, a Primului Ministru al României, a corpului diplomatic străin acreditat în Belgia, precum și a membrilor Guvernului, precum și a înalților oficiali din țările invitate.
✖
Mulțumim pentru că vrei să fim prieteni!