Retreat de Toamnă la Viscri: Landscape Art

Ȋn perioada 15-18 octombrie va avea loc la Viscri, în Transilvania, Autumn Landscape Art, un Retreat De Artă, dedicat iubitorilor de natură și pasionaților de pictură, botanică sau artă textilă, indiferent de nivelul de cunoștințe în aceste domenii.
"Accepting and embracing change" – este intenția acestui retreat de toamnă, dedicat peisajului și activităților care încurajează reconectarea și identificarea personală cu natura, schimbarea anotimpului, efemeritatea și plenitudinea cromatică a acestui moment din an.
Gazda pentru weekend-ul prelungit va fi Viscri 125, iar programul atelierului este creativ și variat, implicând lectori cu adevărat speciali.
Deși activitatea principală este pictura de peisaj en plein air în ulei pe pânză, cele patru zile la Viscri oferă experiențe inedite, care completează pictura, în intenția reconectării la peisaj, printre care şi câteva ore de yoga, plimbări prin sat şi în natură, precum şi o vizită la Biserica Fortificată.
Numărul maxim de participanți este 10. Cursul este dedicat adulților, iar copiii peste 12 ani pot participa la sesiunile de curs doar dacă sunt însoțiți în retreat de un adult.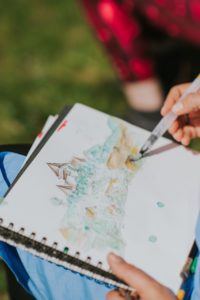 Proiectul, aflat la cea de-a doua ediție (după succesul retreatului din primăvară), este inițiat de Irina Neacşu, designer și artist botanic, membru al "American Society of Botanical Artists", care va fi şi lector al cursului de pictură şi este organizat sub egida Cembra School of Botanical Art & Design.
Mai multe detalii şi programul complet se găsesc online, în cembraartschool.com: https://cembraartschool.com/produs/cursuri-scurte/retreat-de-toamna-la-viscri-landscape-art/ , sau în pagina de Facebook Cembra School: https://www.facebook.com/events/413218220004219/?ref=newsfeed.
✖
Mulțumim pentru că vrei să fim prieteni!