Violonistul LIVIU PRUNARU, concert-maestru al celei mai bine cotate orchestre simfonice din lume, în dublă ipostază pe scena Sălii Radio!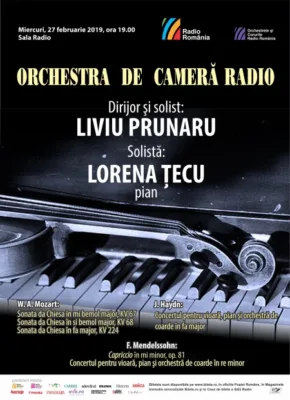 Violonistul LIVIU PRUNARU, concert-maestru al celei mai bine cotate orchestre simfonice din lume, Royal Concertgebouw Amsterdam, artistul care se bucură de dreptul de folosinţă asupra viorii de patrimoniu universal  Stradivarius "Pachoud" din 1694 – va putea fi aplaudat la Sala Radio, într-un concert extraordinar în care se va afla într-o dublă ipostază: de solist și… dirijor!
Miercuri, 27 februarie (19.00), artistul român cu o extraordinară carieră internațională va evolua alături de ORCHESTRA  DE CAMERĂ RADIO și de o altă invitată specială a evenimentului: pianista LORENA ȚECU, colaboratoare la Boston University College of Fine Arts şi la Conservatorul de Muzică New England din Boston. A fost selectată de Yehudi Menuhin ca pianist al Academiei de Muzică Menuhin din Elveţia și a susţinut turnee în toată lumea alături de Orchestra Camerata Lysy, alături de care a prezentat un concert privat la Castelul Gandolfo (Italia), pentru Papa Ioan Paul al II-lea.
Programul serii de la Sala Radio reunește creații semnate de trei mari compozitori: trei sonate create de Mozart (Sonata da Chiesa în Mi bemol major, Sonata da Chiesa în Si bemol major, Sonata da Chiesa în Fa major), Haydn – Concertul pentru vioară, pian şi orchestră de coarde în Fa major și două compoziții ce poartă semnătura lui Mendelssohn – Capriccio în mi minor și Concertul pentru vioară, pian şi orchestră de coarde în re minor.
LIVIU PRUNARU, câştigător a numeroase competiţii muzicale de mare valoare, şi-a construit o bogată carieră internaţională: apariţii solistice alături de orchestre renumite ca Royal Philharmonic Orchestra, London Symphony Orchestra, Orchestre National Belgique, Orchestra Filarmonică din Atena, Orchestra Mayo din Buenos Aires, Orchestra de cameră din Indianapolis.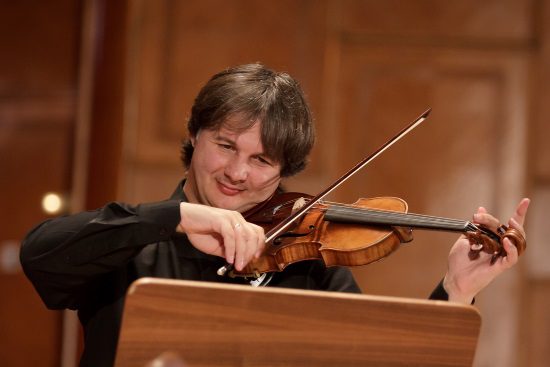 Fie ca solist concertist, fie în recitaluri, Liviu Prunaru cântă frecvent în toate marile oraşe ale lumii şi este invitat în cadrul unor festivaluri prestigioase, ca cele din Bruxelles, Buenos Aires, Flandra, Evian, Atena şi Salzburg. În fiecare toamnă a ultimilor ani, artistul a fost aplaudat în multe oraşe ale ţării în cadrul turneului naţional « Duelul viorilor », susţinut alături de violonistul Gabriel Croitoru şi de pianistul Horia Mihail. Paralel cu activitatea artistică, Liviu Prunaru este implicat activ în domeniul pedagogic, fiind un valoros profesor de vioară al Academiei Menuhin.
Pianista LORENA ȚECU a absolvit Universitatea Naţională de Muzică din Bucureşti și și-a completat studiile la Universitatea din Boston.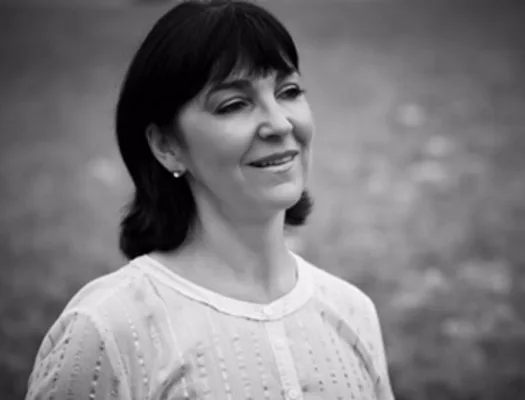 Lorena Ţecu a fost invitată să participle la cele mai mari festivaluri de muzică clasică precum: Mozarteum Festival  în Salzburg-Austria, Menuhin Festival în Gstaad-Elveţia, Festivalul Lysy în Buenos Aires-Argentina, Festivalul Dinu Lipatti în Braşov-România, Festivalul de Muzică în Estoril-Portugalia, Festivalul de Muzică  în Johannesburg-Africa de Sud, Musicians for Europe în Sibiu-România, Festivalul Issola Classica-Italia.
CD-ul ei, alături de violonistul Alberto Lysy, Romantic Pieces for violin and piano a fost realizat de Dinemec Geneva, Elveţia. Începând cu 2009, Lorena a fost pianist oficial al Concursului Internaţional George Enescu în Bucureşti, România. În timpul verii, între anii 2011 – 2017 a fost invitată să cânte la cursurile de măiestrie ale lui Maxim Vengerov, Rencontres Musicales în Coppet, Elveţia. Din 2013 este pianistă la Festivalul Menuhin, String Academy în Gstaad, Elveţia.
Concertele pot fi ascultate în direct pe toate frecvenţele Radio România Cultural şi Radio România Muzical din ţară şi în streaming live pe Internet, pe www.radioromaniacultural.ro și www.romania-muzical.ro.
Biletele la concertele Orchestrelor şi Corurilor Radio sunt disponibile pe www.bilete.ro, în oficiile Poştei Române, în magazinele Inmedio semnalizate bilete.ro şi la Casa de bilete a Sălii Radio.
Pentru alte informaţii legate de Orchestrele şi Corurile Radio vă rugăm să consultaţi site-ul www.orchestreradio.ro.
✖
Mulțumim pentru că vrei să fim prieteni!