A saptea editie a Concertului Regal Caritabil, sambata, 25 octombrie 2014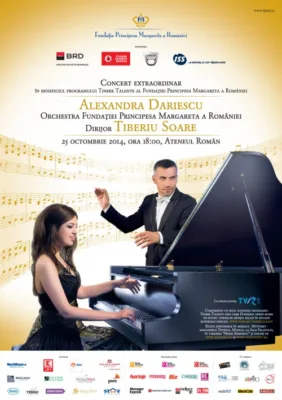 De ziua Majestatii Sale Regelui Mihai I, pianista Alexandra Dariescu si orchestra Fundatiei Principesa Margareta a Romaniei, sub bagheta dirijorului Tiberiu Soare, concerteaza pe scena Ateneului Roman intr-un eveniment de exceptie, pentru sustinerea programului "Tinere Talente".
Evenimentul se afla la cea de a VII-a editie si are loc in prezenta Familiei Regale a Romaniei. Programul muzical al serii include concertul nr. 1 in si bemol minor pentru pian si orchestra, op.23 de Piotr Ilici Ceaikovski.
Desemnata de revista Forbes ca membra a generatiei "30 sub 30", Alexandra Dariescu este considerata o exceptionala ambasadoare a muzicii clasice. Ea este castigatoarea premiului "Woman of the Future" si prima pianista de origine romana care a sustinut un concert pe scena londoneza Royal Albert Hall, alaturi de Orchestra Filarmonicii Regale.
"Ma reintorc cu drag acasa, cu bucuria si emotia de a canta pentru prima oara pe scena Ateneului Roman alaturi de Orchestra Tinerelor Talente a Fundatiei Principesa Margareta a Romaniei si dirijorul Tiberiu Soare. Sunt onorata sa concertez pentru o cauza nobila si frumoasa, alaturi de acesti tineri talentati, sa ii sustin si sa impartasesc cu ei pe scena si in masterclass din ceea ce am invatat de-a lungul celor 20 de ani de cariera artistica", a declarat Alexandra Dariescu.
Orchestra de la Concertul Regal a fost fondata la inceputul anului 2014 la initiativa Fundatiei Principesa Margareta a Romaniei, rolul principal in selectia si pregatirea acesteia avandu-l maestrul Tiberiu Soare, unul dintre cei mai valorosi si cunoscuti dirijori din tanara generatie.
"Constituirea unei noi orchestre trebuie considerata intotdeauna un lucru extraordinar, mai ales daca acea orchestra este formata din muzicieni tineri. Simt, cumva, ca ne asiguram din timp de continuitatea unei superbe traditii muzicale romanesti", a declarat Tiberiu Soare, dirijor Principal al Orchestrelor si Corurilor Radio Romania.
Scopul infiintarii orchestrei Fundatiei Principesa Margareta a Romaniei este de a oferi posibilitatea tinerilor romani sa ia contact cu stilul de lucru si repertoriul abordat la nivelul unei orchestre profesioniste si de a interactiona cu muzicieni consacrati. De asemenea, initiativa are obiectivul de a-i promova pe cei mai talentati tineri muzicieni in fata publicului roman.
In debutul Concertului Regal, trei "Tinere Talente" – soprana Diana Alexe, mezzosoprana Cosmina Stancu si tenorul George Virban – vor urca pe scena Ateneului Roman pentru a interpreta arii din opere cunoscute precum "La Traviata", "Carmen" si "Linda di Chamounix".
Fondurile stranse la editia din acest an a concertului vor sprijini programul national "Tinere Talente" – editia 2015.
Cei mai promitatori tineri artisti romani din domeniul muzicii clasice si al artelor plastice, aflati la inceput de cariera si in imposibilitatea de a se dezvolta pe viitor din motive financiare, vor primi burse de studiu, mentorat si oportunitati de promovare. In ultimii ani, peste 170 de tineri artisti plastici si muzicieni au reusit performante extraordinare cu sustinerea Fundatiei.
Radio Romania Muzical va transmite evenimentul, in direct, de la orele 18.

✖
Mulțumim pentru că vrei să fim prieteni!