Doua carti pentru viitorii diplomati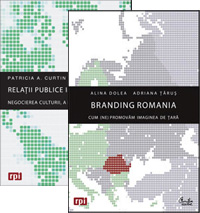 Astazi, la "Campania de luni", puteti cumpara cartile "Branding Romania" de Alina Dolea, Adriana Tarus si "Relatii publice internationale" de Patricia A. Curtin, T. Kenn Gaither cu doar 30 Ron.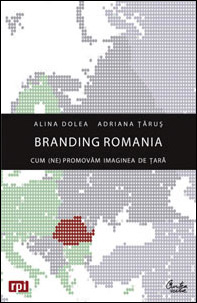 Branding Romania. Cum (ne)promovam imaginea de tara
Autor: Alina Dolea, Adriana Tarus
Colectia: Relatii publice internationale
"Salut cu entuziasm aparitia acestei carti, atat din postura de ambasador, care opereaza permanent cu imaginea propriei tari, cat si din aceea de pionier al diplomatiei publice in Romania, care se bucura ca, dupa ani de zile in care s-a perorat enorm si (aproape) inutil despre brandul tarii noastre, apare, in sfarsit, o carte de referinta, lucida si pragmatica. Poate asa vom intelege ca fiecare dintre noi este constructor de imagine si ca e timpul sa ne unim energiile creative in a promova o imagine coerenta, demna si reprezentativa a Romaniei."
Simona-Mirela Miculescu,
Ambasador al Romaniei la ONU
"Un adevarat tur de forta. Cea mai complexa abordare teoretica si practica din spatiul editorial romanesc, comparativa ca valoare cu orice abordare internationala. O lectura obligatorie pentru toti cei interesati de branding de tara si diplomatie publica."
Dr. Dorina Gutu,
Facultatea de Comunicare si Relatii Publice, SNSPA
"Branding Romania este prima carte dedicata campaniilor de promovarea a imaginii tarii in strainatate. Nu se vrea o lectie despre brand si nici o culegere de bune practici pentru crearea unui brand de tara pentru Romania. Branding Romania propune un lucru mult mai onest si anume un punct de plecare, in urma unei analize atente a ceea ce s-a facut timp de 20 de ani de la revolutia identitara si politica a Romaniei.
Demersul de a inventaria si de a analiza campaniile de branding de tara poate parea unul destul de usor la prima vedere. Insa nu mica le-a fost mirarea autoarelor cand au descoperit ca singura modalitate de a afla mai multe detalii despre majoritatea campanilor (uneori chiar perioada de timp in care s-au desfasurat) era recompunerea lor din articolele aparute in presa. De abia pentru campaniile din 2007 si 2008 a fost posibila o descriere detaliata plecand de la comunicatele de presa difuzate de institutiile organizatoare.
De altfel, lipsa de informatii despre campaniile implementate de-a lungul timpului de autoritatile romane este si unul dintre motivele pentru care autoarele au decis sa publice aceasta carte. […]
Multe dintre exemplele oferite de autoare vor fi familiare pentru unii cititori, interesati de noile media. Biblioteca Digitala Europeana si Bucurestiul virtual din Second Life sunt deja proiecte de notorietate, despre care s-a scris si in media traditionale si in blogosfera. Cu toate acestea, putini sunt cei care constientizeaza ca astfel de proiecte pot si chiar contribuie intr-un fel sau altul la conturarea imaginii Romaniei."
Cristian Tabara despre Branding Romania la emisiunea Parte de carte de la Pro TV
Alina Dolea, nascuta in 1981, la Piatra-Neamt, a absolvit masteratul de comunicare politica si marketing electoral al Facultatii de Comunicare si Relatii Publice din cadrul SNSPA (2009). Este cadru didactic asociat la Facultatea de Comunicare si Relatii Publice din cadrul Scolii Nationale de Studii Politice si Administrative Bucuresti (SNSPA) si PR Manager la Curtea Veche Publishing, pentru care a obtinut Silver Award for Excellence la Romanian PR Award 2008 (campania de comunicare "Toata lumea vine la Pamuk"). A lucrat pentru Multimedia Political Communication si PRAIS Corporate Communications si este membru in Asociatia Romana a Profesionistilor in Relatii Publice. Publica articole de specialitate in Revista de comunicare si relatii publice. In 2004 a castigat, cu echipa, premiul al treilea la Olimpiadele Comunicarii si premiul special "Cultura de Securitate 2004".
Adriana Tarus, nascuta in 1984, la Bucuresti, a absolvit masteratul de comunicare politica si marketing electoral al Facultatii de Comunicare si Relatii Publice din cadrul SNSPA (2009). Este jurnalist in cadrul trustului Realitatea-Catavencu. In 2006, a fost bursier ERASMUS la "Institute for Media and Communications Studies" din cadrul TU Ilmenau, Germania, unde a luat parte la cercetarea "Aspects of Digital Games Culture", si a publicat rezultatul studiului "Eastern European Gaming Culture" in jurnalul de cercetare academica "People, Markets, Media and Management". In 2007, a publicat cartea Peace PR – Relatiile publice in procesele de mentinere si obtinere a pacii, iar in cursul anului 2008 i-au aparut mai multe articole in Revista de comunicare si relatii publice. Tot in 2008 a castigat premiul RADOR pentru jurnalism de agentie de presa.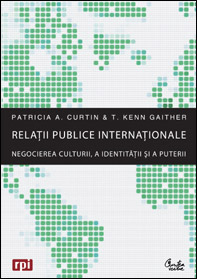 Relatii publice internationale – Negocierea culturii, a identitatii si a puterii
Autor: Patricia A. Curtin, T. Kenn Gaither
Colectia: Relatii publice internationale
"Relatii publice internationale. Negocierea culturii, a identitatii si a puterii ofera prima abordare critic-culturala a relatiilor publice internationale in diferite medii de reglementare politice si culturale. Analiza campaniilor Coca-Cola in India si Turcia, a lansarii New Coke si a strategiei KFC in China este completata cu descrierea campaniilor de promovare a imaginii unor tari precum Coreea de Sud si Elvetia si cu aceea a campaniei de eradicare a variolei desfasurate de Organizatia Mondiala a Sanatatii.
Studiile de caz prezentate, precum si strategiile de comunicare implementate in mediul international se vor dovedi utile atat studentilor si profesorilor de la facultatile de comunicare si jurnalism, cat si celor de la stiinte politice, relatii internationale sau relatii economice internationale. In acelasi timp, de cat mai multe exemple de bune practici au nevoie si cei care activeaza intr-o institutie publica, intr-o corporatie, in presa sau in diplomatie.
Sunt profund convinsa de faptul ca, in aceasta lume a globalizarii, intelectualul mileniului al treilea trebuie sa fie si un bun comunicator – educat, nu doar talentat. Este extrem de important ca adeptii si suporterii comunicarii profesioniste sa aiba la indemana asemenea carti de valoare si sa isi uneasca fortele pentru a valorifica talentul de comunicator si creativitatea romanului, un capital pe care trebuie sa il facem mai bine cunoscut lumii."
Ambasador Simona-Mirela Miculescu
coordonatorul colectiei de Relatii Publice Internationale
Cartie pot fi comandate astazi, luni, 28 septembrie 2009, pe www.curteaveche.ro.
 
✖
Mulțumim pentru că vrei să fim prieteni!