Jan Garbarek Group featuring Trilok Gurtu in concert la Sala Palatului!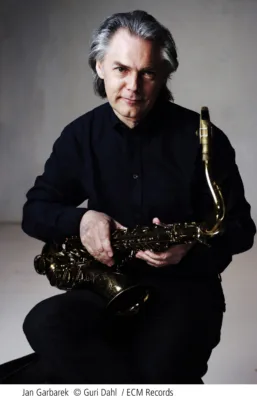 Legendarul saxofonist norvegian concerteaza in Bucuresti la Sala Palatului in data de 18 Noiembrie 2013, ora 20.00.
Muzicianul va fi acompaniat de Trilok Gurtu ( tobe) Rainer Brüninghaus (pian); Yuri Daniel (bass).
Jan Garbarek (n.1947 Norvegia) este unul dintre cei mai apreciati si prolifici saxofonisti contemporani, discografia sa cuprinzand 30 de albume lansate pe parcursul a peste 40 de ani de cariera la reputata Casa de Discuri ECM Record.
In 1994 albumul sau Officium a avut vanzari record pentru ECM, iar in 2005 discul In Praise of Dreams a fost nominalizat la premiile Grammy. Din 1999 este Cavaler Gradul I al Ordinului Sf. Olav, distinctie acordata de catre Casa Regala a Norvegiei.
Jan Garbarek apare ca invitat pe mai mult de 40 de discuri ale unor mari muzicieni precum Keith Jarret, David Darling, Manu Katché, Ralph Towner, Gary Peacock, Eberhard Weber, Miroslav Vitous si lista continua cu nume la fel de celebre.
Muzica lui Garbarek transcende genurile, creatia sa fiind o misterioasa poezie sonora inspirata de natura si folclorul nordic. Piesele penduleaza intre jazz-ul ambiental, world music si chiar muzica clasica, concertele sale purtand audienta intr-o lume magica a armoniei si contemplatiei.
Trilok Gurtu (n. 1951 India) este unul dintre cei mai inovativi si spectaculosi percutionisti ce pot fi vazuti pe scena in acest moment. Gurtu si-a inceput cariera in anii '70, avand la activ peste 30 de albume in discografie.
Colaborarile sale se leaga de numele unor importanti artisti ca John McLaughlin; Neneh Cherry; Dave Holland; Annie Lennox si altii. Este castigatorul a numeroase si prestigioase premii: Best Overall Percussionist – DRUM! Magazine, 1999; Best Percussionist si Down Beat's Critics Poll in anii 1994, 1995, 1996, 1999, 2000, 2001 si 2002.
Rainer Brüninghaus (n.1949 Germania) este un talentat compozitor si pianist care si-a inceput cariera in anii '70. Impreuna cu Eberhard Weber si Charlie Mariano formeaza in 1975 grupul Colours. Din 1988 canta cu Jan Garbarek.
Yuri Daniel (n.1966 Brazilia) a studiat basul in Portugalia la Jazz School of the Hot Club in anii '80, colaborand cu nume cunoscute ale scenei portugheze si nu numai: Rui Veloso, Dulce Pontes, Sérgio Godinho, José Mário Branco, Resistência, Amélia Muge, Paulo Moura, Cliff Korman, Rick Lathan, John Stubblefield.
Accesul in sala se face de la ora 19.00. Concertul incepe la ora 20.00.
Nu este permis accesul cu camere foto profesionale. Inregistrarile video sunt interzise pe toata durata concertului.
Biletele pentru acest eveniment se pun in vanzare la urmatoarele preturi:
Categoria I-290 de lei; Categoria II- 250 de lei; Categoria III- 200 de lei; Categoria IV-140 de lei; Categoria V-95 de lei.
Biletele se gasesc in reteaua Eventim (magazinele Germanos, Orange Shop, Vodafone, Domo, librariile Carturesti si Humanitas) si online pe www.eventim.ro.
✖
Mulțumim pentru că vrei să fim prieteni!