Joshua Bell: maestru al muzicii culte, cavaler al Cruciadei Culturii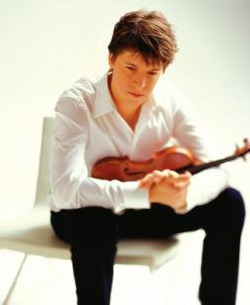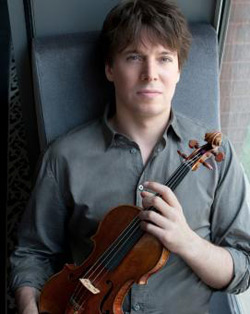 Agentia de Vise si Fundatia artEST continua Cruciada Culturii. Dupa o prima victorie inregistrata sub conducerea renumitei violoniste Sarah Chang, un nou cavaler al frumosului se alatura demersului Cruciadei.
Pe 11 mai incepand cu ora 20.00, Joshua Bell, alaturi de pianistul Sam Haywood, va oferi melomanilor un recital extraordinar.
Programul recitalului:
Wolfgang Amadeus Mozart – Sonata KV454 in Si bemol major pentru vioara si pian

Ludwig van Beethoven – Sonata op.30 nr.2 in do minor

Maurice Ravel – Sonata in Sol major

Piotr Ilici Ceaikovski – Meditatie din Amintiri dintr-un loc drag op.42 pentru vioara si pian

Pablo de Sarasate – Introducere si Tarantela op.43
Si de aceasta data, arma noastra este cultura. Pentru cateva ore muzica clasica va reduce la tacere uratul. Acordurile unei viori Stradivarius vor rasuna in Sala Mare a Ateneului Roman. Frumosul va fi repus in drepturi de catre unul dintre cei mai mari violonisti ai lumii.
Joshua Bell – Un "superstar" al muzicii culte
Timp de peste doua decenii, Joshua Bell a fermecat publicul meloman din intreaga lume. Violonistul a castigat un renume national la varsta de 14 ani intr-un apreciat concert alaturi de Riccardo Muti si Orchestra Philadelphia. Au urmat interpretari sub bagheta unor dirijori de renume alaturi de cele mai mari orchestre ale lumii. Prestigiosul Avery Fisher Career Grant, dar si un Premiu Grammy au confirmat prezenta sa unica in lumea muzicala.
Joshua Bell canta la faimoasa vioara Stradivarius supranumita "Gibson ex Huberman". Instrumentul, cu o vechime de 300 de ani, are o bogata istorie in urma sa.
Interesele sale diversificate i-au faurit violonistului o cariera dincolo de sobrietatea salilor de concert, conferindu-i titlul de "superstar" al muzicii culte. Joshua Bell a fost implicat in crearea partiturii pentru filmul The Red Violin pentru care John Corigliano a castigat Premiul Oscar. Coloana sonora a filmului Ingeri si Demoni ii poarta de asemenea semnatura. Nu in ultimul rand, Joshua Bell a fost unul dintre primii artisti de muzica culta care a lansat un videoclip pe VH1.
In 2009 artistul a concertat in cadrul Festivalului International George Enescu in fata unei sali arhipline. Acum, Joshua Bell revine la Bucuresti. Pe 11 mai artistul va fi acompaniat la pian de catre Sam Haywood.
Sam Haywood – Urmandu-l pe Chopin
Publicul meloman din intreaga lume a apreciat in unanimitate virtuozitatea lui Sam Haywood. La varsta de 13 ani a obtinut locul II in cadrul concursului BBC Young Musician of the Year. A urmat prestigiosul Premiu Isserlis decernat lui Sam Haywood de catre Societatea Filarmonica Regala din Londra, dar si o lunga perioada de studiu la Viena sub indrumarea pianistului Paul Badura-Skoda.
De-a lungul timpului, Sam Haywood a sustinut o serie de recitaluri pe pianul Pleyel, instrument care ii apartinuse chiar lui Frédéric Chopin. Artistul a compus si o serie de lucrari scurte pentru pian incluzand Cantecul Pinguinilor, partitura care face parte din coloana sonora a filmului Marsul pinguinilor.
Biletele pentru recitalul din 11 mai vor fi puse in vanzare in cadrul retelei Eventim. Cei care doresc sa afle mai multe atat despre cei doi artisti, cat si despre demersul Cruciadei Culturii, pot gasi toate informatiile necesare in cadrul site-ului proiectului, www.cruciadaculturii.ro.
Evenimentul se bucura de sprijinul Uniunii de Creatie Interpretativa a Muzicienilor din Romania.
Cruciada Culturii este o initiativa Agentia de Vise, agentie care concepe si implementeaza strategii de promovare a produselor prin cultura si entertainment, atat pe media clasice, cat si prin campanii creative de Internet marketing.
✖
Mulțumim pentru că vrei să fim prieteni!