American Journal of Psychotherapy nr. 2 / 2009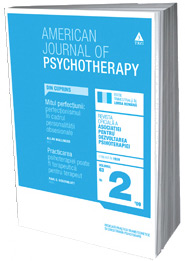 Autor:
Asociatia pentru Dezvoltarea Psihoterapiei
Revista oficiala a Asociatiei pentru Dezvoltarea Psihoterapiei. Fondata in 1939; Numarul 2 / 2009; Traducatori: Simona Reghintovschi, Simona Chiru. Editura Trei a publicat pana acum numerele 1 – 4 / 2008, precum si numarul 1 / 2009 al revistei "American Journal of Psychotherapy".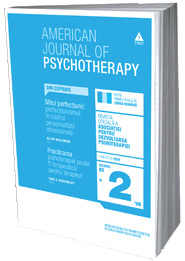 Revista oficiala a Asociatiei pentru Dezvoltarea Psihoterapiei. Fondata in 1939
Numarul 2 / 2009
Traducatori: Simona Reghintovschi, Simona Chiru
Mitul perfectiunii: perfectionismul in cadrul personalitatii obsesionale
Allan Mallinger, (trad. Simona Reghintovschi)
Acest articol prezinta structura si functia perfectionismului ca trasatura in cadrul personalitatii obsesionale si modul in care se imbina cu celelalte trasaturi ale acestui stil. Autorul propune un "mit al perfectiunii" central adaptativ/defensiv si delimiteaza fenomenologia si prezentarea clinica a patru aspecte problematice ale perfectionismlui: inhibitiile, preocuparea exagerata pentru completitudine si detaliile, dificultati legate de decizii si angajamente si pedanteria. De asemenea, articolul prezinta modul in care cateva aspecte ale stilului obsesional pot prezenta dificultati tipice in terapia cu perfectionisti.
Experienta in afara bolii: disocierea indusa hipnotic ca resursa terapeutica in tratarea persoanelor cu tulburari mentale rezistente
Joseph Myerson, Andres Konichezy, (trad. Simona Chiru)
Disocierea psihica este frecvent perceputa de profesionistii din sanatatea mentala ca un clivaj patologic al constiintei sau ca o deteriorare a integrarii adaptative. In hipnoterapie, disocierea este considerata una dintre cele mai semnificative trasaturi ale hipnozei, constituind o resursa terapeutica majora. In articolul de fata folosim disocierea indusa hipnotic (DIH) pentru a trata pacienti cu tulburari mentale rezistente (TMR). Aceste tulburari sunt caracterizate prin comportamente, ganduri si sentimente persistente si problematice, ce devin organizatorii principali ai identitatii si formeaza psihopatologii durabile.
Pentru a promova schimbarea psihica in pacientii cu TMR folosim DIH pentru a imbunatati procesele disociative ce permit diferentierea intre sanatate si patologie si ingaduie aparitia experientelor anterior umbrite de tiparele de personalitate patologice. Trei cazuri clinice de TMR (depresie cronica, tulburare obsesiv-compulsiva si o tulburare de personalitate) ilustreaza efectele DIH ca instrument terapeutic eficient ce faciliteaza prelucrarile emotionale, consolideaza acumularile terapeutice si securizeaza rezultatele terapeutice.
"Nu ma plang" — Constructul ambivalentei in tulburarea de personalitate schizoida
Birgitte Thylstrup, Morten Hesse, (trad. Simona Chiru)
Pacientii cu tulburare de personalitate schizoida (TPS) reprezinta o provocare pentru clinicieni din cauza comportamentului lor aparent detasat si retinut afectiv ce poate fi interpretat ca o lipsa a motivatiei pentru tratament si schimbare a modului de viata. Cu toate acestea, Bleuler a indicat dinamica intrapsihica a ambivalentei in tulburarea schizoida si ulterior aceasta a fost discutata in literatura despre psihopatologie. Ambivalenta schizoida se refera la sentimente contrastante in pacientii care prezinta o detasare emotionala aparenta ce poate ascunde o senzitivitate interioara ridicata si o dorinta intensa de apropiere.
Acest articol introduce diagnostice diferite si descrieri teoretice ale constructului ambivalentei in tulburarea de personalitate schizoida. Prezentarea elaborata prin intermediul unui exemplu de caz in care se arata atat punctul de vedere atat al pacientului, cat si al profesionistului asupra procesului de tratament. Noi folosim concepte de alianta de tratament si contratransfer ca modele explicative in discutarea modului in care ambivalenta schizoida poate influenta relatia de tratament.
Practicarea psihoterapiei poate fi terapeutica pentru terapeut
Paul C. Rosenblatt, Ph.D., (trad. Simona Reghintovschi)
Obiectul acestui articol este faptul ca practicarea psihoterapiei cu un client poate fi terapeutica si pentru psihoterapeut. Schimbarea terapeutului nu este in mod intentionat cautata si nici nu este oferita profesionist, insa rezulta din interactiunile cu clientul si este resimtita ca vindecare.
Mecanismele posibile ale schimbarii psihoterapeutului includ expunerea unei mari parti din sine insusi, situatia de a fi "in linia intai" pe parcursul terapiei, precum si relatia psihoterapeutica privita ca un sistem de cooperare cu doua directii. In sistemul de colaborare sunt multe lucruri care-l pot afecta pe terapeut, incluzand aici felul in care clientul intelege si reactioneaza la dispozitia, motivatia, dezvaluirea de sine si abilitatile terapeutului, precum si ceea ce clientul dezvaluie despre viata sa, care poate conduce terapeutul la un nou inteles despre propria viata.
Elvin V. Semrad (1909–1976): experienta in nucleul formarii in psihoterapie
Michael I. Good, M.D., (trad. Simona Reghintovschi)
Elvin Semrad este unul dintre cei mai influenti si iubiti profesori de psihoterapie din generatia sa. Mostenirea sa ca profesor, clinician si mentor este inca simtita astazi, chiar printre cei care nu l-au cunoscut direct. Informatiile si modul in care le transmitea sunt la fel de relevante ca intotdeauna pentru ingrijirea psihoterapeutica a indivizilor cu probleme. In primul rand, a formulat o psihiatrie a afectelor si a senzatiilor corporale si s-a concentrat in mod straniu si empatic pe experienta pacientului.
Baza abordarii sale bogate, sufletiste, intelepte si inimitabile nu a fost doar psihanalitica sau existentialista, orientata asupra Eului sau data de psihologia sinelui, interrelationala, umanista sau adaptativa. Ci a fost toate acestea intr-o integrare "Semradiana" in scopul clarificarii experientelor pacientilor, care ii tineau captivi si al evitarii "recunoasterii, suportarii si distantarii" de faptele carora ei se impotriveau. Acest articol prezinta cine a fost si ofera o perspectiva personala asupra influentei sale — cum si ce a transmis si de ce a avut un asemenea efect asupra celor care il cunosteau.
✖
Mulțumim pentru că vrei să fim prieteni!