Royal Fantasies – Consort Music For Three Viols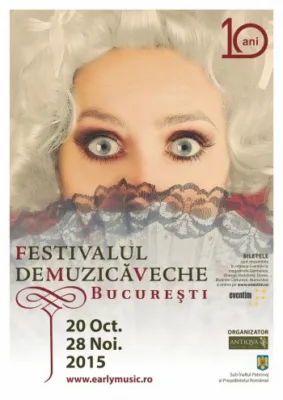 Joi, 19 Noiembrie 2015, ora 19.00, la Marele Salon de Receptie al Muzeului National Cotroceni, va avea loc concertul "Royal Fantasies" sutinut de ansamblului elvetian "The Little Light Consort". Concertul este sustinut in cadrul Festivalului de Muzica Veche Bucuresti 2015 (ed. a X-a).
Soma Salat-Zakariás (viola da gamba sopran), Mathilde Gomas (viola da gamba tenor) si Leonardo Bortolotto (viola da gamba bas) ne propun, la Cotroceni, "Fanteziile regale".
Ansamblul The Little Light Consort a fost infiintat in anul 2011 de Soma Salat-Zakariás. Telul sau de a studia si interpreta diversele repertorii dedicate consortului de viola da gamba i-a adus alaturi de el pe gambistii Leonardo Bortolotto, Mathilde Gomas, Christoph Prendl si Ryosuke Sakamoto. Intalnirea lor s-a petrecut pe parcursul studiilor in cadrul "Schola Cantorum Basiliensis" (Basel).
Toti membrii ansamblului au absolvit cursurile de viola da gamba la clasa profesorului Paolo Pandolfo, avand astfel o linie comuna de intelegere si interpretare muzicala.
Ryosuke Sakamoto indeplineste in cadrul ansamblului atat rolul de lautist cat si rolul de gambist. Astfel, ansamblul are la dispozitie interpreti cu un excelent potential si baze solide teoretice si practice.
Toti membrii ansamblului sunt specializati in interpretarea pe toate instrumentele din familia violei da gamba (consortul de viole da gamba).
Membrii ansamblului The Little Light Consort lucreaza impreuna inca din anul 2008, cautand o forma comuna de expresie si dezvoltand intelegerea caracteristicilor interpretative specifice repertoriului dedicat consortului de viole da gamba.
Perfectionarea calitatilor lor interpretative s-a realizat in timp, in special pe parcursul studiilor din Basel dar si pe parcursul unor prestigioase masterclass-uri desfasurate sub indrumarea profesorilor Anthony Rooley, Dominique Vellard, Evelyn Tubb, Paolo Pandolfo, Randall Cook sau Rebeka Rusò.
Festivalul de Muzica Veche Bucuresti are loc in perioada 20 octombrie – 28 noiembrie 2015 si cuprinde un numar de 14 evenimente.
Acestea se desfasoara la Sala Radio, Palatul Bragadiru, Muzeul National Cotroceni, Muzeul Taranului Roman, Biserica Anglicana, Muzeul "Curtea Veche" si Muzeul National al Pompierilor (Foisorul de Foc), cu participarea artistilor si formatiilor din peste zece tari.
In program:
– Orlando Gibbons (1583-1625) – Fantasia III
– Thomas Lupo (1605-1669) – Pavan
– John Jenkins (1592-1678) – Ayre – Courante – Saraband
– John Coprario (ca.1570-1626) – Fantasia X
– Vincenzo Ruffo (ca.1508-1587) – El Perfidioso – La Gamba
– Orlando Gibbons (1583-1625) – Fantasia II
– Thomas Tomkins (1527-1656) – In Nomine
– Eustache Du Caurroy (1549-1609) – Quatriesme Fantasie sur Conditor Alme Syderum
– Alexander Agricola (ca.1445–1506) – Tandernaken
– Thomas Lupo (1605-1669) – Fantasia I
– Henry Purcell (1659-1695) – Fantasia II
– John Baldwin (ca.1560-1615) – A Browning
Info:
www.facebook.com/Festivalul.de.Muzica.Veche.Bucuresti
https://www.facebook.com/events/788893697887102/
Biletele sunt disponibile pe www.eventim.ro, in magazinele Germanos, Orange, Vodafone, Domo, Carrefour, librariile Carturesti, Humanitas si benzinariile OMV.
✖
Mulțumim pentru că vrei să fim prieteni!