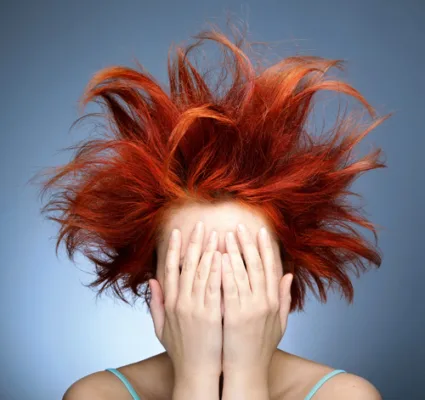 Gelotofobia este frica maladiva de a nu fi luat in ras. Ea sta la baza complexelor noastre celor mai chinuitoare si termenul a fost creat de psihologul german Michael Titze, de la care colaboratoarea noastra, psihologul Ramona Covrig a obtinut un pasionant interviu.
Psychologies: Cum ati defini gelotofobia si care sunt sursele anxietatii sau fricii de a fi luat in ras?
 Michael Titze: Intr-o carte din '95, am descris mai multi pacienti tratati de mine pentru depresie sau anxietate. In fiecare din aceste cazuri se gasea un complex de inferioritate decisiv. Astfel ca am incercat sa asociez teoria adleriana legata de sentimentele de inferioritate cu teoria aceasta noua, a emergentei sentimentului de rusine (legata mai ales de psihanalistul american Leon Wurmser).
Pentru a ilustra acest fapt, am incorporat in scrierile mele povestea lui Pinocchio (care tematizeaza pe larg experienta rusinii). In acest context, am creat termenul de "gelotophobie" si am creat moduri de a trata aceasta boala legata de rusine. Multi oameni se tem sa nu fie luati in ras si fac tot ce pot ca sa evite aceasta jena. Ceva care ii individualizeaza pe gelotofobici este ca nu fac diferenta intre sacaiala jucausa si ridiculizare. Pentru ei, orice ras este agresiv si glumele neagresive pot fi resimtite ca o mare rautate.
Gelotofobia, in general, isi are originea in experientele traumatice din copilarie sau adolescenta, cand oamenii au fost agresati in acest fel. Se leaga si de interactiunile timpurii cu parintii. Parintii acestor oameni au pus presiune pe ei sa ajunga la un ideal care era doar al lor. In acest fel, un superego rigid s-a creat si a dat nastere sentimentelor de vina si de rusine. Cand copilul nu se conformeaza asteptarilor parintesti, ei ii pot da mesaje de retragere a iubirii si de ridiculizare. Sunt comportamente menite sa asigure conformarea cu cererile lor. A nu intra in aceasta structura normativa duce la frica de pierdere si la adaptarea la cererile familiei.
De fapt, indivizii ridiculizati sunt mai conformisti si mai fricosi sa nu rateze. Consecinta este ca un copil va intra mai bine in microuniversul familiei, dar va slabi legatura cu agentii extrafamiliali. Sentimentul ca apartine unei comunitati mai mari este saracit sau nu apare. Ca rezultat, acesti indivizi nu sunt in stare sa se integreze in grup intr-o maniera relaxata. Vor tinde sa se separe de activitatile sociale, pentru a evita jena, sau vor crede ca sunt perceputi drept ridicoli, penibili.
Dar faza decisiva este pubertatea: acum, cei tineri examineaza felul cum se raporteaza ceilalti la ei. Tinerii vor incerca sa determine cine are rolul dominant in grup. Daca vad ca difera ca vestimentatie sau muzica, sau limbaj, sau relatii cu sexul opus, se vor teme ca devin ciuca batailor de joc. Ridicolul are un rol crucial in relatiile interpersonale din grupuri. In primul rand, are o functie coeziva pentru grup. Cei care se comporta altfel decat norma grupului, se vor confrunta cu rasul pedepsitor, care ii forteaza sa respecte asteptarile grupului. Cei mai tineri insa, care nu au capacitatea de a anticipa si de a intelege asteptarile celorlalti, nu vor fi capabili sa isi corecteze comportamentul neconventional.
Ce ne puteti spune despre povestea lui Pinocchio in varianta Carlo Collodi si "complexul Pinocchio"?
M.T.: Complexul lui Pinocchio este un fenomen ce se refera la cei care sufera de gelotofobie. Oamenii acestia nu au invatat niciodata sa aprecieze umorul. La fel era si Pinocchio, o marioneta de lemn. In sfera fizica, multe emotii se manifesta in muschii nostri. Comunicam in felul in care ne prezentam celorlalti, prin postura. Cand ne este teama, muschii de obicei intepenesc, apare tensiunea musculara. Aceasta este asociata cu panica. In aceasta situatie nu prea poti sa folosesti energia vitala pentru scopuri agresive, cum ar fi atacarea agresorului sau fuga.
Filozoful francez Henri Bergson a scris o carte minunata, Rasul. In aceasta carte, el a descris perfect complexul Pinocchio atunci cand suntem ridiculizati sau redusi la a fi simple papusi. Marionete. Exact asta este "persona" lui Pinocchio: o papusa de lemn. Daca cineva nu e capabil sa dezvolte un simt al apartenentei in copilarie, pentru ca nu a experimentat sentimentul de iubire si stima din partea parintilor sai, rezultatul, spune Bergson, este ca nu va fi capabil sa intre in grup intr-o maniera relaxata.
Nu va dezvolta abilitati sociale. Rusinea ii face defensivi. Se ascund, sunt singuri. Nu isi asuma riscuri in viata sociala. Singurul lor scop este sa nu fie luati in ras de ceilalti. Asta e gelotofobia. Bergson zice ca oamenii acestia sunt pedepsiti de societate pentru ca sunt ridicoli… Ei se si comporta astfel: rosesc, de exemplu. Tensiunea fizica ii face sa tremure, se balbaie. Arata defensiv… Cand merg pe strada, parca poarta o masca si nu se misca usor si spontan. Asta ii poate face si mai amuzanti – ceea ce provoaca si mai multa tensiune. Ei incearca sa-si controleze miscarile spontane, ceea ce e, fizic, imposibil…
Astfel ca ajung sa arate precum Pinocchio, marioneta de lemn. Oamenii acestia sunt singuri si neincrezatori. Au o atitudine "agelotica" (incapabili sa aprecieze rasul) pentru ca nu au experimentat amuzamentul, care aduce laolalta oamenii si creeaza o comunitate. Motivul este ca s-au simtit separati de persoana de referinta timpurie. De obicei, este vorba despre o mama egoista sau una trista. Fata de care ei isi amintesc este cea e unui sfinx care nu rade. O mama rece.
Figura agelotica a rusinii. Atunci cand copiii se confrunta cu o astfel de figura, nu se poate construi o punte interpersonala. Copiii nu se pot conecta la altii. Ei nu vad rasul ca pe un mijloc pozitiv de a imparti ceva de valoare. Deci, ei nu pot dezvolta ceea ce Alfred Adler a numit "simtul comunitatii"… Prietenii lor se dovedesc straini ostili, care ii trateaza intr-o maniera cruda. O unealta pe care acesti straini o folosesc, este rasul umilitor. Iata de ce copiii acestia se tem atat de mult – si nu fara motiv. Este convingerea mea ca a rade de cineva este cel mai crud mod de a dezumaniza pe cineva.
TRATAMENTUL GELOTOFOBIEI IN VIZIUNEA LUI MICHAEL TITZE
Multi pacienti cu simptome nevrotice se comporta, inconstient, ca niste clovni. Pe de alta parte, ei incearca din greu sa nu iasa din conduita comun agreata. In acest fel, ei se orienteaza perfectionist: fac eforturi mari de a evita orice greseala care ii poate pune in situatie ridicola sau de incompetenta.
Ei se supun unui principiu numit de Watzlawick more of the same: incearca din greu sa fie elocventi, relaxati, intelepti. Evoca reactii spontane prin efort constient. Acest efort insa duce la stres continuu (tensiune fizica si intepeneala), care poate deveni o sursa de comportamente ridicole sau ciudate. Daca lupta constient, ei nu mai sunt spontani, pierd "gratia naturala", cum zice Bergson.
Devin neindemanatici, ca o marioneta. Devin prototipul bufonului de care rad ceilalti. In grupul de terapie pe care il anim, avem un clovn terapeutic, un coterapeut, de altfel. Clovnul acesta ii incurajeaza pe cei care sufera de gelotofobie. Clovnii se expun pe ei insisi, dar nu sufera ca se rade de ei. Cei care au simptome de gelotofobie, trebuie sa invete prima data sa se comporte ca niste clovni adevarati.
Ei invata sa dezvolte acelasi pattern cognitiv pe care il are un clovn, si experienta ii elibereaza de sentimentele negative pe care le asociaza, inconstient, cu rasul. Mai mult, clovnul terapeutic este un model de comportament si pentru copiii sanatosi. Felul cum se comporta acestia nu este niciodata unul perfect. Poti privi un copil in doua feluri: unul normativ, copilul este o persoana in miniatura, care face greseli si, deci, e inferior sau slab.
Dar daca privesti puterea emotionala a copiilor, poti vedea si capacitatea lor de a se bucura de viata. Ei pot fi spontani, pot rade cu toata inima. Multi oameni ii privesc pe copii in prima varianta, evaluand comportamentul copilului sub normele stricte ale maturitatii. Copiii se pot simti astfel inadecvati… Introducerea clovnului in terapie serveste ca ego auxiliar. De exemplu, clovnul terapeutic poate veni sa-i sopteasca ceva stupid sau ridicol pacientului. Servind ca model de asertivitate, clovnul terapeutic poate media un moment si o senzatie de putere si de adecvare…
✖
Mulțumim pentru că vrei să fim prieteni!