Chipul – o fereastra catre personalitate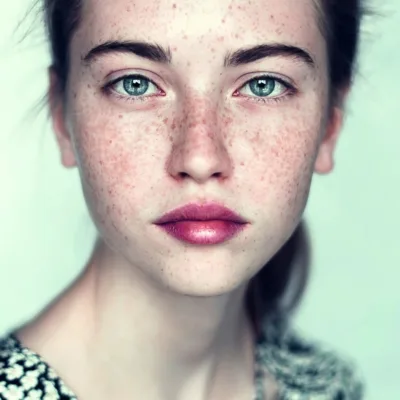 Melancolia, suferintele, optimismul ori sociabilitatea, toate pot fi citite pe chipul nostru. Trasaturile fetei sunt precum o carte deschisa despre personalitate. Iata cum poti cunoaste mai bine persoana din fata ta.
Ce se poate citi pe un chip
Fiecare dintre noi, atunci cand se naste, are creierul si chipul ca o panza alba, pe care timpul, experientele traite, oamenii intalniti picteaza apoi cu o pensula magica, evidentiind anumite trasaturi si microexpresii, care sculpteaza, mai departe, portretul psihologic.
Tot ceea ce traim de-a lungul vietii, se inregistreaza la nivelul musculaturii faciale, a structurii osoase si a liniilor fine, care, treptat, se dezvolta.
Fiecare rid si fiecare trasatura spune o poveste despre persoana respectiva; putem merge un pic mai adanc cu profiling-ul, descoperind lucruri ce tin de profunzime, doar analizand din punct de vedere fizionomic.
Profiling-ul prin face reading ne ajuta, prin observarea trasaturilor faciale, sa prezicem tipare de comportament, sa intelegem de ce o persoana se comporta intr-un anumit fel si sa deducem atitudini viitoare.
Spre exemplu, analizand forma fetei, putem deduce gradul de flexibilitate si de echilibrul emotional in care se afla o persoana.
Daca luam in considerare fruntea (o diferenta vizibila si fundamentala fata de celelalte mamifere, oamenii fiind singurii din lantul trofic care au capacitatea de a gandi si analiza rational lucrurile), putem vedea daca persoana respectiva este creativa sau pragmatica, daca este genul care sa respecte reguli stricte sau daca e mai libertina.
Desi li se atribuie un rol figurant in fizionomia fetei, sprancenele au, insa, rolul de a comunica daca o persoana este pragmatica sau idealista, daca isi asuma riscuri, daca ia decizii usor sau, dimpotriva, daca nu se poate hotari niciodata, daca este atenta la detalii sau priveste lucrurile per ansamblu.
Aceste lucruri se stabilesc in functie de forma lor, de unghiul de inclinare si de nivelul de apropiere sau departare, unele de altele.
Ochii, oglinzile sufletului
Coborand putin, sa ne privim in oglinda sufletului celuilalt. Adica, daca cercetam forma ochilor unei persoane (care imprima, de asemenea, evenimentele si trairile predominante din timpul vietii), putem observa daca avem de-a face cu un profil anxios sau fobic, daca este un bun strateg sau nu (Collin Powel este recunoscut pentru privirea lui agera – tiger eyes), daca este un introvert sau un extrovert, ce nivel de sociabiliate are.
De asemenea, putem vedea daca este geloasa, daca este vicleana sau loiala si ne putem da seama daca este o persoana cu o dinamica lenta sau cu o viteza de reactie crescuta. 
Nasul
Pe de alta parte, nasul joaca un rol foarte important, intrucat acesta exprima nivelul de agresivitate, atat mentala, cat si fizica, defineste persoana in functie de cat de stransa este la mana sau, dimpotriva, cat este de generoasa.
Pentru cei care negociaza, este important sa stie daca persoana din fata lor este orientata pe a face bani sau pe a-i administra si cat de decisa este in a-si atinge obiectivul.
Barbia si urechea
Barbia ne arata gradul de hotarare si de vointa cu care este inzestrat cineva, iar urechea indica gradul de disciplina, de precautie si control.
Cine credea ca urechea este un element important in comunicare, doar pentru functia ei de a auzi si a asculta ce i se comunica, se inseala.
Mai mult decat atat: urechea impune tonul de comunicare si volumul de informatii pe care interlocutorul le poate receptiona; de aceea, ar fi bine sa acordam mai multa atentie urechilor celor cu care interactionam, caci s-ar putea sa fim pe frecvente diferite.
O tehnica veche si foarte noua
Face reading-ul este, la baza, o tehnica milenara, veche de 3.000 de ani. Cea mai veche scriitura legata de aceasta tehnica ii apartine lui Mr. Guiguzi, a carui lucrare inca ruleaza si astazi si ale carui practici sunt din ce in ce mai populare si mai utilizate.
Este cunoscuta sub numele de mien (face) shiang (reading). De asemenea, beduinii obisnuiau sa faca profilul unui calator prin desert dupa trasaturile fetei, pozitia corpului, urmele lasate pe nisip.
Astazi, toate aceste metode sunt folosite in criminalistica, in psihologie, in servicii secrete si la universitati de renume din Statele Unite, Canada si Marea Britanie.
Fereastra spre personalitate
Prin "citirea fetei" poti contura personalitatea cuiva. In al doilea rand, este un instrument magnific de comunicare.
In al treilea rand, aceasta reprezinta o metoda buna de autocunoastere, fiind o tehnica complexa de intelegere a fiintei umane din punct de vedere psihologic si spiritual, bazandu-se pe citirea trasaturilor fetei, modificate in timp.
Pe de alta parte, tehnica aceasta poate fi foarte utila pentru cei care se ocupa de recrutari, intrucat reprezinta un instrument pe care il pot folosi pentru a alege oamenii potriviti pentru job-ul respectiv, avand sanse minime de a fi luati prin surprindere, ulterior, de comportamentul acestora.
Deoarece intuitia si experienta nu sunt intotdeauna suficiente pentru a citi o persoana rapid si corect, prin face reading se poate ajunge mai eficient la valorile sale primordiale, care nu pot fi mascate la nivel inconstient.
Face reading – un instrument de recrutare
Face reading este "cheia cunoasterii" catre panoul de comanda al fiecarei persoane cu care interactionam.
De aceea, acest tip de profiling este foarte important pentru oricine, incepand de la manager de echipa, CEO, manager de vanzari, HR manager etc.
Dat fiind ca reprezinta acel element care face diferenta intre a livra la un standard foarte bun, in media pietei, si a performa remarcabil sau a face din profiling si coordonarea personalului ceea ce englezii numesc state of the art, in conditiile in care postul iti solicita acest lucru.
De asemenea, este un instrument bun si in alegerea partenerului potrivit. Istoricul si trasaturile de personalitate pot fi citite cu o acuratete de peste 90%, daca este antrenat in consecinta.
Unde nu se recomanda
Nu este bine sa o folosim in scopul manipularii persoanelor doar pentru ca avem acces cu usurinta, asa cum mentionam mai sus, la "panoul de comanda".
De asemenea, nu este etic sa colectam date din trecutul persoanei respective si sa le folosim impotriva acesteia.
De Nadia Gorduza, Fondator Id Therapy Bespoke Treatment Center
Este medic psihoterapeut si business coach, singurul psihoterapeut din Romania specializat in terapia de cuplu prin metoda Gottman, reprezentant al Institutului Gottman din SUA, avand certificari la nivel national si international. A urmat un executive MBA in Statele Unite.
Tel.: 0751.202.272
Editare Anca Petrescu
Citeste si:
De ce este limbajul corpului un aliat de incredere
Tips&tricks pentru o buna prima impresie
Foto: shutterstock.com
✖
Mulțumim pentru că vrei să fim prieteni!