Corporațiuni. Cum lucrul pentru un șef toxic te poate face și pe tine la fel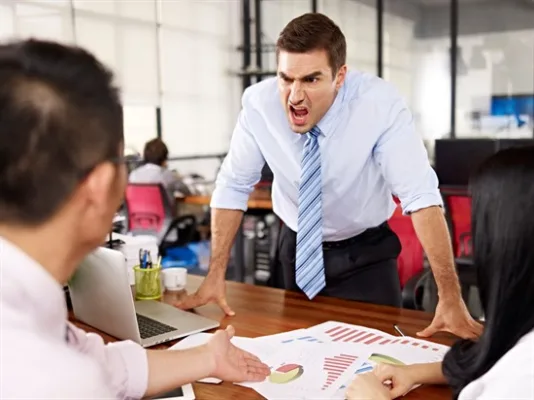 Ceea ce vedem tot mai frecvent în lumea profesională de azi sunt managerii agresivi, violenți verbal (chiar și fizic) cu angajații, care persecută, care nu au deloc inteligență emoțională. A lucra pentru un astfel de manager e sinonim cu a fi în pericol să-ți pierzi sănătatea psihică. Iată cum se comportă un șef toxic.
Preferă să-și arate autoritatea, să fie ascultați cu orice preț, să îi supună pe ceilalți și ceilalți să facă ceea ce li se spune chiar dacă e incorect.
Sunt oameni care rareori (spre deloc) admit că greșesc. Acești manageri angajează sau promovează subalterni nu pentru competența lor ci pentru supunere.
Sefii toxici sunt oameni agresivi sau au tactici vizibile de eschivare. Când trebuie să fie răspunzători de ceva, preferă să se eschiveze, să se retragă de la responsabilitate, trimit alți oameni ca să fie carne de tun.
"Am un șef care nu știe ce face. E numit politic și știm cu toții ce fel de oameni sunt numiți politic. Și, deși e un idiot care mai bine ar sta acasă, vine la birou și își terorizează angajații.
Însă, dacă e vreo inspecție de la Minister, mă trimite pe mine să vorbesc cu inspectorii, că doar eu am luat decizia X sau Y. El pretextează că îl doare ceva, sau îi naște nevasta. Da, da, chiar a zis așa ceva…"
Citește și:
Cum să reziști unui șef nevrotic
Hărțuirea psihologică la locul de muncă
Acesta e genul de comportament iresponsabil care face dintr-un angajat un kamikaze. Pentru un astfel de manager toxic, angajații sunt priviți ca niște pioni fără mult spațiu de manevră, ce pot fi dați afară oricând.
Stresul domnește, nu există feedback pozitiv, birocrația e obositoare, e nevoie de 100 de semnături ca să se facă ceva, se pune accent pe profit dar profitul nu apare într-o companie unde oamenii sunt mereu demotivați, se perindă în același post mai mulți oameni timp de un an și nu rămâne nici unul…
Frica, paranoia, bârfa și zvonurile sunt la ordinea zilei în companiile unde conduce un astfel de șef, oamenii astfel compensează lipsa de informație, de comunicare. Ideea este că aceste comportamente "de sus" se răspândesc ca un virus la toți cei din firmă.
La fel cum comportamentele bune ale unui manager de top, încurajarea, controlul lăsat angajatului și încurajarea creativității de pildă, sunt contagioase și se văd și la middle manageri, la fel ce rele se răspândesc precum gripa.
Jean Lipman Blumen este autorul cărții The Allure of Toxic Leaders, o carte ce descrie felul cum șefii toxici fac rău angajaților și organizațiilor.
Ei subminează, marginalizează, demoralizează, reduc controlul angajatului asupra propriei activități, îl supraveghează îndeaproape. Acești manageri slabi sunt cei care conduc prin frică.
Sunt cei care te învinuiesc pe tine pentru greșeala lor, spunând că nu ai înțeles bine sau ai uitat (acest comportament se numește în psihologie "gaslighting" – manipularea percepției celuilalt pentru a-l face să se îndoiască de propriile senzații, impresii, percepții, uneori de propria sănătate psihică – și este un semn de abuz emoțional).
Cei care lucrează cu astfel de manageri raportează o satisfacție mult mai redusă la locul muncă, își urăsc jobul, au simptome de depresie și motivația lor de a mai face ceva este scăzută.
De obicei, aleg să vină zilnic la serviciu unde merg în virtutea inerției, cumva pe pilot automat, nu sunt prezenți, activi, nu creează, nu inovează. Simptomele de burnout sunt la ordinea zilei.
Munca pentru un manager toxic te poate molipsi și pe tine
La Manchester Business School s-a făcut un studiu ce arată cum munca pentru un incompetent obraznic și dur poate să afecteze comportamentul celor de mai jos. Noi știm deja că abuzul atrage abuzul (copiii abuzați deseori ajung abuzatori).
Cu alte cuvinte, comportamentul toxic de la locul de muncă poate să acționeze ca un virus ce infectează un grup uman și-l face să nu mai fie funcțional.
Rezultatul este un cerc vicios: ești abuzat, vei abuza la rândul tău, pentru că frustrarea și faptul că ai fost nedreptățit te face să te răzbuni pe cine nu trebuie: pe cei din jur, pe colegi, adesea pe familia de acasă, care nu are nicio vină.
Crystal Farh, de la Michigan State's College of Business, și Zhijun Chen de la Universitatea din Western Australia au studiat felul cum grupurile sociale sunt afectate de superiorii abuzivi.
Ceea ce au descoperit ele este de natură să ne sperie: oamenii persecutați devin persecutori. Devin reci, duri, nepoliticoși și sarcastici cu cei din jur, cu ceilalți membri ai echipelor, lucru foarte coroziv pentru echipe.
Oamenii nu se mai ajută între ei, nu-și mai vorbesc pe ton prietenos, ba chiar se gândesc să plece.
Ce se poate face?
Nu foarte multe, dar tot se poate face ceva. Oamenii cred (fals) că acel loc de muncă este ultimul lor refugiu și că nu vor găsi altceva. Sigur că pe o piață a muncii atât de dificilă cum e România, impresia lor are ceva adevăr.
Dar nici sănătatea psihică nu trebuie pusă în pericol. Cei care au parte zilnic de toxicitatea unui șef au simptome de depresie evidente.
În primul rând, evită-ți șeful toxic.
Dacă comportamentul său este să te acuze că nu ai înțeles, ia notițe, repetă-i ceea ce chiar el a spus. Ține socoteala acestor derapaje și la o eventuală confruntare, expune-i-le.
Evită să fii la rândul tău un abuzator. Nu copia comportamentul celui atât de detestabil.
Fă-ți treaba bine.
Evită-i pe cei care se comportă la fel ca el sau atrage-le atenția că îl copiază.
Poți, dacă ai cui, să faci raport cu privire la comportamentul defectuos al acestuia unui superior. E dreptul tău să te aperi.
Dacă nimic nu merge, pleacă și găsește altceva de muncă. Sănătatea psihică e mai importantă.
Foto: 123rf.com
✖
Mulțumim pentru că vrei să fim prieteni!