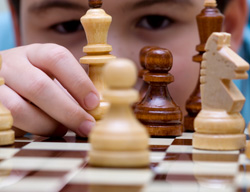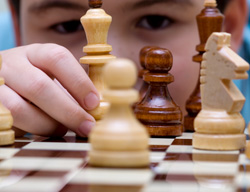 Gandirea este o parte din viata. Nu exista probabil o alta abilitate care sa fie mai importanta ca aceasta. Si totusi nu se dezvolta de la sine.
Copiii-lupi crescuti in junglele africane nu ajung sa gandeasca la un nivel uman satifacator. Deci, societatea si civilizatia au un rol important in invatarea acestei abilitati.
Insa, spre deosebire de alte aptitudini pe care le cultivam cu sarguinta la noi sau la copiii nostri (de a canta, desena, dansa, etc), prea putin ne-am cultivat sistematic si deliberat acest potential urias pe care il avem.
Dispunem in mod natural de capacitatea de a merge si de a alerga, asa cum dispunem de capacitatea de a gandi. Dar nu toti castigam Jocurile Olimpice, ci doar atletii care isi valorifica intreaga capacitate, antrenandu-se regulat. Chiar si asa, atletii bine antrenati castiga in fata celor mai slab antrenati, chiar daca toti se bazeaza pe acelasi dat natural.
In mod similar, scopul lectiilor de gandire este ca oamenii sa devina capabili sa gaseasca solutii imediat si fara ezitare la probleme pe care altfel nu ar sti cum sa le rezolve. Poate ca nu oricarei persoane ii este util sa alerge cel mai rapid, dar tuturor ne este util, oricand in viata, sa gandim cat putem de eficient.

Mind Master organizeaza training cu tema: Lectiile de gandire CoRT program special pentru elevi, licenta Edward de Bono.
Lectiile de gandire CoRT (Cognitive Research Trust) sunt singurele materiale prin care putem face acest lucru, fiindca sunt special concepute pentru predarea gandirii ca abilitate de baza. Lectiile sunt simple, practice si clare. Formatul lor permite sa fie folosite cu persoane intre 6 ani pana la maturitate, cu IQ intre 75 si 140, in scoli pentru copii cu dizabilitati, cat si in scoli pentru copii supradotati pentru ca procesele de baza ale gandirii sunt aceleasi pentru toti.
Lectiile CoRT au fost create de dr. Edward de Bono in anii '70 si sunt folosite din ce in ce mai mult, in tari precum USA, UK, Irlanda, Canada, Australia, Israel, Malta, India, China.
Edward de Bono defineste gandirea ca deprinderea de operare cu care inteligenta actioneaza asupra experientei. Daca inteligenta este puterea motorului unei masini, atunci gandirea este similara abilitatilor de a sofa.
Se spune in mod obisnuit ca o persoana cu un IQ ridicat este automat si un bun ganditor. Nu este neaparat asa. Din acest motiv, multe scoli pentru copii supradotati ajung sa foloseasca CoRT pentru a evita "capcana inteligentei" care se produce atunci cand un coeficient mare de inteligenta nu este insotit de deprinderi efective de gandire.
Gandirea poate fi dezvoltata cel mai bine prin actiune si interactiune. De aceea, practica este partea cea mai importanta din lectie. De fiecare data, cursantii lucreaza in grup sau individual asupra a mai multi itemi pentru ca atentia sa fie acordata asupra procesului si nu asupra continutului.
Exemplele si ilustratiile sunt clare, astfel incat sa se evite mereu supra-complicarea si confuzia. Principiile de predare sunt: simplu, practic, clar si concentrat.
Lectiile CoRT diminueaza procese daunatoare care se manifesta de obicei in gandirea obisnuita, cum ar fi:
a aluneca fara voie de la o idee la alta, indepartandu-te de subiect;
a judeca inainte de a gandi: a lua imediat o pozitie si apoi a apara acea pozitie sau a ataca pozitia opusa;
a duce lucrurile la extrem: pentru a arata ca o idee este imposibila, fara a cauta o cale de mijloc ca solutie;
a lua in calcul doar o parte a unei situatii, ceea ce duce la concluzii eronate, dificil de identificat fiindca demersul logic a fost corect.
In urma insusirii abilitatilor de gandire din lectiile CoRT, vei putea sa:
iti largesti perceptia asupra realitatii;
iti organizezi gandirea pentru a atinge un maxim de eficienta;
iti dezvolti capacitatea gandirii practice pentru a gasi solutii ablicabile in realitate;
poti sa privesti obiectiv propria gandire si a celorlalti;
ai o mai mare incredere in abilitatea ta de a gandi;
esti pregatitit sa gandesti si sa faci comentarii asupra oricarui subiect;
esti dispus sa asculti ideile celorlalti, oricat de diferite ar fi de ale tale;
iei cele mai bune decizii fiindca stii sa iei in considerare toate aspectele unei situatii.
Lectiile CoRT sunt impartite in 6 module a cate 10 lectii:
CoRT 1 – Largirea perceptiei (lectiile 1-10) Ajuta cursantii sa-si largeasca perceptia – lucru fundamental pentru gandire asa cum e vocabularul pentru citire.
CoRT 2 – Organizare (lectiile 11-20). Arata cursantilor cum sa-si organizeze gandirea.
CoRT 3 – Interactiune (lectiile 21-30). Ajuta cursantii sa observe gandirea aplicata in argumentare, felul in care un punct de vedere este prezentat sau aparat.
CoRT 4 – Creativitate (lectiile 31-40). Cursantii afla cum sa schimbe concepte si structuri pentru a obtine rezultate noi.
CoRT 5 – Informatii si sentimente (lectiile 41-50). Raspunde la intrebarile: Ce informatii avem? Cum putem obtine alte informatii? Ce valori si sentimente putem aplica acestor informatii?
CoRT 6 – Actiune (lectiile 51-60). Introduce simboluri vizuale care pot fi folosite in gandirea directa. La sfarsitul fiecarui modul (10 lectii) se obtine un certificat de participare.
Durata unei lectii este aproximativ o ora. Se lucreaza cu instructori acreditati, cu grupuri de varste apropiate de maxim 18 persoane.
Pentru informatii suplimentare si inscriere, accesati http://www.mindmaster.ro/.
"The quality of our thinking will determine the quality of our future."
dr. Edward de Bono
✖
Mulțumim pentru că vrei să fim prieteni!