Povestea unei descoperiri in neurostiinta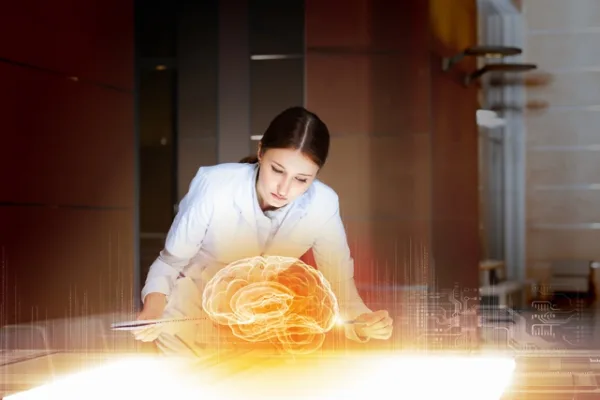 Dragos Cirneci, colaboratorul nostru permanent, este autorul unei descoperiri foarte importante in neurostiinta. Iata despre ce este vorba.
Psychologies: In ce consta descoperirea ta, in termeni generali, accesibili cititorilor care nu stiu multe despre neurostiinta?
Dragos Cirneci: As vrea sa incep prin a spune ca nu este propriu-zis vorba despre o descoperire. Sau nu inca. Este o ipoteza, care se doreste a fi testata. In ce priveste ipoteza, ea, pe scurt, ar fi descrisa in urmatoarele cuvinte: atunci cand ne reamintim ceva sau ne intalnim cu informatii cunoscute, dar neaccesate o vreme, neuronii nostri se repara de eventuale stricaciuni. Se pastreaza in forma.
Probabil ati observat ca reamintirea a ceva la care nu ne-am gandit de mult sau revederea a ceva/cineva cu care nu am avut ocazia sa ne vedem de mult timp ne provoaca placere. In neurostiinte se cunoaste faptul ca, atunci cand creierul ne trimite semnale de placere si ne indeamna sa facem un lucru, inseamna ca lui ii face bine, ii foloseste la ceva.
Initial, m-am gandit ca reamintirea/revederea joaca rol de up-date (completare sau aducere la zi) a memoriilor, lucru confirmat de altfel de mai multe studii. Aici trebuie spus ca, de fiecare data cand ne reamintim ceva sau revedem ceva cunoscut, acea memorie intra intr-o stare numita "labila" si se rescrie automat cu informatie noua (proces numit re-consolidare), daca noua informatie e congruenta cu vechea memorie.
Apoi m-am gandit ca poate e mai mult de atat. Si am cautat date privind mecanismele biochimice implicate in up-date-ul memoriilor si re-consolidarea lor intr-o maniera noua, completata. Asa am descoperit ca la soareci exista o anumita cale moleculara (ce are la baza o proteina numita p300) implicata in reconsolidarea unei memorii, iar aceasta cale este similara cu cea prin care organismul isi repara ADN-ul afectat de procesele de stres oxidativ.
Stresul oxidativ apare tot timpul in celule, ca urmare a tot felul de factori externi, si este cel pe care il vizeaza alimentele ce ni se recomanda a avea efect antioxidant. Orice celula, inclusiv neuronul, are mecanisme proprii prin care repara stricaciunile, doar ca aceste mecanisme de reparare nu se mai mobilizeaza cum trebuie odata cu varsta – mai exact, dupa 40 de ani si, in timp, se poate ajunge la Alzheimer sau la alte forme de dementa, ateroscleroza sau cancer.
Acum ajung la ce aduce nou ipoteza mea. In stiinta, cele doua domenii de cercetare – a invatarii si a repararii ADN-ului – sunt complet separate. Sunt domenii diferite si nu prea  stiu specialistii dintr-un domeniu ce fac cei din celalalt domeniu. Eu am reusit o conectare a datelor din cele doua domenii.
Adica am sesizat ca mecanismele care se declanseaza in interiorul neuronilor atunci cand invata, se pare ca pornesc caile naturale de reparare a ADN-ului din respectivii neuroni. Deci, acestia vor avea o viata mai lunga si vor fi mai capabili a ne ajuta memoria. Iar studiile recente din domeniul reamintirii la oameni par sa sustina ipoteza mea.
Se spune ca aceasta descoperire poate revolutiona medicina creierului. In ce fel? Ce probleme poate rezolva?
D. C.: Asa cum se poate vedea si in raspunsul la intrebarea anterioara, daca aceste mecanisme se confirma, descoperirea are implicatii atat in amanarea imbatranirii creierului si preventia bolilor neurodegenerative, cum este Alzheimer, cat si in psihoterapie.
De ce in psihoterapie? Se stie la ora actuala ca una dintre cele mai frecvente boli tratate prin psihoterapie – depresia – are multe in comun cu bolile degenerative. In sensul ca produce moartea neuronilor si sinapselor, afectand invatarea si reamintirea.
Demersul nostru poate conduce la elaborarea unor retete comportamentale prin care anumite forme de invatare/reamintire desfasurate conform unor pasi specifici pot juca rol de preventie/tratare a unor boli ale creierului, reparand neuronii din zonele afectate de acele boli.
Se poate preveni imbatranirea accentuata a creierului?
D. C.: Da, se poate. Ar fi mai multe de spus aici. De la stil de viata si pana la exercitii pentru creier. Este bine sa evitam a manca grasimi si sa apelam mai ales la bucataria mediteraneana, bazata pe peste, ulei de masline, legume si vin rosu. Completata cu fructe de padure si seminte.
Apoi este important sa facem miscare macar jumatate de ora pe zi, sa exploram, sa descoperim lucruri si locuri noi, sa invatam mereu ceva nou si sa acordam prioritate lucrurilor care nu ne ies, pentru care parem ca "nu suntem facuti". Daca reusim sa preluam controlul asupra lor, creierul intinereste.
Chiar unele aspecte negative, precum stresul si depresia, pot fi rezolvate prin confruntarea cu aceste provocari. In fine, exista exercitii special pentru creier, numite sugestiv brain fitness, care stimuleaza atentia, memoria si limbajul si care, daca sunt exersate de cateva ori pe saptamana, timp de doua-trei luni, este dovedit ca amana imbatranirea creierului.
Chiar si jocurile video sunt folositoare. Doar cele de actiune, care sunt preferatele copiilor si adolescentilor. Doar ca ele fac – in mod paradoxal – mai mult bine creierului adultului decat adolescentului. Repet, jocuri de actiune (shoot-ere, de condus masini sau avioane), nu de strategie si nici Solitaire. Ele antreneaza atentia, memoria de lucru, viteza de reactie si luarea deciziilor.
Cu cine ai colaborat la aceasta descoperire?
D. C.: Acest demers l-am demarat impreuna cu profesorul Radu Silaghi-Dumitrescu de la Facultatea de Chimie a Universitatii Babes-Bolyai din Cluj, care s-a alaturat proiectului meu datorita expertizei sale in stres oxidativ. Probabil ati auzit de el, pentru ca a fost popularizat in toamna trecuta in mass-media, cu ocazia progreselor realizate in crearea de sange artificial.
Sunt mai multe eforturi in lume in acest sens, dar Radu a avut ideea novatoare de a folosi o proteina numita hemeritrina, extrasa din viermii de mare. Aceasta proteina confera proprietati deosebite sangelui artificial. Produsul sau este in proces de testare, printre altele urmarind inclusiv reactia creierului la acest sange.
Ai lansat pe piata internationala, de curand, cartea Origin of the Mind. From viruses to beliefs. Despre ce scrii in ea si care anume din aceste idei pot fi utile cititorilor in viata lor de zi cu zi? (Despre decizie si impulsivitate, de exemplu, vorbeste, te rog, un pic mai pe larg – de pilda, cum educi un copil sa nu fie impulsiv etc.)
D. C.: Cartea isi propune sa prezinte evolutia creierului uman si rolul pe care l-au avut virusii in constructia acestuia. Ideea-cheie a cartii este aceea ca creierul a evoluat, construindu-si mecanisme prin care invata, traieste emotii si isi protejeaza informatia, datorita unor virusi care l-au invadat cu milioane de ani in urma si care, pierzandu-si functiile de virusi, s-au ascuns in genele stramosilor nostri si au devenit "designerii" organismului si promotorii evolutiei.
Printre altele, ea arata cum s-a descoperit ca organizarea creierului in functii "inferioare" versus "superioare" sau "emotionale" versus "rationale" nu este una reala, si cum deciziile apar in aceleasi zone din creier care produc miscarile, iar emotiile in aceleasi zone care se credea ca raspund de vaz, de atentie sau de actiuni.
Aceasta descoperire are aplicatii foarte concrete. As prezenta unul legat de stilul de actiune si luarea deciziilor. Desi impulsivitatea este in mod traditional legata de intelect si ratiune, ea se pare ca are mecanismul declansator in aceleasi zone ale creierului care se ocupa de miscari.
Deci putem sa vindecam impulsivitatea antrenand modul in care ne coordonam miscarile, selectam actiunea cea mai adecvata sau actionam sub presiunea timpului.
Ce alte subiecte cu implicatii practice mai trateaza cartea?
D. C.: Ea mai prezinta legaturile stranse dintre sistemul nervos si cel imunitar. Astfel, se prezinta felul in care legaturile sociale pe care le avem cu cei apropiati, cu sefii sau cu medicul de familie ne impacteaza capacitatea de a ne proteja de virusi sau de cancer, de a face des sau rar infectii sau inflamatii, de a ne vindeca repede sau incet de raceala.
Arata cat de importante sunt pentru noi evaluarile facute de altii, feedback-ul pe care il primim, modul in care simtim ca reusim sa controlam mediul in care traim, precum si alimentatia pe care o avem. Nu stiu cata lume stie ca iaurtul are efect asupra felului in care gestionam stresul si anxietatea.
Care e situatia cercetarii in domeniul neurostiintei in Romania?
D. C.: Neurostiintele sunt un domeniu nou in Romania. Multi nici nu cunosc ce inseamna termenul si frecvent il gasesc tradus in presa ca fiind "neurologie". Or, nu este acelasi lucru!
La nivel academic, exista in tara cateva centre, mai ales in Bucuresti, Cluj si Iasi. Dar sunt relativ la inceput, inca nu au rezultate notabile. Abordarea este una destul de prudenta, specialistii preferand sa replice studiile altora sau sa mearga doar cu un mic pas inainte.
In ce masura si cum poate contribui neurostiinta la dezvoltarea terapiilor si la wellbeing-ul oamenilor, in general?
D. C.: Cateva aspecte deja le-am mentionat. As mai adauga unul. Creierul – se stie – este o masina de invatat. Toate activitatile sale sunt legate, intr-un fel sau altul, de invatare. De aceea, si pentru a-l repara trebuie sa stim cum invata. Iar neurostiintele s-au concentrat asupra acestui detaliu.
Si au descoperit mai multe "ferestre de invatare", adica modul in care timpul influenteaza invatarea. Nu vreau sa intru in detalii foarte tehnice, dar s-a descoperit ca modul in care reactionam emotional se poate schimba rescriind anumite amintiri, iar pentru a face aceasta rescriere exista o reteta care iti arata cum sa folosesti minutele, orele si zilele pentru a inlocui cu succes o amintire traumatizanta.
Ai spus, la unul din workshop-urile pe care le tii, ca mintea noastra poate fi mai bine explicata prin analogie cu sistemul imunitar. Poti dezvolta, te rog?
D. C.: Sistemul imunitar s-a dezvoltat din gene provenite din sistemul nervos. Bineinteles, asta nu s-a intamplat la oameni, ci acum 500 de milioane de ani, la pesti. Doar ca noi tragem acum consecintele. Similar cu ce se intampla in sistemul nervos, sistemul imunitar are o memorie a sa, prin care tine minte cum s-a descurcat in fata anumitor microbi sau bacterii si, atunci cand se mai intalneste cu ei, declanseaza raspunsuri din memorie.
In sistemul imunitar se produc mereu noi tipuri de celule (numite limfocite), care se lupta cu microbii. Iar cele care au succes sunt salvate, in timp ce cele care nu s-au dovedit folositoare dispar. La fel se intampla si cu neuronii. Copilul de cinci ani are de doua ori mai multi decat adultul, dar in adolescenta ii pierde pe cei care nu au fost folositi.
Sistemul imunitar protejeaza organismul conform retetei invatate in copilarie, precum si de-a lungul evolutiei speciei. Iar sistemul nervos tinde sa apere cunostintele pe care le-a acumulat si pe care noi le denumim "convingeri" si "obiceiuri", protejandu-le de informatiile care sunt in conflict cu ele.
De aceea, nu ne place cand cineva ne contrazice sau cand citim lucruri care ne ataca convingerile. Iar cand totul din jur ne ataca convingerile si ne sunt blocate obiceiurile, nu doar suntem stresati, ci ne si scade imunitatea. Creierul functioneaza cu ajutorul neurotransmitatorilor precum acetilcolina, dopamina, serotonina sau noradrenalina, iar limfocitele comunica intre ele prin aceleasi substante.
Iar felul in care neurotransmitatorii sunt secretati in sistemul nervos, impacteaza ulterior sistemul imunitar, la fel cum se propaga muzica de la etajul 3 unde este petrecerea, la etajul 1, unde dormim noi. De aceea spun ca putem intelege felul cum merge creierul studiind sistemul imunitar. Iar imunologia este mult mai edificatoare decat filosofia in ceea ce priveste explicarea comportamentului uman. Prima ne ofera mecanismele, in timp ce cealalta doar reflecta opiniile noastre subiective.
✖
Mulțumim pentru că vrei să fim prieteni!
Iuliana Alexa
Iuliana Alexa a fost redactorul-sef al revistei Psychologies de la aparitia primei editii a revistei până în anul 2019. Iuliana a absolvit Facultatea de Litere si este coach.