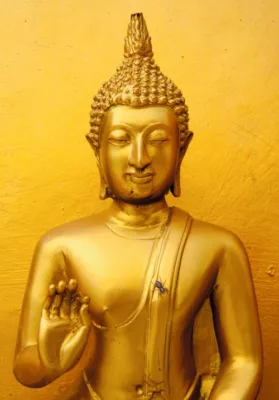 Gabriela Hum este psihoterapeut pozitivist la Cluj. Cateva saptamani s-a aflat in China, unde contactul cu aceasta civilizatie exotica (mai ales in sens sufletesc, psihologic) i-a prilejuit intrebari. Am invitat-o sa le dezvaluie si sa le raspunda in Psychologies.
In anul 2000 am terminat formarea ca psihoterapeut pozitivist cu IAPP Germania (la ora aceea, International Association for Positive Psychotherapy). In 2002, am devenit trainer national, iar din 2007 fac parte din echipa de traineri internationali ai WAPP (World Association of Positive Psychotherapy).
Asociatia, cotata ca una dintre top 10 institute de training in psihoterapie din Germania, are la ora actuala centre in 24 de tari si deschide anual circa unul-doua centre noi. Am fost parte a echipei care a deschis centrul din China in 2009 si de atunci fac formare cu colegii de aici odata sau de doua ori pe an, alaturi de alti opt traineri internationali din Germania, Rusia, Turcia si Bulgaria.
Sa faci formare/training in orice alta tara decat cea proprie inseamna de doua-trei ori mai multa munca decat acasa. Asta, nu pentru ca as face altceva decat fac cu cei care se formeaza in psihoterapie pozitiva in Romania, ci pentru ca sunt multe aspecte care interfereaza cu formarea: cultura diferita, dinamica de grup diferita; in China, faptul ca am nevoie de una-doua zile pana ma obisnuiesc cu trasaturile fetelor si ii recunosc dupa nume, faptul ca foarte putini vorbesc engleza si am nevoie de traducere.
Inseamna o experienta de autocunoastere extraordinara pentru mine, ca trainer: din momentul in care incep sa gandesc un seminar pentru ei, cu metode si tehnici care sa fie de impact pentru cultura lor, si pana in momentul livrarii, unde mereu ma simt provocata de perspectivele noi pe care le aduc in discutie, de intrebarile si clarificarile pe care le cer, de legaturile pe care le fac intre concepte, de capacitatea de a fi dinamici in procesul de invatare, jongland usor intre orientarea pe continut si orientarea pe structura si pe proces. In rest, invata ca si noi: cu cat este mai dinamic procesul de invatare, cu atat sunt mai implicati si extrag mai mult pentru ei; sunt curiosi ca si noi: le place sa caute si sa descopere singuri.
Psihologia e un fel de Cenusareasa a stiintelor socio-umane acolo. Cei care termina Psihologia au sanse doar in domeniul Resurselor Umane. In zona de psihologie scolara, ca sa lucrezi, e nevoie sa fii pedagog sau consilier pedagogic. In zona de psihologie clinica, pentru a profesa e nevoie sa fii angajat al vreunui spital sau al unei institutii medicale de stat.
Psihoterapia a fost reglementata anul trecut, ca o competenta doar a medicilor psihiatri. Psihologii au ramas, asadar, cu zona de consiliere, autocunoastere si optimizare personala, zona ce este la mare concurenta cu toate practicile cunoscute de mii de ani in Asia (medicina chineza, tehnicile de meditatie, diferitele forme de masaj, acupunctura, etc.).
Cu toate acestea, suntem prezenti in China si formam consilieri si psihoterapeuti in psihoterapie pozitiva, alaturi de toate scolile mari de psihoterapie din lume. In grupurile noastre avem colegi formati in psihodrama, in terapie existentiala, in Gestalt terapie, in CBT, etc.
Nevoia marcanta, acoperita de psihoterapie, in zona de autocunoastere se pare ca este munca cu emotiile: recunoasterea, etichetarea, modelarea si utilizarea lor in sens adaptativ. Metodele traditionale sunt mai repede cognitive si comportamentale (in sens strict), au grija de minte prin intermediul corpului, in timp ce autocunoasterea are grija de suflet cu ajutorul mintii.
Ceea ce ma frapeaza de cand vin aici este faptul ca nu stiu ce sa spun despre ei: cand cred ca am descoperit ceva despre ei si sunt pe cale sa imi formez o imagine, realizez mai clar ca habar nu am cum sunt. La prima vedere sunt persoane prietenoase, deschise, sociabile. Au un respect deosebit pentru autoritatea castigata dar si o mare obedienta fata de autoritatea impusa si nefondata.
Le place sa aiba o imagine frumoasa, dar au grija ce este si dincolo de ea (cel putin, cei care au scoala). Au o rezistenta scazuta la frustrare, mai ales la cea intelectuala: se enerveaza si devin chiar agresivi verbal daca nu inteleg ceva, sunt in stare sa stea o noapte intreaga sa citeasca, pentru ca a doua zi, la seminar, sa poata sa poarte o conversatie pe o tema neinteleasa anterior. E nevoie sa le amintesc mereu ca invatarea (cel putin in psihoterapie) inseamna si multa intuitie si descoperire, in autocunoastere si practica.
In China, sunt peste 600 de spitale de psihiatrie si sunt declarate cu diagnostic psihiatric peste 100 de milioane de persoane. Chinezii privesc boala psihica din perspectiva confucianista: boala psihica este rezultatul esecului persoanei de a-si realiza cu succes rolul social si familial.
Pana nu demult (prin anii '50), boala psihica era considerata un stigmat, cei ce sufereau de boli psihice erau alungati de acasa, uneori erau inchisi pentru comiterea unor acte impotriva statului etc. Azi, sunt reglementate aceste aspecte si psihiatria este considerata o specialitate medicala de importanta majora.
Dincolo de patologic, zona subclinica are doua surse mari. Una dintre surse este presiunea la care sunt supusi oamenii pentru a supravietui sau pentru a-si realiza cu succes rolul social si familial. Muncesc foarte mult (14-16 ore/zi), competitivitatea este foarte mare, conditiile de viata sunt grele. Totusi, cand te plimbi pe strada, vezi oameni zambind…
O alta sursa de nevroza sunt relatiile din cadrul familiei, in special relatia cu persoana de atasament (relatia cu mama este una de supunere totala), si faptul ca cele mai multe cupluri raman sa traiasca alaturi de parinti si au datoria de a-i ajuta pana la sfarsitul vietii. Totusi, cand devin parinti, copiii, supusi mamelor, repeta modelul de parenting, pentru ca se dovedeste a fi unul de succes si unicul stiut…
Statisticile spun ca depresia este cea mai mare problema psihica in China. Rata de suicid este mare, mai ales in zonele rurale (20 la 100.000 de locuitori). Cred ca au o rata mare si de anxietate (chiar clinica), insa au metode traditionale de a gestiona anxietatea si acest tip de pacienti ajunge mai rar in spital, pentru tratament farmacologic.
In formarea in psihoterapie pozitiva avem doua etape: cursul de baza, care ne permite la sfarsit sa facem consiliere (cel putin in tarile unde reglementarile legale nu interfereaza cu orele de formare ale scolii noastre) si cursul avansat, care ne permite sa lucram ca psihoterapeuti.
Cursurile sunt interactive, cu zona de teorie, practica si autocunoastere. Le plac exercitiile practice (studiile de caz, precum si exemplele lucrate pe situatii personale). Le place sa combine teoria cu practica, staticul cu dinamicul, le place sa fie stimulati si sa descopere singuri.
Personal, am gasit un ritm pe care il aplic de doi ani cu ei si care am observat ca are efect: ziua incepe cu warming up, un exercitiu care se leaga de tema zilei, si apoi teoria; dupa-masa, introduc partea practica (se dezenergizeaza foarte tare dupa pauza de pranz si sunt putin rezistenti la teorie) si partea de analiza personala; seara, lucram pe concluzii si feedback.
Pun accent mare pe calitate si pe profunzime, pe abordarea aceleiasi teme din perspective diferite. Le place sa vorbeasca si se stimuleaza unii pe altii foarte usor in a gasi noi interpretari, noi perspective la un concept. Este foarte usor de lucrat cu ei din acest punct de vedere. Mai dificil este sa gasesti modalitatile de a-i opri din vorbit fara a-i frustra sau nedreptati. Le plac metaforele, povestile, mai ales cele care nu sunt din cultura lor.
In fiecare an, de cand vin aici, scriu un jurnal de calatorie pe care il trimit oamenilor dragi de acasa. Am sa relatez mai jos ceea ce am scris in 2010, inainte de a pleca spre casa:
"A sosit si ultima seara in Beijing. Afost una dintre cele mai grele si mai implinitoare expe-riente traite pana acum! Cred ca dincolo de faptul ca a fost foarte greu sa lucrez cu ei (n-am parcurs practic nici jumatate din continutul pe care l-am pregatit, in rest am facut terapie de grup), m-a ajutat faptul ca am fost singura si, vrand-nevrand, am fost nevoita sa stau doar cu mine si sa-mi suport anxietatile si uneori neputinta de dinainte si de dupa unele zile de munca. Si am constatat ca asta m-a ajutat sa invat despre mine, sa ma ascult mai mult si sa am mai multa rabdare!
Am invatat de asemenea de la oamenii din grupuri, din povestile lor de viata! Am invatat ca a folosi exclusiv biciul sau exclusiv manusile (metaforic vorbind), are acelasi efect asupra celorlalti: nu ii lasa sa creasca, ii face sa se fereasca de bici sau sa caute mereu manusile protectoare, cand le este greu. Ii face sa fie putin atenti la ce e in jur si putin deschisi la a invata din ceea ce li se intampla. Cel mai dificil le este atunci cand cel ce ii creste, prinde biciul in mana inmanusata!
Cu mainile goale (fara bici si fara manusi), poti transmite caldura umana. I am not perfect, I am just good enough, si atunci cand accept asta, este foarte motivant sa imi doresc sa fac lucruri, si sa le si fac! Ca asta da sperante celor ce invata, ca pot ajunge la nivelul profesorului lor, ca si profesorul are «nu stiu»-uri in viata, ca si profesorul are esecuri si greseli, ca si in viata profesorului exista o camera pe care scrie la intrare «ce pot face mai bine…». Ca acest good enough inseamna a recunoaste propriile limite, a promite ca te documentezi pentru a da raspunsuri si a te tine apoi de promisiune.
Alteori, inseamna a-ti recunoaste greseala. Alteori, inseamna a recunoaste ca invatarea la acest nivel, inseamna schimb de experiente si ca uneori cei ce invata au mai multa experienta decat cel care se presupune ca e in postura de a-i invata. Asa ca nu se stie cine de la cine invata. Ca oamenii au nevoie de modele oameni, cu succese si esecuri, cu ganduri si emotii, autentici. Ca nu este suficient sa le vorbesti despre asta; ca sa te creada, e nevoie sa le si arati!
Ca insuccesele si punctele slabe ne unesc mai mult decat succesele si puctele tari, ca «nu poti invata pe nimeni ceva anume; in schimb, il poti face sa descopere ceea ce este de invatat, in el insusi» (Galileo). Ca avem multe lucruri in comun, doar ca le vedem prin lentilele propriei culturi si avem tendinta sa credem ca lentilele proprii sunt mai de calitate, cand, de fapt, ele au doar o alta culoare. Ca diferentele intre noi sunt date doar de cuvintele pe care le folosim in a descrie ceva.
Ca, cu cat folosim mai multe cuvinte, cu atat e mai usor sa ne facem imagini ale ideilor, sa le comparam si sa le gasim aspectele comune. Abia apoi sa ne orientam spre diferente. In PPT, asta este una dintre intrebarile fundamentale: ce au oamenii in comun si prin ce difera ei? A good travaler is the one who has no fix plan, and is not intent on arriving (Lao Tsu). Ca trainer, asta inseamna sa iti iei cu tine valizele cu instrumente si sa pleci la drum impreuna cu grupul, stiind unde vrei sa ajungi, dar neimpunand ruta.
✖
Mulțumim pentru că vrei să fim prieteni!
Iuliana Alexa
Iuliana Alexa a fost redactorul-sef al revistei Psychologies de la aparitia primei editii a revistei până în anul 2019. Iuliana a absolvit Facultatea de Litere si este coach.