Viața în vremea terorismului. Cum să trăiești într-o epocă tot mai neliniștitoare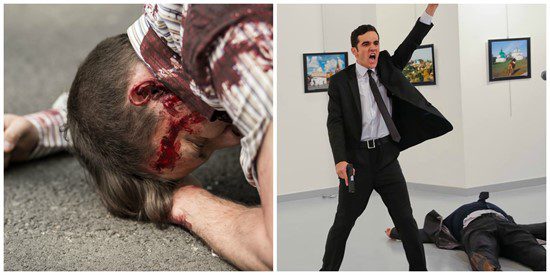 Ne-am trezit toți în dimineața asta ca să citim că la Berlin au fost omorâți 12 oameni nevinovați care se aflau într-o piață, la Târgul de Crăciun. Ieri a fost împușcat mortal ambasadorul Rusiei la Ankara și azi de dimineață o poză dramatică a atacatorului circulă peste tot pe internet. La Zurich a avut loc un atentat într-o moschee, soldat cu trei răniți și un mort.
Trăim o perioadă tot mai neliniștitoare. Media ne aduce în newsfeed cele mai dramatice știri, care nu au cum să te lase indiferent. Pare că se naște o realitate tot mai hâdă, mai violentă, mai impredictibilă.
E ceva care nu are cum să nu afecteze sănătatea psihică a noastră, a tuturor.
Te simți la rândul tău expus, următoarea țintă posibilă, te întrebi nu "dacă" ci "când". Terorismul reușește să semene o frică subterană și permanentă.
Poate că aceasta e supremul succes: paralizia, reacția "freeze", înghețul în fața faptelor imposibil de înțeles.
Depresia dată de senzația de neputință, de lipsă de control asupra evenimentelor. Suntem provocați azi, mai mult ca oricând, să devenim mai toleranți la incertitudine.
Se știe că incertitudinea nu e plăcută deloc, incertitudinea este un stres major pentru om. Cu toate acestea, va trebui să ne obișnuim cu ea.
Va trebui, de asemenea, să ne blindăm psihic (dacă asta o fi posibil…) în fața efectelor devastatoare psihologic ale acestor evenimente, efecte ca undele seismice, la distanță.
Se știe că și eu și tu, cel care stă în fața televizorului sau a ecranului de telefon mobil, pe care vezi știrile, să facem sindrom post-traumatic de stres, din cauza traumei majore induse de un astfel de eveniment.
Evenimentele extreme cauzează așa ceva și celor care asistă, nu doar celor care le trăiesc. Și azi asistăm toți, în timp real, la masacre. Neputința, oroarea, durerea prin empatie, toate astea ne pot face foarte rău.
Ce e de făcut?
Evident, nu ne putem ascunde. Vrem, nu vrem, mass media ne aduce aproape și ce nu vrem și nu ne place să vedem. Dar putem evita să ne expunem iar și iar acelorași știri traumatizante.
Media se "hrănește" din mestecarea și remestecarea unor asemenea știri. E inutil să te expui iar și iar aceluiași tip de informație.
Creierul uman este eficient numai dacă se află într-o stare emoțională pozitivă.
Când e bombardat de anxietate, nu mai performează bine. Pentru că se concentrează pe supraviețuire imediată și câmpul cognitiv se îngustează dramatic. Nu mai ești dispus să scrii poezii, te gândești obsesiv cum să fugi din Europa…
Așadar, fă tot ce poți pentru a-ți echilibra dispoziția. Închide televizorul, telefonul mobil, etc. Expune-te la stimuli pozitivi, vezi un film vesel și petrece timp cu familia.
Creierul nostru este, de asemenea, programat de evoluție să fie mai atent la stimulii amenințători decât la cei pozitivi (le era mai util strămoșilor noștri să fie vigilenți într-un mediu plin de pericole decât să viseze la chestii frumoase, când din pădure putea să se ivească oricând un animal mare și rău – așadar creierul a evoluat să fie mai sensibil la stimuli anxiogeni).
Procesează rațional frica. Frica dezorganizează comportamentul. Te face să nu mai vezi limpede nimic, să te temi și de umbra ta. Nu e bine.
Oricât de greu ar fi să ne controlăm reacția de frică, e cazul să ne informăm și să acționăm rațional.
Probabilitatea de a fi ucis într-un atac terorist este (încă) extrem de redusă. Noi toți ar trebui să învățăm statistică, pentru a putea înțelege corect realitatea.
Nu știu dacă pe Google răspunsul acesta a fost formulat de un statistician, dar dacă dai căutare pentru "What are the chances of dying in a terrorist attack?", îți răspunde că șansele sunt de 1 la 9,3 milioane (la nivel mondial), mult mai mici decât moartea prin otrăvire sau accident de circulație.
Să reținem asta atunci când blamăm în bloc musulmanii (ei înșiși victime are terorismului)…
Citeste si:
Cum ne incurajam gandirea pozitiva
Foto: 123.rf; Burhan Ozbilici/AP
Abonează-te la newsletter!
Primește săptămânal resurse prin intermediul e-mail-ului!
Mulțumim pentru că vrei să fim prieteni!