Compozitorul si pianistul Bogdan Ota in concert la Bucuresti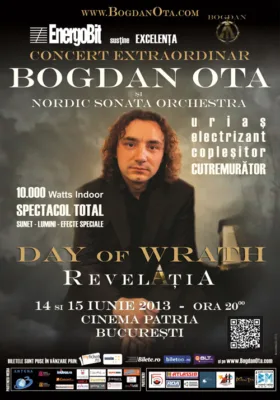 DAY OF WRATH "Revelatia" – un spectacol total de sunet, lumini si efecte speciale semnat Bogdan Ota, va avea loc in zilele de 14 si 15 iunie, ora 20:00, la Cinema Patria Bucuresti.
DAY OF WRATH "Revelatia" s-a nascut dintr-o viziune artistica de exceptie, la baza careia se gaseste intalnirea splendida dintre mai multe arte: muzica, balet modern si imagine vizuala (proiectie de videoclip).
Spectacolul propune o viziune constructiva asupra conceptului biblic si asociaza Revelatia / Apocalipsa cu reconcilierea, iertarea, renasterea, salvarea, un nou inceput, speranta si recompensa divina.
Distrugerea simbolica a vechilor principii ale omenirii face posibila reconstruirea acesteia pe noi temelii, de justitie si echitate, iar Revelatia reprezinta exact momentul declansator al unei etape de progres spiritual.
Bogdan Ota este unul dintre cele mai sonore nume din industria muzicala contemporana si unul dintre artistii romani cu cea mai spectaculoasa ascensiune din ultimii ani. Absolvent al Universitatii de Arte "George Enescu" din Iasi, artistul roman a ajuns extrem de cunoscut si apreciat in intreaga lume o data cu participarea sa la competitia "Norway Got Talent", in 2011, unde a inregistrat un succes fulminant.
Preturile biletelor:
VIP1 – 250 lei (include accesul la VIP Lounge inainte si dupa concert unde va avea loc un cocktail)
VIP2 – 200 lei (include accesul la VIP Lounge inainte si dupa concert unde va avea loc un cocktail)
CAT I – 150 lei
CAT II – 120 lei
CAT III – 80 lei
Biletele se gasesc pe www.BogdanOta.com si pe site-urile de bilete: www.myticket.ro, www.eventim.ro, www.bilete.ro, www.biletoo.ro, www.blt.ro.
Abonează-te la newsletter!
Primește săptămânal resurse prin intermediul e-mail-ului!
Mulțumim pentru că vrei să fim prieteni!