Inovaţie în lumea bijuteriilor

Foto credit: Crina Popescu
Bijuteriile Carlette potențează personalitatea fiecăreia dintre noi, pentru că se adaptează oricărui stil, îndemnându-ne să devenim propriul designer: Să avem curajul să ne arătăm frumusețea și creativitatea!
Psychologies: Cine este Lavinia Lazăr? Care este primul lucru pe care dorești să îl afle oamenii despre tine.
Lavinia Lazăr: Lavinia Lazăr este o antreprenoare româncă plină de determinare, creativă și ambițioasă, iar acest lucru este ceea ce sper că va inspira toți cititorii revistei. Sunt mândră că Lavinia Lazăr, o româncă precum toți românii, a reușit să inoveze propriul brand de bijuterii și sper ca povestea mea să convingă pe oricine care își dorește o afacere în acest domeniu sau, de ce nu, să devină partener Carlette.
Trăiesc și muncesc de câțiva ani în Elveția, o țară unde pasiunea oamenilor pentru frumos, dar și pentru precizie, m-a inspirat să creez, alături de designerii noștri, piese care se remarcă prin linii deosebite și posibilitatea de a le personaliza. Practic, tot ceea ce am creat se numește modularitate, am adus clientul final în procesul de creație, iar bijuteriile modulare reprezintă, în opinia mea, viitorul acestei industrii.
Ce semnifică pentru tine frumusețea?
L. L.: E greu de definit frumusețea și aș spune doar că ea stă în ochii celui care o privește. Frumusețea poate fi influențată și de starea noastră interioară. De câte ori nu ni s-a întâmplat să ni se pară un lucru ca fiind mai puțin frumos doar pentru că starea noastră interioară nu era în echilibru?
Cu siguranță, dacă facem o paralelă, bijuteriile Carlette nu numai că sunt frumoase, așa cum ne confirmă mereu clienții noștri, dar vin și să pună în valoare purtătorul acestor bijuterii și să-i influențeze pozitiv starea de spirit. Frumusețea interioară și cea exterioară se contopesc astfel, oferindu-ne o stare pozitivă, imediat remarcată de către noi și de către persoanele din jur.
Frumusețea este un avantaj sau un deficit în drumul spre succes?
L. L.: Dacă este să ne luăm după studiile care se fac în materie de frumusețe, se pare că aceasta favorizează drumul către succes. Persoanele considerate frumoase de către o mare parte dintre privitori au mai multe oportunități să reușească în carieră, în viață, fiind oarecum favorizate de factorii de decizie.
Pe de altă parte, frumusețea fizică poate fi un impediment atunci când în spatele său nu se conturează și acea frumusețe interioară. Din acest motiv, bijuteriile, nu numai ale noastre, orice bijuterii, trebuie să fie nu numai frumos create, ci să aibă și o anumită calitate, o anumită funcționalitate, să vorbească despre stilul personal al fircăruia.Desigur, e important să fie rezistente pentru a fi purtate la orice ocazie. Aceasta este de altfel și dorința noastră – de a oferi bijuterii care să înglobeze nu numai frumusețe, ci și toate celelalte calități.
Bijuteriile Carlette potențează personalitatea fiecăreia dintre noi, pentru că se adaptează oricărui stil, îndemnându-ne să devenim propriul designer: Să avem curajul să ne arătăm frumusețea și creativitatea!
Ce te motivează să fii în această industrie? Este dificil pentru o femeie să reușească în acest domeniu?
L. L.: Este dificil pentru oricine să reușească în această industrie. Dar să nu uităm că în orice călătorie antreprenorială nu ești singur, ești alături de echipa ta, de partenerii tăi de afaceri, ești alături de furnizorii tăi, de designeri și de oricine sprijină succesul unui brand.
Ce mă motivează? Cred că orice antreprenor care creează un brand și își leagă numele de acel brand, are o dorință suplimentară de a reuși în afaceri, de a crește, de a vinde mai mult, de a crea parteneriate care ne promovează, de a oferi calitate mai bună. Lavinia Lazăr înseamnă în acest moment într-o mare măsură Carlette. Aceasta mă motivează și cred că legătura aceasta între brand și fondator este cea care îți oferă puterea necesară pentru a merge mai departe în afaceri. Pe mine una, mă motivează enorm și o mare parte din dorința de reușită provine de aici.
Ce te-a inspirat sa creezi brandul Carlette Jewellery?
L. L.: Cred că generațiile care vin și preferințele lor. Carlette creează bijuterii modulare, care se personalizează imediat pe stilul tău, pe starea ta de spirit de la un anumit moment al zilei sau dintr-un anumit context.
Modularitatea este ceea ce definește din plin generațiile tinere. De la jucării care oferă posibilitatea creării unor modele noi mereu și mereu, până la accesoriile care personalizează orice, de la dispozitive smart până la articole de fashion, tinerii au fost obișnuiți să poată interveni peste creația originală pentru a se diferenția, pentru a avea acel ceva al lor pe care nu îl mai are nimeni. Acest plus îl aduc și bijuteriile modulare – te ajută să personalizezi accesoriile pe care le porți și să le adaptezi personalității sau stării tale din acea zi.
Viziunea noastră este ca inovația Carlette să meargă dincolo de bijuterii, ne dorim să folosim mecanismul și în accesorii pentru genți, pantofi, ochelari, gadgeturi, potențialul Carlette devine uriaș, determinat de creativitatea noastră, ca femei.
Pentru cine ai creat acest brand? Care sunt valorile pe care le împărtășești?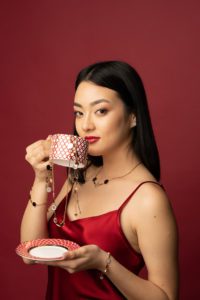 L. L.: Acest brand este pentru toate doamnele și domnișoarele active, care nu au timp de pierdut, care pot merge dimineața la o ședință de lucru cu colegii, după amiază la un prânz de afaceri și seara la o întâlnire romantică, fără să fie nevoite să schimbe ținute – tot ceea ce fac este să personalizeze accesoriile, dacă poartă aceste bijuterii modulare. Carlette se pliază astfel perfect pe spiritul femeii moderne, independente.
De aici și sloganul nostru – Be sensual. Be unforgiven. Be you. Cu alte cuvinte, valorile brandului sunt senzualitatea, independența și unicitatea bijuteriilor Carlette și ale purtătoarelor acestora.
Care este mesajul pe care dorești să îl transmiți?
L. L.: Mesajul meu pentru toți cititorii revistei Psychologies este să aibă încredere că pot reuși în orice domeniu și că pot aduce un plus de valoare, o inovație, oriunde – în afaceri, la locul de muncă, în familie. Așa cum eu am reușit să aduc această inovație în lumea bijuteriilor, la fel de bine oricine investește pasiune într-un domeniu, într-un hobby sau, de ce nu, într-o relație, le poate ține vii, le poate duce la un alt nivel. Inovația nu ține neapărat de științe exacte, inovația se face uneori cu sufletul. Fiți curajoase, creați!
Unde pot fi găsite?
L. L.: Bijuteriile noastre se pot cumpăra pe site-ul nostru, carlettejewellery.com, acolo unde afișăm mereu noutățile și promoțiile de sezon, dar oferim și informații celor care vor să afle mai multe despre bijuterii, în general și despre bijuteriile modulare, în special.
Care sunt visele și planurile pentru Carlette Jewellery?
L. L.: Avem în derulare parteneriate cu magazinele românești. Dacă sunteți în București, puteți să ne găsiți și în magazinul Balizza din cadrul Băneasa Shopping City, dar în curând ne veți găsi și în alte magazine unde considerăm că brandul nostru poate aduce un plus de valoare ofertei existente.
La nivel internațional, plănuim extinderea pe alte piețe europene – pe lângă Elveția, ne extindem acum pe piața din Franța, un alt reper pentru oricine dorește să reușească în această industrie, dar și în alte țări, precum Germania sau Peninsula Scandinavă.
Ne dorim ca fiecare dintre dumneavoastră să îmbrățișeze inovația Carlette și să creștem împreună în acest nou trend de a invita clientul final să îți definească produsul final pe care îl poartă. Abia aștept să văd cum fiecare personalitate se definește prin accesoriul individual definit.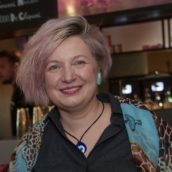 Clementina Anghelache
Clementina Anghelache este antreprenor în dezvoltare personală, learning facilitator, autor și Ontological Coaching Practitioner cu peste 15 ani de experiență. Formările sale cuprind peste 5000 de ore în domenii de business, leadership, vânzări și marketing, 3 programe NLP Practitioner și un Master, 3 școli de coaching cu Alain Cardon, Sir John Whitmore și Inner Game cu Tim Gallwey, PCM, Points of You, Theta Healing și Acces Consciousness. A petrecut două decenii ca antreprenor în publishing în domeniul învățării organizaționale și în urmă cu trei ani a relansat licența revistei Psychologies în România. Este pasionată de scris și acompaniază persoanele care doresc să își transforme viața prin intermediul journaling, prin cursuri create din perspectiva ontologică. Clementina crede că învățarea este un fel de a fi natural al omului și că prin învățare avem acces la transformarea vieții noaștre și atingerea obiectivelor.