Explicațiile psihanalitice din spatele unor probleme sexuale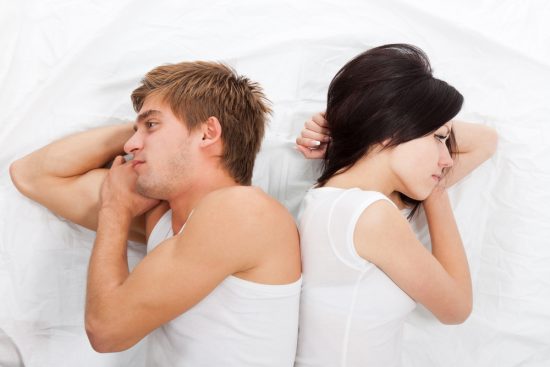 Uneori anumite probleme sexuale ne par inexplicabile. Nu ne-am gândi că poate au legătură cu părinții noștri. Și totuși, au. Iată explicațiile psihanalitice.
Citește și:
3 motive pentru care femeile spun că au o dorință sexuală scăzută
O de la Orgasm. Ce facem când bărbatul își pierde dorința sexuală
În cultura noastră se pune un accent foarte important asupra problemei sexuale astfel că aceasta devine în multe dintre cazuri un lucru apăsător.
Pe de-o parte puterea de a stârni interesul unui bărbat cât și capacitatea bărbatului de a întreține un contact sexual cât mai prelungit  ne întărește apartenența la un gen.
Ca să fiu mai explicit, dacă sexul este cel conferit de natură, genul este cel care simțim că ne este potrivit.
Astfel, dacă femeile atrag multe priviri și dacă pot să mențină acel foc interior aprins, se simt mai femei, iar dacă bărbații pot să atingă acel moment de plăcere maximă, se simt mai bărbați.
Dar ce se întâmplă când apare neprevăzutul și toată treaba pare să nu meargă?
De aceea problemele sexuale sunt unele dintre cele mai importante motive care umplu forumurile cât și cele mai des întâlnite probleme ce apar în cadrul terapeutic.
Principalele probleme de această natură sunt cele legate de erecție la bărbați și de atingerea orgasmului la femei.
Primul cuplu pe care îl trăiește orice persoană este acela din familie. "Nu putem vorbi de un copil, ci de un copil și mama lui" spune Donald Winnicott, un celebru psihanalist.
În spatele oricărei dorințe sexuale se ascunde o dorință de intimitate, acea intimitate pe care am avut-o cu mama.
Este vorba despre acea senzație de sincronizare emoțională, acea stare în care nevoile mele devin nevoile noastre și știm că există permanent o persoană pe care ne putem baza și care ne înțelege fără să ne judece.
Între timp aflăm că nu este un lucru normal să ne dorim să stăm toată viața cu mama sau cu tatăl și că trebuie în cele din urmă să ne găsim un partener.
Astfel, acea persoană specială, mama pentru bărbați și tatăl pentru fete, este pe de-o parte simbolul dragostei perfecte și pe de altă parte simbolul interdicției.
Cum reușim să le împăcăm, deci?
Calea de mijloc, cea prin care problema este rezolvată, se referă la găsirea unui partener care prin tot discursul său, adică îmbrăcăminte, comportament, fel de a vorbi, etc. să semene cu părintele nostru de sex opus atât de mult încât să ne aducă aminte de acea dragoste, dar nu atât de mult încât să vedem în el simbolul interdicției.
"It's a joy to be hidden and a disaster not to be found" spune același autor de care am adus aminte mai sus.
Cu alte cuvinte, majoritatea problemelor sexuale au această cauză. Mai sus am menționat două probleme principale: probleme erectile și cele legate de orgasm. Un lucru important este că ambele se referă la evitarea plăcerii.
Fără erecție și fără orgasm dovada emoției dispare și totul devine doar un lucru mecanic. Adică, odată cu apropierea mai mult decât trebuie de simbolul parental, este întărit și simbolul interdicției care își face datoria, aceea de cenzură.
Deoarece teoria este dificilă pentru o persoană care nu a studiat intensiv domeniu, propun să exemplificăm printr-un caz clinic pe care să îl explicăm folosind terminologia de mai sus.
Alina este o femeie în vârstă de 27 de ani și se află într-o relație de 7 luni. La început totul era bine în relație, iar viața sexuală se derula normal. De la un timp, ea observă că nu mai poate să aibă orgasm.
Cu toate că a încercat fel de fel de tactici: prelungirea preludiului, ulei de masaj, lumânări, poziții diferite, toate au fost fără succes.
În terapie a reieșit faptul că a început să dispară orgasmul când erau în relație de  5 luni, concomitent cu momentul în care soțul s-a angajat pe un post asemănător cu cel al tatălui Alinei.
Dacă la început relația s-a desfășurat plăcut, deoarece în mintea femeii atitudinea autoritară și masculină a prietenului era asociată cu cea a tatălui, mai departe, când el a început să ocupe o poziție asemănătoare cu cea a tatălui ei, a intervenit simbolul interdicției, cel care nu a lăsat-o pe femeie să simtă plăcere făcând sex cu o persoană care să îi aducă aminte atât de mult de părintele său.
Un lucru pe care este important să îl aveți în minte este acela că toate aceste conexiuni se fac pe plan inconștient, sunt deci legături de care nu suntem conștienți.
Psihoterapia psihanalitică este acel tip de psihoterapie care ajută la descoperirea acestor situații, la observarea legăturilor și la rezolvarea conflictelor interioare.
De Tiberiu Seeberger, psihoterapue psihanalist în formare
Tel.: 0761.517.763
www.seeberger.ro
Foto: shutterstock.com
✖
Mulțumim pentru că vrei să fim prieteni!