Emoțiile pozitive – un ingredient esențial pentru experiența clientului

www.canva.com
Emoțiile reprezintă o parte esențială a experienței clienților. Emoțiile aduc succes sau distrug o afacere și adesea în moduri ascunse. Emoțiile influențează decizia de cumpărare a clienților, ce își amintesc și împărtăsesc despre experiență și, poate cel mai important, dacă vor fi loiali unui brand.
Atunci când o companie reușește să se conecteze din punct de vedere emoțional cu clienții săi și să le creeze amintiri plăcute, este momentul în care se poate spune că oferă o experiență excepțională, iar clienții devin ambasadorii săi. În ziua de astăzi, companiile oferă produse similare la prețuri similare. Ceea ce le diferențiază față de concurență în ochii clienților sunt serviciile, și mai exact calitatea și încărcătură emoțională pe care o transmit. Trebuie să ne gândim la emoții, ca la o știință care este cercetată și măsurată astfel încât să poată fi controlată. Daca interacțiunile cu clienții sunt lăsate la voia întâmplării, atunci la final nu vom ști ce fel de servicii și experiențe oferim clienților, respectiv despre ce funcționează cu adevărat și daca eforturile organizației au produs rezultatele dorite. Înțelegând cine sunt clienții, ce dorințe și obiceiuri au, empatizând cu aceștia este "o scurtătură" către identificarea motivatorilor emoționali pentru fiecare categorie de clienți.
"Oamenii nu cumpără bunuri și servicii. Cumpără relații, povești și magie." Seth Godin
La modul general, pentru a construi relații emoționale cu clienții, trebuie să le oferiți aceste trei emoții de bază: fericire, încredere și apartenență.
Fericirea
Nu există nimic mai contagios decât un zâmbet, de aceea fericirea este una dintre cele mai puternice dorințe emoționale. Oamenii rareori cred că sunt suficient de fericiți, așa că se străduiesc întotdeauna să găsească mai multă fericire decât au acum. Efortul companiilor se concentrează pe a oferi fericire prin depășirea așteptărilor clienților, prin surprinderea acestora în mod plăcut ca atunci când primesc un cadou de la o persoană dragă.
Fericirea este, de asemenea, una dintre cele mai captivante emoții. Când experimentăm fericirea, dorim ca acel sentiment să continue, să nu se termine niciodată, iar noi ca oameni vom căuta întotdeauna oportunități de a ne simți din nou în acest fel. Ancorând brandul unei companii prin serviciile oferite de sentimentul de fericire, creați o satisfacție instantanee, fără de care clienții nu se vor putea imagina. Acest lucru îi vă aduce înapoi în magazinul sau pe site-ul companiei pentru a face mai multe achiziții care să îi facă fericiți.
O poveste încântătoare este una dintre cele mai ușoare modalități de a face pe cineva să zâmbească. Astfel, să le spui clienților povestea ta despre brand poate construi instantaneu o relație emoțională cu aceștia.
Încrederea
"Fără încredere este imposibil să obții loialitatea clienților."
Încrederea este fundația pentru orice relație de lungă durată, inclusiv loialitatea durabilă a clienților. Atunci când clienții au încredere într-un brand, înseamnă că îl consideră transparent, sincer și autentic. Fiind una dintre singurele emoții care nu pot fi falsificate, acest sentiment de încredere pune bazele unei relații durabile care depășește simpla achiziție de produse. Pe scurt, încrederea se construiește atunci când brandul își tine promisiunea făcută clientului, adică face ceea ce spune că face. Dacă în etapa de achiziție, vânzătorii sunt foarte serviabili și drăguți, compania trebuie să conștientizeze faptul că relația cu clientul abia acum a început, nu s-a terminat.
Cum să construiești și să menții încrederea clienților?
Organizațiile trebuie să asculte și să îndeplinească așteptările clienților lor pe toate canalele și în fiecare interacțiune cu clientul: de la navigarea pe site, la achiziție, dar mai ales post vânzare.
Păstrarea clientului aproape de brand în etapa post-vânzare se construiește prin:
service eficient, corect și empatic;
comunicare transparentă și adaptată limbajului clientului;
personalizarea ofertei de produse și servicii.
Apartenență
Suntem creaturi sociale conectate pentru a evita singurătatea. Aceasta înseamnă că brandurile care ne pot face să ne simțim ca parte a unui grup sunt mai atrăgătoare decât cele care se concentrează pe succesul sau existența individuală a clienților.
Când un client ia decizia de a face cumpărături de la un brand, în defavoarea concurentului, înseamnă că aceștia s-au simțit bineveniți și apreciați. Acestea sunt emoțiile care inspiră un puternic sentiment de comunitate care poate ajuta brandul să crească în continuare. Cel mai simplu și mai eficient mod de a oferi clienților acel sentiment de apartenență este să creați o comunitate puternică în jurul valorilor de bază ale brandului. Mai mult decât produsele pe care le vindeți, comunității îi pasă de felul în care o faceți să se simtă. Abilitatea de a conecta clienții cu persoane cu aceeași idee care împărtășesc aceleași valori și sentimente diferențiază o organizație de concurenți.
Concluzii
Conexiunea emoțională dintre un client și o companie determină majoritatea interacțiunilor care urmează să apară de la curiozitatea căutării până la achiziție și loializare. Emoția conduce, de asemenea, loialitatea clienților și calitatea călătoriei clienților prin toate canalele. Înțelegând psihologia emoțiilor și modul în care activatorii emoționali declanșează anumite emoții, organizațiile pot crea experiențe adaptate așteptărilor, valorilor și bunăstării clienților, imbunătățind în același timp obiectivele financiare.
✖
Mulțumim pentru că vrei să fim prieteni!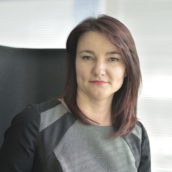 Gabriela Ciupitu
Gabriela Ciupitu are o experiență de peste 17 de ani în companii multinaționale din domeniul bancar şi retail. Obiectivul ei este să creeze conexiunea clienților și angajaților cu brandul, produsele și serviciile organizației, prin emoții și rațiune. Într-un mediu economic provocator aflat într-o permanentă schimbare, abordarea Gabrielei centrată pe clienți a fost apreciată și recunoscută în Europa și SUA. Este acreditată Customer Experience Professional de către Customer Experience Professional Association SUA și este membru în Board of Directors al Customer Institute, organizații internaționale care au rolul de a seta standarde înalte pentru experiența clienților și a angajaților. A participat ca speaker la Conferința Internațională "The Journey to Customer-Centric Growth" și este membru al juriilor în concursuri de Customer Experience: "South-East CustomerExperience Awards", "European Customer Centricity Awards", "International CustomerExperience Awards", "World Series Customer Centricity Awards".