Living in the magic: Mobexpert duce căsuțele din natură la Untold!

De multe ori, avem tendința de a ne complica existența. Muncim prea mult și uităm de micile bucurii ale vieții. Punem mai mult preț pe carieră și uităm de momentele care contează cu adevărat. Ne luăm concedii vara, de Paști și de Crăciun, mai dăm o fugă în weekend în câte un city break. Depresia și burnout-ul sunt bolile societății moderne. Dar cum ar fi dacă am alege un stil de viață mai simplu și mai bun? Despre asta ne învață conceptul de downshifting. Să trecem într-o treaptă inferioară și să reducem viteza. Să renunțăm la agitația orașului și să încercăm să ne reconectăm cu natura. În tihnă!
Downshifting-ul nu este pentru oricine. Nu toată lumea își permite să renunțe la un job bun și la veniturile pe care i le aduce. Nu oricine este pregătit să lase mirajul urban și să aleagă viața la sat sau pe un vârf de munte. În schimb, există destui oameni, dispuși să încerce și altceva, care prețuiesc mai mult un trai ceva mai relaxat. N-o spunem noi! Potrivit Institutului Național de Statistică, doar în 2020, anul de vârf al pandemiei, 116.491 de români au renunțat la viața din oraș pentru cea din mediul rural. În sens invers, de la sat la oraș, s-au mutat doar 77.825 de persoane. Nu este neapărat o surpriză, în condițiile în care modelele work-from-home și munca hibridă sunt tot mai des întâlnite.
Un răspuns pentru cei dornici să încerce downshifting-ul ar putea fi tiny houses de la Mobexpert, căsuțele fixe și mobile, produse 100% în România. Sunt ideale pentru oamenii care visează să adopte un stil de viață mai liniștit. Cele fixe pot fi amplasate în orice loc, iar cele mobile pot fi folosite în vacanțe prelungite.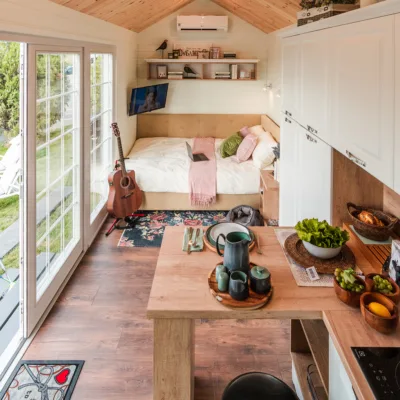 Avantajele tiny houses de la Mobexpert sunt finisajele și dotările moderne și de calitate, timpul scurt de producție și, nu în ultimul rând, prețul de achiziție, o fracțiune din cât costă o garsonieră sau un apartament de mici dimensiuni. Conceptele de tiny houses și downshifting se completează reciproc și se adresează exact celor care își doresc să fie mai fericiți cu mai puțin.
Bonus, Mobexpert este în această vară și partenerul UNTOLD și a scos trei căsuțe la concurs pe conturile de Instagram și Facebook ale festivalului. Acestea vor fi ocupate de cei care au câștigat cazare gratuită, chiar in inima festivalului, în perioada 4-7 august. Living in the magic este conceptul prin care Mobexpert se adresează publicului tânăr, mereu în căutarea de noi experiențe și aventuri. Aceste tiny houses asigură tot confortul necesar și pot fi folosite atât ca locuințe permanente cât și în vacanțe, de downshifteri și nu numai.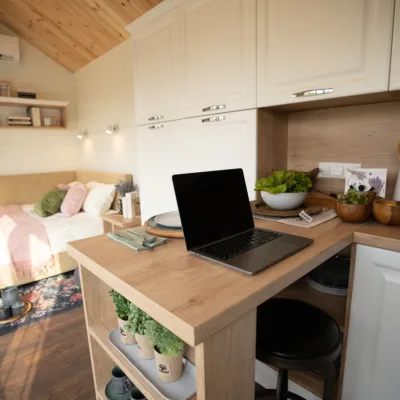 Așadar, downshifting-ul și tiny houses se adresează în primul rând celor care aleg să se bucure de ceea ce contează cu adevărat și își propun să nu mai impresioneze pe nimeni. Să se recompenseze cu mai multe bucurii, paradoxal, prin mai puțin. Să reușească să-și redescopere plăcerea de a trăi, de a fi mai aproape de natură, de cei dragi, de ceea ce îi face cu adevărat fericiți.
✖
Mulțumim pentru că vrei să fim prieteni!