Au început înscrierile la Conferința Națională de Psihologie Industrial Organizațională ,,Horia D. Pitariu,,, manifestare științifică cu tema ,,Impactul tehnologiei asupra muncii,,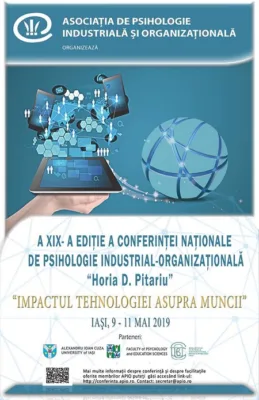 Asociația de Psihologie Industrială și Organizațională în colaborare cu Facultatea de Psihologie și Științe ale Educației din cadrul Universității ,,Alexandru Ioan Cuza,, și Biblioteca Centrală Universitară ,,Mihai Eminescu,, din Iași organizează Conferința Națională de Psihologie Industrial Organizațională ,,Horia D. Pitariu,, (Ediția a XIX-a).
Tema acestei ediții este ,,Impactul tehnologiei asupra muncii,,. Aceasta va avea loc la Iași, în perioada 9-11 mai 2019. Manifestarea științifică se adresează practicienilor din marile companii din țară, studenților și cadrelor didactice universitare din domeniile Psihologie și Managementul Resurselor Umane.
Invitatul special al ediției din acest an este Prof. José M. Peiró (Universitatea Valencia și membru al Institutului de Cercetare în Psihologia Resurselor Umane, Dezvoltare Organizațională și Calitatea Vieții la Locul de Muncă (IDOCAL). Acesta va discuta despre impactul digitalizării asupra muncii si implicațiile noilor transformări tehnologice asupra psihologiei industriale și organizaționale într-o prelegere cu titlul "Digitalization and the future of work: Implications for the future of W&O Psychology", vineri , 10 mai, 2019 în Aula Bibliotecii Centrale Universitare "Mihai Eminescu", Iaşi.
În plus pe parcursul celor trei zile, Conferința APIO din acest an își propune:
Să abordeze, alături de teme teoretice fundamentale, problemele actuale ale mediului organizațional românesc și schimbările radicale survenite în definirea și proiectarea muncii în societatea contemporană. Ediția din acest an se oprește asupra impactului tehnologiei asupra muncii și invită la analiza schimbărilor tehnologice recente dar și cele viitoare, elemente ce antrenează modificări în raporturile sociale și profesionale care pot afecta major practicile în domeniul psihologiei organizaționale și a managementului resurselor umane.
Să creeze o oportunitate pentru reprezentanți din domeniul academic (cadre didactice universitare,
doctoranzi, studenți) de a prezenta rezultatele cercetărilor lor (încheiate sau în curs de realizare) –
prin sesiuni de comunicări științifice. Lucrările prezentate pot aborda orice temă din sfera psihologiei (nu doar domeniul organizațional).
Să construiască un cadru optim pentru schimbul de idei și bune practici în domeniul psihologiei
industriale și organizaționale.
Să ofere participanților (cercetători și practicieni ) șansa de a-și perfecționa deprinderile de evaluare
psihologică și de cercetare utile pentru adaptarea la permanentele schimbări din domeniile industrial –organizațional și resurse umane -în cadrul unor workshop-uri.
Participanţii interesaţi de sesiunile de comunicări ştiinţifice se pot înscrie cu lucrări până pe 1 aprilie 2019
(inclusiv). Detalii despre modalitatea de înscriere, taxe şi programul conferinţei puteţi afla de aici.
✖
Mulțumim pentru că vrei să fim prieteni!