Campania nationala Zilele Protectiei Solare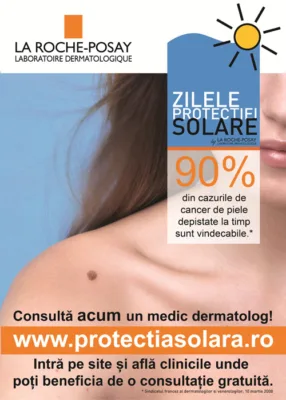 In perioada 7 mai- 30 iunie Laboratoarele La Roche-Posay, alaturi de peste 100 de medici dermatologi parteneri din 19 orase, organizeaza Zilele Protectiei Solare, eveniment national de educare privind riscurile expunerii neprotejate la soare. Persoanele interesate vor putea beneficia de consultatii gratuite ale alunitelor si sfaturi specializate pentru preventia cancerului de piele. Mai multe detalii pe www.protectiasolara.ro.
Melanomul – un cancer in crestere in Europa, cauzat de expunerea neprotejata la soare
"Melanomul malign este una din cele mai agresive tumori maligne. Apare cel mai frecvent la nivel cutanat, dar se poate prezenta in orice tesut ce contine celule pigmentare. La femei s-au observat localizari frecvente la nivelul membrelor inferioare, iar la barbati la nivelul trunchiului. Melanomul reprezinta aproximativ 5% din totalul tumorilor maligne cutanate si 1% din totalul tumorilor inregistrate. Transformarea maligna se poate realiza spontan sau sub actiunea unor traumatisme, a radiatiilor solare, sau a unor factori genetici.
Melanomul malign are o incidenta in continua crestere in ultimele decenii, de aceea recomandam periodic un consult de specialitate al alunitelor suspecte la medicul dermatolog, si sustinem Campania nationala Zilele Protectiei Solare." afirma dr. Lucian Russu, medic specialist dermato-venerologie, Centrul Medical Bioderm
Date ingrijoratoare privind expunerea la soare:
 35% dintre cazurile de melanom incurabil din Europa sunt in Europa Centrala si de Est¹
 Melanomul poate fi prevenit prin folosirea regulata a protectiei solare²
 30% dintre romani nu folosesc niciodata protectie solara³
 10% dintre romani folosesc protectie solara pe toata durata verii³
 5% dintre romani folosesc protectie solara zilnic.³
 60% dintre romani, folosesc fotoprotectoare cu factor scazut de protectie (10 sau 15), iar numarul celor care folosesc protectie SPF 50+ este foarte scazut (15%).³
 70% dintre adolescenti nu folosesc protectie solara.⁴
Protectia solara ajuta la prevenirea melanomului intr-un mod eficient
Un studiu clinic important desfasurat in Australia timp de 15 ani pe un esantion de peste 1600 de adulti a demonstrat pentru prima data ca folosirea cu regularitate a cremelor de protectie solara reduce riscul aparitiei melanomului. Studiul, realizat de Dr. Adele Green si publicat in Journal of Oncology, demonstreaza reducerea aparitiei melanomului, la persoanele care au aplicat zilnic un produs de protectie solara.
Campania Zilele Protectiei Solare se desfasoara in perioada mai –iunie in 17 mari orase din toata tara: Bucuresti, Cluj, Timisoara, Iasi, Constanta, Sibiu, Brasov, Ploiesti, Baia Mare, Oradea, Suceava, Botosani, Vatra Dornei, Barlad, Roman, Pascani, Falticeni si Tg. Mures. Pentru a vizualiza lista medicilor dermatologi partneri si pentru mai multe detalii legate de programarea la consultatiile gratuite vizitati site-ul www.protectiasolara.ro .
¹Melanoma incidence and mortality in Europe: new estimates, persistent disparities, Bristish Journal of Dermatology, iunie 2012
²Reduced Melanoma After Regular Sunscreen Use: Randomized Trial Follow-Up, Journal of Clinical Oncology, 2010
³Studiu realizat in colaborare cu 150 de dermatologi din toata tara, pe un esantion de 6900 de pacienti, in perioada mai – august 2010.
⁴Robinson JK eDESPRE MELANOM.t al. Summertime sun protection used by adults for their children. J Am Acad Dermatol 2000
⁵ Sindicatul Francez al Dermatologilor si Venerologilor, 10 martie 2008
✖
Mulțumim pentru că vrei să fim prieteni!