Cea de-a X-a ediție a webcastului FAST FORWARD are loc pe 20-21 octombrie 2021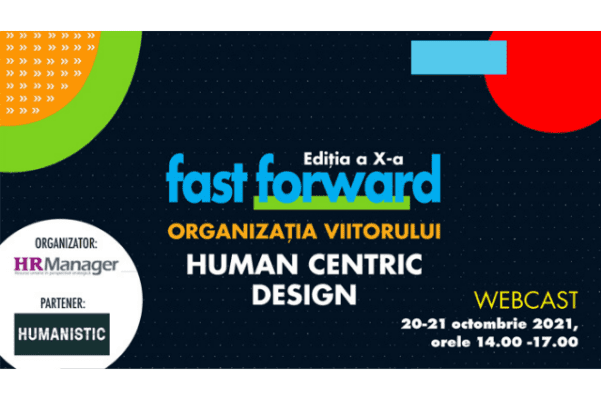 Revista HR Manager organizează cu sprijinul Humanistic, în zilele de 20-21 OCTOMBRIE 2021, între orele 14:00-17:00, ediția a X-a din seria de evenimente online FAST FORWARD. ORGANIZAȚIA VIITORULUI cu tema HUMAN CENTRIC DESIGN.
Acum mai mult ca niciodată construim organizația în jurul oamenilor și a siguranței lor. Colectăm date din ce în ce mai valoroase pe care, în organizațiile mari, le putem combina cu concepte din marketing precum "Persona", le putem prelucra și modela pentru a lua decizii, putem folosi tehnologia pentru a automatiza, pentru a ne ușura munca și pentru a gestiona complexitatea.
Ediția Fast Forward – Human Centric Design își propune să pună sub lumina reflectorului, pe un teren comun, cele două paradigme atât de mult vehiculate: pe de o parte, organizația construită pe cifre și tehnologie pentru eficiență: cum dezvoltăm organizația pornind de la Big Data, Artificial Intelligence, aplicate la Employee Data, pe de altă parte, organizația construită pe premisele unui nou tip de leadership, mult mai conștient, ce pune în mijloc starea de bine și echilibrul angajatului prin construirea de relații sănătoase: Coaching Culture, The Culture of Trust – Cultura încrederii.
Cum construim organizații Human Centric îmbinând datele, tehnologia, chatbots, munca eficientă, cu premisele umanității: cultura încrederii? Vom afla raspunsul la aceasta intrebare de la specialiștii și practicienii HR invitati la eveniment:
Dorin Bodea – Fondator si General Manager, Result Development
Judith Kiss – HR Director Groupama;
Cris Lupu – Head of Culture& Transformation, Softelligence;
Marius Ciurariu – HR Director, Provident
Ramona Badescu – Employer Branding& Talent Management Coordinator, Bosch Romania
Anda Merlusca – HR Manager in Continental Automotive Iasi
Anne-Marie Slav – Sales Team Leader Benefit Integration, Benefit an Edenred Company
Dragos Tilica – HR Operations Team Leader, Arctic
Aurelian Chitez – Sales Director Romanian Software
Denisa Chelu, – Head of Change & Transformation Competence Center, Enel
Camelia Dumitru – Organizational Development Specialist| Internal Coach, Enel
Ana Maria Mitrache – Organizational Development Specialist| Internal Coach, Enel
Delia Iliasa – Managing Partner SanoPass
Lavinia Mehedințu – People Experience Manager eMAG
Iulia Buciuman – Managing Partner HUMANISTIC – Moderator
Mihai ZÂNT – Business Coach, Managing Partner HUMANISTIC – Moderator
Se vor dezbate idei, inițiative, studii, vom vedea împreună proiecte care sa ne raspundă si la alte intrebari precum:
Cum recrutez folosind Big Data? Dar cum schimb procesul de recrutare oferind o experiență caldă și unică în timpul interviului?
Cum automatizez procese repetitive pentru eficiența business-ului, dar cum reușesc să fac asta pregătind terenul prin programe de development de mindset digital al angajaților?
Cum arată indicatorii de sănătate organizațională în "chart-uri" pe masa leaderilor și de ce informații au ei nevoie despre oameni?
Cum măsor dinamica în organizatie în WHF?
Cum protejez încrederea în munca la distanță?
Cum asigur echilibrul și sănătatea emoțională a angajatilor?
Toate prezentările și discuțiile se desfășoară în limba română.
În timpul evenimentului participanții au posibilitatea să adreseze întrebări prin intermediul unui chat live.
Participarea este gratuită și se face pe baza confirmării înregistrării.
Înregistrarea se face pe pagina evenimentului, unde se găsesc toate detaliile privind temele de discuție și vorbitorii acestei ediții. Pentru detalii legate de organizare adresa de contact este [email protected].
Parteneri: Continental, Arctic, Benefit, SanoPass, Enel, Bosch, Colorful.hr, Provident, Emag
Partener academic: EMBA RO-CA, INDE MBA, BBS
Parteneri media: Revista CARIERE, Biz, Portal HR, HR Club, Doing Business, Jurnalul de Afaceri, Wall-Street, CONAF, PWN Romania, Repatriot, Spotmedia, Financial Intelligence, Hipo, Learning Network, Psychologies
✖
Mulțumim pentru că vrei să fim prieteni!