Cu sprijinul ICR, muzicienii români farmecă publicul londonez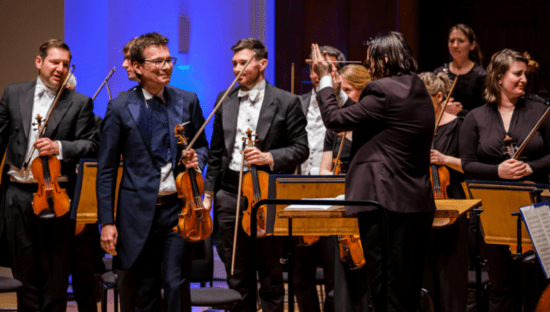 PR
Două evenimente culturale excepționale au avut loc de curând în Marea Britanie sub egida ICR Londra: pe 1 mai 2019 violonistul român Alexandru Tomescu a concertat, pe faimoasa scenă londoneză de la Cadogan Hall, alături de dirijorul Gabriel Bebeşelea şi Royal Philharmonic Orchestra.
Alexandru Tomescu a revenit și vineri, pe 3 mai, în fața englezilor melomani, cu un repertoriu fabulos, potrivit până la perfecțiune pentru scena din spectaculoasa catedrală gotică Winchester.
Alexandru Tomescu a spus că, pentru el, acest concert este "un vis împlinit": "Primul meu concert împreună cu Royal Philharmonic Orchestra, la Londra, dirijată de Gabriel Bebeşelea, a fost o seară magică, pur şi simplu. Este imposibil de exprimat în cuvinte bucuria pe care am simţit-o cântând alături de aceşti muzicieni minunaţi. Mulţumesc din toată inima ICR şi ICR Londra, pentru că au făcut posibil acest concert pe care îl voi ţine minte toată viaţa." Cele două concerte au fost organizate de ICR Londra în parteneriat cu Royal Philharmonic Orchestra, cu sprijinul Ambasadei României în Marea Britanie, şi sunt incluse în programul cultural ce marchează Preşedinţia română a Consiliului Uniunii Europene.
În programul concertului de pe 1 mai au fost incluse "Suita Nr. 2" de George Enescu şi "Balada pentru vioară şi orchestră" de Ciprian Porumbescu, "Concertul Nr. 3 pentru vioară" al lui Saint-Saëns, şi ultima simfonie a lui Mozart, "Simfonia Nr. 41".
"Este o mare bucurie pentru echipa Institutului Cultural Român să susţină prezenţa lui Alexandru Tomescu pe marile scene ale lumii, alături de orchestre şi artişti de prestigiu. Un moment excepţional a fost, în aceste zile, la Londra, unde foarte apreciatul nostru violonist a strălucit din nou şi a încântat exigentul public britanic, performând alături de celebra Royal Philarmonic Orchestra. Recitaluri şi concerte recente susţinute de Alexandru Tomescu la Carnegie Hall ori Millennium Stage – Kennedy Center în Statele Unite, alături de Orchestra Simfonică Prezidenţială din Ankara, dar şi în Noua Zeelandă, Portugalia sau Franţa, au fost adevărate momente de diplomaţie culturală românească la cel mai înalt nivel. O strategie pe care o continuăm şi în acest an si care va atinge punctul culminant odata cu participarea ţării noastre la ediţia aniversară, din 2019, a Festivalului Internaţional EUROPALIA", a declarat Liliana Ţuroiu, preşedintele ICR."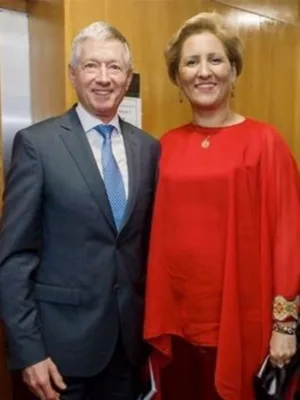 O scenă memorabilă
Winchester Cathedral, unde a avut loc concertul de vineri seară, este una dintre cele mai mari şi spectaculoase catedrale gotice din Europa. Alexandru Tomescu a mai concertat și înainte alături de Royal Philharmonic Orchestra, sub bagheta dirijorului Chris Petrie, promotor neobosit al muzicii româneşti în Marea Britanie. În seara de vineri s-a interpretat "Concertul pentru Vioară Nr. 3" de Saint-Saëns şi "Balada pentru vioară şi orchestră" de Ciprian Porumbescu. Evenimentul a inclus, ca eveniment special, premiera mondială a "Simfoniei Nr. 2" sau "Simfonia Hampshire", cea mai recentă compoziţie semnată de Călin Humă, rezident al acestei regiuni britanice care i-a inspirat lucrarea.
Alexandru Tomescu, un muzician cu viziune
Alexandru Tomescu este un neobosit promotor al clasicilor. "Paganini – înger sau demon", proiectul său personal, este elocvent pentru viziunea și misiunea educațională pe care Tomescu o dezvoltă.
După studii în Elveţia cu Tibor Varga şi Statele Unite ale Americii cu Eduard Schmieder, violonistul a revenit în România pentru a face din muzică o misiune civică și și-a propus ca, prin concerte, conferinţe şi evenimente speciale, să demonstreze că aceast tip de muzică, cea clasică, este accesibilă tuturor. În paralel cu o fabuloasă carieră internaţională, cu succese înregistrate pe mari scene precum Théâtre des Champs Elysées din Paris, Carnegie Hall din New York sau Metropolitan Arts Centre din Tokio, sub bagheta unor maeştri precum Valery Gergiev, Kurt Masur sau Christoph Eschenbach, Alexandru Tomescu a continuat proiectele personale legate de muzică, fiind implicat, de-a lungul anilor, în importante campanii culturale.
Gabriel Bebeşelea, un nume de viitor
Gabriel Bebeşelea este dirijor principal al Filarmonicii de Stat "Transilvania". Stagiunea actuală şi cele viitoare îl anunţă la pupitrul unor orchestre precum Rundfunk-Sinfonieorchester şi Konzerthausorchester din Berlin, Tonkünstler-Orchester Niederösterreich, Ulster Orchestra Belfast, Orchestra Simfonică Academică de Stat "Evgeny Svetlanov" din Rusia, Orchestra Naţională Filarmonică Rusă şi Singapore Symphony Orchestra. Dirijorul Gabriel Bebeşelea locuiește la Viena, unde a absolvit studiile postuniversitare la Universitatea de Muzică şi Artele Spectacolului, la clasa profesorului Mark Stringer. În România, Gabriel Bebeşelea dirijează în mod frecvent orchestre precum Filarmonica "George Enescu", Orchestra Naţională Radio, Orchestra de Cameră Radio şi Filarmonica de Stat Sibiu. Gabriel Bebeşelea este câstigător al concursurilor de dirijat "Lovro von Matačić" (2015) şi "Jeunesses Musicales" (2010), și a fost semifinalist al concursurilor de dirijat "Donatella Flick" al London Symphony Orchestra (2014) şi "Gustav Mahler" al Bamberger Symphoniker (2016). Absolvent al studiilor de licenţă la Academia de Muzică "Gheorghe Dima" din Cluj-Napoca, la clasa maestrului Petre Sbârcea, şi al celor de masterat cu maestrul Horia Andreescu la Universitatea Naţională de Muzică Bucureşti, Gabriel Bebeşelea este în prezent doctorand al aceleiaşi universităţi, sub îndrumarea prof. univ. dr.Dan Dediu.
Christopher Petrie și muzica lui Enescu
Dirijorul Christopher Petrie este pasionat de muzica lui Enescu, Mendelssohn şi Elgar, dar şi de muzica contemporană. Muzicianul englez a condus orchestre prestigioase din Europa şi Marea Britanie şi a lucrat cu solişti vestiţi precum pianiştii Leslie Howard, Tom Poster şi Alina Azario, violoniştii Andrey Baranov şi Remus Azoiţei, violoncelistul Filip Papa şi mulţi alţii. În viitorul apropiat, dirijorul se va fi la pupitrul BBC National Orchestra of Wales, Royal Philharmonic Orchestra şi Philharmonie Horst/Bonn Opera. În prezent, Chris Petrie este directorul artistic şi dirijorul principal al Philharmonic Chamber Orchestra of London, alături de  care ICR Londra a prezentat Rapsodia Nr. 2 de George Enescu şi premiera mondială a Simfoniei Nr. 1 "Carpatica" de Călin Humă, în anul 2015. Chris Petrie a studiat la Royal Welsh College of Music and Drama din Cardiff şi la Royal Academy of Music din Londra.
Royal Philharmonic Orchestra – una dintre cele mai bune din lume
Royal Philharmonic Orchestra a fost înfiinţată în 1946 de Sir Thomas Beecham în scopul revitalizării vieţii concertistice britanice de după Al Doilea Război Mondial. Nivelul artistic excepţional o recomandă drept "orchestra naţională a Marii Britanii". Ansamblul are propriul său radio online – The Sound of the Royal Philharmonic Orchestra -, şi participă la dezvoltarea unor diverse proiecte educaţionale şi comunitare, pe lângă cele simfonice.
Sursă foto: PR
✖
Mulțumim pentru că vrei să fim prieteni!