Fitness Scandinavia ne-a pregătit Convenția Internațională de Fitness din România 2019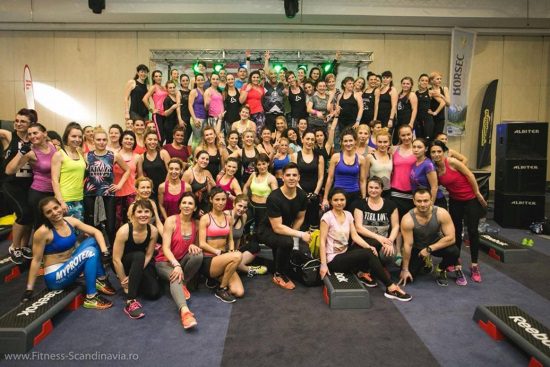 Pasionații de fitness sunt așteptați la cea de-a nouă ediție a Convenției Internaționale de Fitness din România ce va avea loc în perioada 13-14 aprilie 2019 la București, în cadrul Rin Grand Hotel.
Cel mai așteptat eveniment de fitness din Europa, Convenția Internațională de Fitness, este gata să își deschidă porțile cu aceleași clase și seminare antrenante și educative cu care Fitness Scandinavia ne-a obișnuit.
Evenimentul va avea loc în weekendul 13-14 aprilie și te vei putea bucură de prezența unor experți de top din lumea fitness-ului care te vor motiva să încerci cele mai noi concepte sportive, care fac înconjurul lumii la momentul actual. Vei putea de asemenea să te delectezi cu bunătăți sănătoase în zona expo, care este cu acce liber pentru oricine are curiozitatea să vadă cele mai noi tendințe în materie de accesorii și echipamente fitness, yoga sau pilates, nutriție sportivă și sănătoasă, haine pentru sport și alte accesorii legate de domeniul fitness wellness.
Toți pasionații de fitness sunt invitați la Convenția Internațională de Fitness din România #9, powered by Fitness Scandinavia. Așa cum probabil știți deja, evenimentul este dedicat tuturor pasionaților de sport și stil de viață sănătos în general.Așa că tot ceea ce trebuie să îți pregătești sunt pasiunea pentru sport, energia pozitivă și echipamentul de antrenament, iar noi te așteptăm cu brațele deschise și cu pachetele de la sponsorii noștri! Cei mai buni antrenori și cele mai cool clase de fitness și seminare.
În cadrul Convenției te vei putea bucură de o mulțime de clase de la cycling (indoor, tradițional, interval training etc), Fight Klub Bag Box, Insane Body Training, Intense Body Challenge, Extreme Tabata Challenge, Foam Roll Stretch & Release,Yoga Fusion, Funcțional Pilates, Postural Alingment,  Mobility, Step Dance, Aerobic Funcțional, Kangoo Power, precum și multe alte clase special concepute pentru gusturile și capacitățile fiecărui participant.
Toate clasele sunt detaliate în secțiunea dedicată Convenției de pe site-ul Fitness Scandinavia.
De asemenea, ai posibilitatea de a participa și la o serie de seminare pe teme diverse de la fitness la wellness, ținute de cei mai relevanți speakeri din România. Dintre acestea menționăm numai o mică parte: "Sport, mișcare și ciclul menstrual feminin' cu Mihaela Brailescu, "How to market your brand aș a fitness professional" cu Cristina Cerga, "Reguli alimentare în funcție de obiective" cu Gabriela Nedelea, "The future în strength and conditioning" cu Matthew Griffiths, "Cum să îți construiești o echipa de superstars în fitness" cu Florin Cujba.
Și dacă ești curios cine face parte din echipa de presenteri ai evenimentului din acest an, iată numai o mică parte: Tony Stone, Matthew Groffiths, Omer Rosenberg, Andrea Gobbi, Beko Kaygee, Stefano Crocetta,  Troy Dureh, Liora Zytcer, Tiberiu Vintiloiu, Radu Restivan, Iulia Popa, Alexandru Valah și mulți, mulți alții.
Dacă vrei să știi mai multe despre experții care vor susține clasele din cadrul evenimentului, vizitează site-ul Fitness Scandinavia în secțiunea dedicată.
✖
Mulțumim pentru că vrei să fim prieteni!