Debut: Romanul "Coada" de Dragos Voicu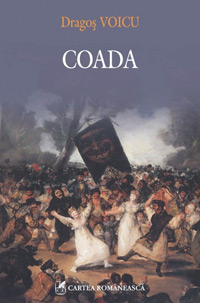 Romanul Coada de Dragos Voicu, cistigator la sectiunea "Proza", in cadrul Concursului de Debut pe anul 2008, organizat de Editura Cartea Romaneasca, se afla deja in librarii.
La editia din 2008 a concursului, au participat 76 de manuscrise – 33, la sectiunea "Proza", 32, la "Poezie", 4, la "Teatru", 7, la "Critica/ Istorie literara/ Eseu".
Despre Coada si statul la cozi
Viata la coada. O coada la tacimuri de pui. O coada fabuloasa, care infasoara orasul de mai multe ori si va dura 12 luni, timp in care Ionut, un vajnic pionier, ii va cunoaste pe cei care ii vor fi vecini intregul an, citeva personaje pitoresti care discuta despre copii, matematica, tuica fiarta, fericire, cirnati, dragoste, bomboane de pom, moarte, muraturi, examene de admitere. O coada care sfideaza orele, zilele, saptaminile, anotimpurile si totusi… aici oamenii isi povestesc viata, isi sarbatoresc zilele de nastere, se indragostesc, se casatoresc si, pur si simplu, mor.
O scriitura limpede, neresentimentara – sintem in "Epoca de Aur" –, trista, dar plina de umor. Un roman a carui forta magica te face sa izbucnesti in hohote de ris sau de plins si te lasa naucit pe muchia dintre cele doua stari.
Mai multe detalii pe blogul cartii: http://romanulcoada.wordpress.com.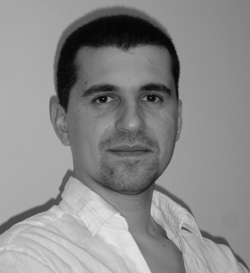 Dragos Voicu s-a nascut la 9 iunie 1975, in Bucuresti.
–  Este absolvent al Academiei Tehnice Militare, Bucuresti, si al masterului "Managementul proiectelor", SNSPA. In prezent lucreaza in cadrul Ministerului Administratiei si Internelor, in domeniul managementului proiectelor.
–  A tradus in limba engleza volumul Sistemul integrat pentru securitatea frontierei – The Integrated System for the border security, autor Dumitru I. Popescu (Editura Univers Stiintific, Bucuresti, 2006).
–  A publicat articole de specialitate in bilunarul Asociatiei Generale a Inginerilor din Romania, Univers Ingineresc.
–  In 2008 a cistigat locul I la Concursul de povesti cu tema "De ce iubim Bucurestiul?".
Interviu cu Dragos Voicu
De ce un roman despre comunism sau, mai bine-zis, despre una dintre "activitatile"specifice acelei perioade: statul la cozi?
–  Nu am o justificare rationala. Pur si simplu m-am gindit sa scriu o carte si aceasta a fost ideea care mi-a fost adusa cine stie de unde: un copil care merge la o coada la tacimuri, o coada fara sfirsit la care se intimpla viata pur si simplu, cu nunta, cu inmormintare, cu zile onomastice, cu discutiile dintre oameni, totul impletit cu amintiri din acele vremuri.
Este un roman autobiografic?
–  Acum, dupa ce am scris cartea, am impresia ca am trait tot ce e intre copertile ei. De fapt, nici nu mai pot sa separ experienta personala de fictiune. Ar fi ca si cum l-as dezvraji si nu mai am acest drept. Cartea isi traieste propria viata acum.
In soapta va spun: nu prea am stat pe la cozi.
Este coada un personaj in sine in aceasta carte?
–  Eu nu m-am gandit la asta, dar ideea este excelenta. Intr-adevar, coada devine unul dintre personaje. Si pentru mine este o revelatie si mi-e ciuda ca a trebuit sa mi-o spuna altcineva. Nu mi-am dat seama de faptul ca, lucrind la personajele mele, s-a nascut un personaj nou in jurul caruia se tese intreaga poveste.
E o carte nostalgica sau de reamintire pur si simplu?
–  Cred ca depinde de fiecare cititor in parte. Unii pot simti nostalgie, altii isi vor reaminti, dar fara a fi nostalgici. Foarte curios sint referitor la perceptia celor care nu au trait in acea epoca. Oricum, cartea este dedicata generatilor care stiu – spre amintire – si generatiilor viitoare – spre povestire.
Dar, dincolo de toate acestea, stiu sigur ca cititorii vor simti magia cartii, acel nu-stiu-ce al lucrurilor care vin de departe. Si eu am simtit-o, pentru ca, asa cum v-am spus, cartea nu este a mea, eu nu am facut decit s-o astern pe hirtie.
"Coada" reprezinta debutul dv. literar. Va ginditi la alta carte? Poate una care sa aiba drept cadru tranzitia?
–  Chiar ma gindesc la asa ceva. E o tema interesanta, cu izvoare bogate. Insa nu sint sigur ca ea va fi urmatoarea.
Cititi carti despre comunism? Cit de mult va preocupa aceasta perioada?
–  Citesc scrieri despre comunism. Este o parte deosebita a istoriei personale a citorva generatii, o nesfirsita sursa de emotii care trebuie conservata cu atentie.
Mai multe detalii despre Concursul de Debut organizat de Cartea Romaneasca gasiti AICI.
Puteti comanda romanul Coada direct de pe siteul editurii Cartea Romaneasca, www.cartearomaneasca.ro, sau trimitind e-mail la [email protected].
✖
Mulțumim pentru că vrei să fim prieteni!