J.H.H. Weiler vine in Romania pentru a-si lansa volumul "Constitutia Europei"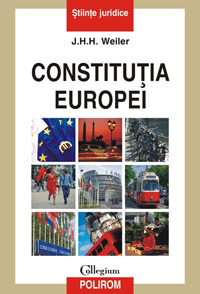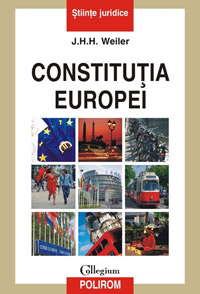 Constitutia Uniunii Europene, religia crestina, relatia dintre acestea si rolul tolerantei se numara printre temele conferintei, circumscrise de intrebarea "Exista un ghetou crestin in Europa actuala ?".
Editura Polirom va invita joi, 30 aprilie, ora 11.30, la lansarea volumului Constitutia Europei de J.H.H. Weiler. Evenimentul va avea loc in Sala de Conferinte a Institutului European din Romania (Bd. Regina Elisabeta, 7-9, sector 3, etaj 4, Bucuresti).
Prezinta: J.H.H. Weiler, Prof. univ. dr., New York University, Iulia Motoc, Prof. univ. dr., ingrijitoarea editiei, Gabriela Dragan, Director general, Institutul European din Romania si Bogdan Mazuru, Secretar de stat pentru afaceri europene, MAE.
Lansarea va fi urmata de dezbatere.
Evenimentul este organizat in parteneriat cu Institutul European din Romania si Institutul de Studii Populare.
In aceeasi zi, de la ora 18.00, la Institutul Cultural Roman (Aleea Alexandru 38, Bucuresti) va avea loc, in seria "Intilniri si (re)intilniri la ICR", conferinta "Europa crestina" sustinuta de Joseph H. H. Weiler. Conferinta va fi urmata de o dezbatere moderata de prof. univ. dr. Iulia Motoc si de Horia-Roman Patapievici, presedintele ICR.
Profesor de drept la New York University, J.H.H. Weiler face o selectie a citorva dintre cele mai reprezentative eseuri ale sale pe temele clasice ale constitutionalismului european. Autorul propune ca subiecte de discutie relatia dintre Uniunea Europeana, statele membre si indivizi, relatiile de putere instituite intre diversele parti, precum si valorile si idealurile Uniunii Europene. Relatiile de putere beneficiaza de o atentie speciala, data fiind importanta dobindita in timp de institutiile europene transnationale, in detrimentul, uneori, al legislatorilor nationali. Ni se ofera astfel o perspectiva echilibrata atit asupra avantajelor, cit si asupra neajunsurilor procesului de integrare europeana. O analiza critica pertinenta destinata studentilor si specialistilor in drept si stiinte politice.
Din cuprins: Transformarea Europei • Democratia europeana si criticii sai: organizare politica si sistem • Autonomia arhitecturii jurisdictionale comunitare • Constitutia Pietei Comune: text si context in evolutia liberei circulatii a marfurilor • A fi cetatean european: eros si civilizatie • Federalism fara constitutionalism: drumul special al Europei • Apropierea epocii constitutionalismului european
Joseph H.H. Weiler este profesor de drept la New York University si Universitatea de Stat din Singapore, precum si profesor onorific la London University si Universitatea din Copenhaga. Este redactor-sef al European Journal of International Law si autorul a numeroase lucrari si articole din domeniul dreptului european, international si comparativ. Dintre volumele publicate, mentionam: The EU, the WTO, and the NAFTA: Towards a Common Law of International Trade? (2000), The European Court of Justice (coautor, 2001), Un'Europa Cristiana: Un saggio esplorativo (2003), European Constitutionalism Beyond the State (coautor, 2003), Integration in an Expanding European Union: Reassessing the Fundamentals (coautor, 2003).
✖
Mulțumim pentru că vrei să fim prieteni!