Lansare de carte: "Poemele secretarei", de Stefania Mihalache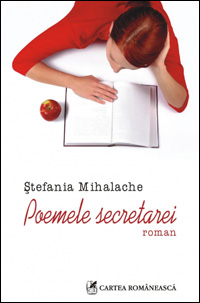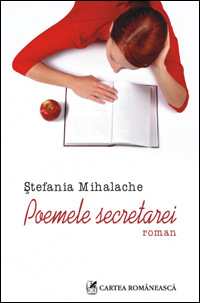 Joi, 22 aprilie, la ora 18.00, la Diverta Magheru, va avea loc lansarea romanului Poemele secretarei, de Stefania Mihalache. Prezinta: Simona Sora, Bianca-Burta Cernat, Radu Aldulescu Moderator: Oana Boca
Andra, o fata frumoasa, poeta, Bamby, iubitul ei, Alex, patronul ei, si Ling, un om de afaceri controversat, sint prinsi in angrenajul lumii marketingului si advertisingului, o lume a contractelor incheiate pe sume astronomice, unde valoarea fiintelor umane se inscrie, dupa caz, la profit sau pierderi. Intrata in virtejul lumii corporatiste, cu filozofia si valorile ei proactive, pe care le imbratiseaza cu naivitate si entuziasm, Andra devine un obiect de schimb, o clauza vie la un contract dubios de publicitate.
Romanul Stefaniei Mihalache are in vedere nu numai radiografierea valorilor corporatiste in versiunea lor standard, preluata de la marile corporatii vestice, ci, mai ales, combinatia adesea gregara, cind nu de-a dreptul periculoasa, dintre acestea si spiritul "descurcaret", esentialmente corupt, dimbovitean. Cartea spune povestea unor experiente care in Romania nu si-au gasit drumul fictional prezent deja in literatura contemporana central-est-europeana – acea literatura a tinerilor care au detectat repede falsurile din spatele sistemului corporatist primit la pachet si potentialitatile acestuia de a face victime.
Poemele secretarei este un roman-avertisment adresat unei intregi generatii – tinere, ambitioase si naive, usor manipulabile de catre cei care au facut si fac jocurile.
"Stefania Mihalache a scris cartea la care viseaza orice literat care incearca sa-si pastreze sinele literar in lumea publicitatii, literat care se ascunde citeodata in costumul regulamentar al unei asistente dragute. O face cu aceeasi finete din cartea ei anterioara, Est-falia, si cu ceva mai multa maturitate artistica. Stie sa prepare o poveste credibila dintr-o reteta in care sint bine dozate si umorul corporatist, si tipurile umane clasice ale "domeniului", si introspectia personajului care tine cu dintii de propriul lui domeniu interior. "
Luminita Marcu
Stefania Mihalache (n. 15 august 1978, Brasov) este absolventa a Facultatii de Litere, Universitatea Transilvania, Brasov.
–  Master in studii de gen si cultura, Universitatea Central-Europeana, Budapesta, cu teza Narratives of Masculinity. Negotiating the Border in Bram Stoker's Dracula.
–  Debuteaza in volumul colectiv Junii 03, Antologia tinerilor prozatori brasoveni, editat de revista Interval, 2003.
–  In anul 2004, debuteaza editorial cu volumul Est-falia, Editura Paralela 45. Romanul este nominalizat la Marile Premii Prometheus, editia a IV-a, categoria Opera Prima.
–  A publicat proza si recenzii in revistele: Pana mea, Vatra, Observator Cultural, Time Out.
–  In prezent este colaborator la Dilemateca si Noua literatura.
–  A lucrat ca scenarista la MediaPro Pictures, Bucuresti.
–  Din octombrie 2009 este doctoranda a Facultatii de Litere, Universitatea Bucuresti, cu o teza pe tema copilariei in proza de dupa 1989, coordonata de prof. dr. Eugen Negrici.
Citeste un scurt interviu cu scriitoarea Stefania Mihalache.
✖
Mulțumim pentru că vrei să fim prieteni!