Hannah Arendt: o inima calda – un geniu glacial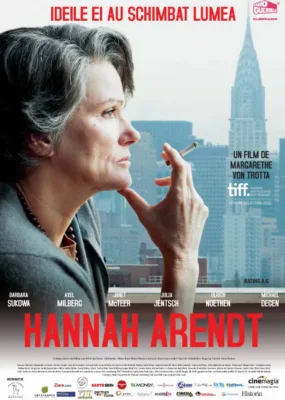 Din 24 mai veti urmari pe marile ecrane o poveste extrem de interesanta din viata unei femei care a socat lumea cu originalitatea ideilor sale. Ea indrazneste sa scrie liber despre Holocaust in termeni de care nimeni nu a mai auzit, fapt pentru care apar consecinte aprige.
Cand Hannah Arendt aude ca Servicile Secrete Israeliene l-au rapit pe Adolf Eichmann in Buenos Aires si l-au dus in Ierusalim ea este determinata sa raporteze procesul pentru prestigiosa revista The New Yorker.
Hannah asista la judecata unui criminal care a fost acuzat de exterminarea a 6 milioane de evrei. Culmea, Hannah, evereu de origine, il justifica pe asa-numitul " arhitect al Holocaustului".
Ii ia apararea, dar asta nu inseamna ca l-a iertat pentru monstruozitatea comisa. Eichmann a fost doar un birocrat exagerat, care nu era capabil sa gandeasca, sa decida pentru sine insusi: a fost o "masinarie umana " setata sa comita respectivele fapte fara urma de sentiment.
Apriga, fumatoare inraita, marea ganditoare este fericita si prospera in America, dar viziunea ei patrunzatoare ii incomodeaza pe ceilalti.
Ideile sale au costat-o scump: prieteniile considerate odata statornice s-au prabusit, oamenii o respingeau sau o priveau cu dispret. Publicarea studiului sau in The New Yorker provoaca imediat un scandal in Statele Unite, Israel si in curand in intreaga lume.
Marea iubire din viata Hannei- simpatizantul nazist Martin Heidegger. Dragostea dintre cei doi a fost cea mai comentata in ultimii ani. A fost o iubire imposibila: el a fost casatorit, nazist, iar ea evreu. Se intalneau pe ascuns, isi scriau scrisori. In film, dar si in realitate Hannah s-a intalnit cu Heidegger atunci cand munca ei era intens concentrata pe Eichmann.
Regizoarea Margarethe Von Trotta a transformat episodul controversat din viata Hannei Arendt intr-o reprezentare cinematografica grandioasa, iar Barabara Sukowa interpreteaza excelent rolul Hannei Arendt si da viata unei luptatoare ferme pentru ideile ei.
Filmul va rula din 24 mai in cinematografele: Cinema City Cotroceni si Sun Plaza, Union, Noul Cinematograf al Regizorului Roman si la Elvira Popescu- Bucuresti; Cinema Victoria- Cluj, CityPlex- Constanta.
Filmul a primit 4 premii, 9 nominalizari si multe aprecieri din partea criticilor:
• Premiul pentru cea mai buna actrita la Bavarian Film Awards- Barabara Sukowa
• Premiul pentru cea mai buna interpretare in rol principal la German Film Awards – Barabara Sukowa
• Premiul pentru cei mai buni producatori la German Film Awards : Johannes Rexin, Bettina Brokemper
• Premiul pentru cel mai bun film la Valladolid International Film Festival-Margarethe Von Trotta
✖
Mulțumim pentru că vrei să fim prieteni!