Femei care se forteaza, barbati care nu inteleg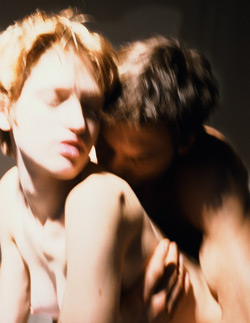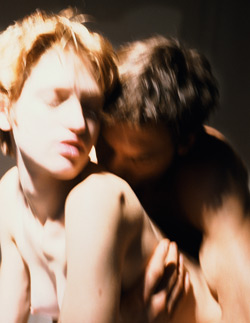 Cand vorbim despre sexul din dormitor, ne gandim la continuarea fireasca a sentimentelor ce unesc doi oameni. Curand insa, ei isi vor descoperi si limitele de toleranta, nevoile fiecaruia, vor aparea compromisurile si sincronizarile, se vor consimti, de comun acord, interdictiile.
Femeile sunt cele care refuza de cele mai multe ori, ele sunt cele care permit sau nu anumite "practici". Spun ca felatia le dezgusta sau ca le e frica de sex anal. Cu toate acestea, uneori, de teama de "a nu fi inselate, nu stiu sa spuna «nu» barbatului pe care il iubesc".
Ruperea intelegerii
Toate acestea sunt femei care denunta o intimitate violenta. Ele marturisesc, inainte de toate, o teama fundamentala: aceea de a-l vedea pe barbatul iubit "cum pleaca la altele", distrugand imaginea sociala a cuplului lor, condamnandu-le la o singuratate care le in­grozeste. Iar aceasta imagine poate fi uneori mai puternica si mai apasatoare decat orice altceva. Teama de a pierde obisnuintele si ritualurile de zi cu zi, de a trebui sa inveti sa fii fara celalalt si de a nu te mai recunoaste pe tine in afara cuplului sunt trairi care par mult mai dificil de depasit decat anumite "compromisuri" de alt gen, de zi cu zi.
Ce se intampla cand compromisurile pe care le faci contrazic ceea ce tu reprezinti ca persoana? Ele aduc in prim plan nu doar ceea ce nu iti doresti, ci taman ce iti provoaca repulsie, considerandu-te umilita. Atunci cand iti doresti partenerul, iar increderea este piatra de temelie a cuplului, anumite gesturi se invata sau sunt explorate in doi, tinandu-se cont de ceea ce isi doreste fiecare, fara a forta limitele. Dar cand practica iti contrazice simtirile si nevoile, cand te simti, ca femeie, fortata si nu dornica, este de preferat sa stii sa spui "nu". Iar atunci vei proba iubirea lui si dorinta de compromis.
Femeile se gandesc ca, a te opune printr-un refuz cand vine vorba de doleantele partenerului, inseamna sa-ti asumi riscul de a rupe contractul conjugal. Intrucat fericirea si corpul lor nu sunt acelasi lucru, raportul sexual dintre un barbat si o femeie este intotdeauna o negociere. De la primele mangaieri, incepe un fel de joc ce ajuta la descoperirea partenerului. In foarte putin timp, un cuplu stabil isi marcheaza drumul sexual: ce provoaca placere celor doi parteneri, ce-ar putea fi consimtit dupa o anumita perioada de intimitate si ce n-a mers.
Cuplul isi construieste intreaga viata sexuala in jurul acestui ritual in mod tacit acceptat. Pana la schimbare: daca unul dintre parteneri incearca sa treaca dincolo de ceea ce este considerat ca fiind respins, va exista o ruptura a contractului. Daca barbatul se afla la originea schimbarii, femeia risca sa privilegieze contractul conjugal asupra celui sexual: se constrang. Dar, daca dorinta de a explora teritorii tabu apare brusc, se poate ca ruptura contractului intim sa se fi produs deja, aceasta fiind un semn ca relatia e in pericol.
"De ceva timp deja, relatia noastra nu mai mergea", povesteste Evelina, 34 de ani, dintre care sapte de casnicie. "Si, drept cauza sau consecinta, nu stiu exact, asta ne-a schimbat viata sexuala". "Sub pretextul «imi sfidez interdictiile», sotul meu a incercat sa-mi impuna tot felul de practici pe care eu le refuzam", ne povesteste Alina. A inceput prin a-mi cere sa urmarim filme porno, cand stia ca asta ma facea sa ma simt foarte prost. A luat obiceiul de a ma insulta cand faceam dragoste, ceea ce nu facuse inainte. Poate ca sexul este, de fapt, un raport de putere. Barbatii vor sa se impuna, femeile le refuza aceasta putere…"
Sexualitati antagoniste
Sexualitatea masculina este una de cucerire, explica psihanalistii. Ea este antagonista cu cea a femeilor, care trebuie sa treaca printr-un anumit masochism erotic, ele trebuie sa accepte sa fie penetrate de penisul unui barbat. Regasim in complexul Oedip feminin dorinta de a intalni un barbat puternic, uneori violent. Acest vis al initiatorului poate sa genereze fantezii de rapire sau viol. Or, sexualitatea feminina este construita din fantezii, iar dominatia erotica devine in acest caz o placere.
Drama reiese din faptul ca granita dintre masochismul erotic si cel moral este foarte subtire, iar daca primul provoaca placere, al doilea foloseste maltratarea, umilirea si violenta. Sexul ajunge sa fie un instrument suplimentar al dominatiei sociale a barbatior, semnul puterii lor asupra femeilor.
Monica, 45 de ani, explica: "El este cel care incepe. Cand vede ca nu vreau, forteaza si pana la urma se termina rau. Incepe sa tipe putin, apoi se calmeaza si ii explic ca nu vreau, ca sunt obosita, ca nu vreau sa aud nimic. Asa rezolvam situatia".
Fac ce vreau cu corpul meu
Mesajele feministe care incurajeaza respingerea oricarui gest sexual inacceptabilpentru o femeie sunt inca rare. Sex and the City ne arata ca e posibil sa obtinem placerea in toate felurile. Dar sa nu uitam ca filmul e altceva decat viata si ca viata bate filmul.
Pe scurt, nu crede tot ce vezi. Suntem bombardati cu sloganuri agresive si invazive – "Sa te bucuri fara piedici" sau "Fac ce vreau cu corpul meu" –, un numar mare de femei continua sa nu stie cum sa refuze o practica sexuala care nu le place. Daca nu mai avem subiecte tabu, marturisirile obtinute pentru acest articol nu reflecta intot­deauna optimism. Anumite femei ajung chiar sa evoce o adevarata maltratare sexuala consimtita. Astfel, aflam marturii de genul: "Sex oral? Nu este genul meu! Numai gandul la asa ceva si ma dezgusta. Cu toate acestea, ma fortez, pentru a-i face lui placere. Cum sa te impaci cu asa ceva?!".
Abandonul in fata unei practici sexuale ce provoaca repulsie din start nu poate decat sa adanceasca prapastia dintr-un cuplu. Ideea de a lasa deoparte ceea ce iti doresti tu pentru a face placere celuilalt este valabila in anumite situatii si, de regula, este reciproca, daca asa cere situatia. Dar sa accepti inacceptabilul, nu provoaca decat frustrare. Insasi cauza pentru care am ajuns sa-l acceptam dispare sub influenta senzatiei de fortare, silire si siluire. Ceea ce se considera a ajuta intr-un cuplu ajunge sa fie motivul eroziunii.
"Am invatat sa nu mai zic «da» atunci cand simt «nu» "
Diana, 34 de ani, profesoara
"De ceva timp, sotul meu are niste fantezii culese de prin filmele porno pe care, OK, admit, le privim impreuna. Si vrea sa facem ce fac si actorii xxx. Am refuzat mereu de teama de a nu ma simti aiurea, dar simt ca va trebui sa trec prin asta. Dar mi se pare ca acest compromis mi-l face odios pe barbatul cu care ma culc. Oare femeile, daca refuza, de ce sunt catalogate imediat drept «incuiate»?
Pana la urma, un barbat nu poate sti vreodata cum e placerea unei femei, la fel, nu poate sti nici cum resimte ea dezgustul. Si sa stiti, dragi barbati, ca sunteti foarte adesea dezgustatori… Inainte sa ma marit, trecand prin cateva astfel de experiente pe care nu le-am putut refuza, am vrut sa ma culc numai cu femei si sa raman lesbiana. Noroc ca m-am indragostit de el si, ce sa vezi, tot hetero am ramas.
Dar nu pot uita felul cum o femeie poate mangaia, un fel pe care barbatii ar trebui sa-l invete la scoala sau sa il exerseze in particular. Cel mai adesea, barbatii sunt brutali, si asta se vede si in pretentiile lor, care nu tin deloc seama de ceea ce ii place sau nu ii place unei femei.
Chestia asta, daca va continua, ma va duce la divort. Pentru ca, asa cum am ajuns sa fim un cuplu fiindca ne doream trupeste teribil, la fel vom sfarsi despartiti pentru ca tot trupul stie ce nu-i place. Si am invatat sa nu mai zic «da» atunci cand simt «nu». De ce as face-o? Doamnelor, orgasmul feminin e si asa destul de greu de obtinut, de ce sa ne alegem, la bilantul final, si cu o suma de dezgusturi?"
Editare de Iulia Barca
Foto: Guliver/Getty Images
✖
Mulțumim pentru că vrei să fim prieteni!