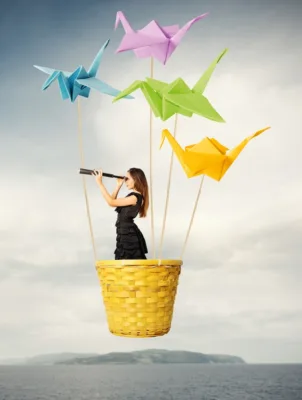 Admiram pe cineva, spunand ca e "atat de creativ!". Sau ca a gasit o solutie creativa la o problema. Da, creativitatea este valorizata de oameni, astfel a evoluat civilizatia, prin demersurile creative ale catorva dintre noi, care au dus la descoperiri sau capodopere…
Dar creativitatea ce este oare? De ce folosim atat de frecvent acest cuvant, insa, de fapt, nu stim ce acopera cu adevarat? Descoperirea a ceva nou, a unei noi functii, a unui design mai avantajos (la masini, sa zicem, dar si la haine sau mobila) tine de creativitate in acelasi fel in care este creativ un tablou fistichiu?
Dar gasirea unei solutii neobisnuite de linistit copiii de gradinita ce este? Este sau nu creativa? Sau, in cu totul alt registru, o abordare de afaceri care nu a mai fost implementata in compania respectiva, este creativa?
Evident, da! Omul este creativ in chip natural, numai ca, in decursul edu­catiei, cam pierde din cheful de a inova. Pentru ca o carare batuta (sau ceea ce esti invatat ca functioneaza – fie ca e vorba de afaceri, fie de cres­terea copiilor) nu solicita prea multa energie cerebrala si atunci preferam sa facem ce ni se spune…
Dar este pacat, pentru ca cei care au primit de la parinti sau profesori un feedback pozitiv pentru creatiile lor, pentru ideile proprii, si care continua sa genereze idei proprii, sunt, in medie, mai fericiti. A fi creativ inseamna a-ti atinge potentialul de actualizare, cum spunea Maslow (cel cu piramida trebuintelor, el insusi un mare creator si descoperitor), adica a fi mai evoluat, mai fericit.
Suntem toti creativi
Dar de ce ni se spune ca numai unii oa­meni sunt creativi? Pur si simplu, pentru ca numai unii oameni con­tinua sa inoveze, restul au fost sfatuiti ca e mai bine sa faca ce sunt invatati. Creativitatea este caracteristica tuturor… in anumite conditii.
Creativitatea trebuie incurajata, trebuie oferit un raspuns bun si pozitiv pentru a merge mai departe. Dar este un mit daunator si o idee falsa aceea ca "numai unii sunt creativi" asa, din nastere.
"Creativitatea este 80% invatata si dobandita", spune Hal Gregersen, profesor la INSEAD Business School, cercetator axat pe descoperiri. Asadar, gata cu ideea "eu nu sunt creativ" si haide sa ne jucam!
Creativitatea nu este atributul unor alesi, ci un set de comportamente. Si mitul inspiratiei este chiar asta: un mit. Unul din cei mai mari artisti contemporani, Chuck Close, spune: "Inspiratia este pentru amatori. Noi, ceilalti, muncim pe branci."
Opt pasi de baza
Keith Sawyer afirma ca sunt opt pasi de urmat pentru o mai mare creativitate. Este cercetator cu experienta in domeniu si a scris cartea Zig-Zag – The Surprising Path to Greater Crea­tivity. El insusi are un profil personal neobinsuit. Este psiholog, dar si jazman si fost designer de jocuri video.
Va dati seama cam ce melanj fertil de idei se poate naste in capul cuiva cu atatea specializari. Sawyer afirma ca exista opt tehnici de baza pentru a ne provoca sa fim mai creativi si ca ele pot fi aplicate in orice ordine.
Merita spus ca a fi creativ inseamna sa-ti permiti sa destructurezi putin tot ceea ce stii sau ai invatat. Sa permiti patina dezordinei in informatii, sa vezi lucrurile din alte si alte unghiuri, dar nu din cele stiute.
1. Intreaba: adica fii curios cu privire la ideile primite. Ce ai invatat, pune sub semnul intrebarii. Fii ca si un copil care intreaba mereu "de ce". Creatorii exceptionali sunt cei care se disting prin calitatea intrebarilor lor. Einstein spunea ca formularea unei intrebari este mai importanta decat raspunsul. Asaza-te la masa de lucru si incepe sa te joci cu ideile primite. Aici, Sawyer vine cu un amendament important: nu trebuie sa stii incotro se indreapta demersul tau de gandire. Nu cauta un anume rezultat. Creativitatea este, prin definitie, descoperire. Dar in urma experimentelor facute s-a demonstrat ca oamenii creeaza idei mai valoroase daca au totusi niste parametri specificati. Adica li se cere sa genereze idei noi de ameliorare a unei functii a unui obiect, de exemplu, nu orice si oricum.
2. Invata: "Creativitatea este practica deliberata, nu e innascuta", spune Anders Ericson, lider in studiul creativitatii. Provoaca-te mereu sa vii cu ceva nou in domeniul in care lucrezi, nu te plafona. Reflecteaza la ceea ce functioneaza si la ce nu. Aplica ceea ce stii la situatii noi sau la noi probleme de rezolvat. Educa-te permanent. Citeste, vezi filme, vezi ce se potriveste dintr-un domeniu altuia. Cauta mereu cunoasterea. Cauta idei pe care altii nu le vor, joaca-te cu ele, intreaba-te de ce e asa si nu altfel… Echilibreaza specializarea cu generalitatea. Adica fii tot mai bun in domeniul tau, dar evita ochelarii de cal. Fii atent la nou, citeste din alte domenii.
3. Priveste: "Oamenii vad ceea ce sunt antrenati sa vada", spunea Emer­son. Asadar, antreneaza-te sa fii constient de fiecare element din jur, sa vezi ce nu vad altii. Aceasta atitudine are si un nume si este foarte la moda: mindfulness (psihologul Ellen Langer a facut o cariera mare dezvoltand acest comportament de atentie sporita, deschidere si curiozitate, pe care ar trebui sa il adoptam toti). Nu mai trai pe pilot automat! Incepe sa improvizezi, ca sa nu mai mergi pe cai batute. Cauta perspective multiple, pune-te in locul unuia si altuia, intreaba-te cum ar rezolva Cutare problema, din perspectiva lui/ei. Iesi din vizuina si interactioneaza cu mediul.
4. Joaca-te!: "Toate ideile au la inceut un caracter de nebunie", spunea Alfred Whitehead, filozof. Frica inhiba creativitatea, deci nu fi fricos sau fricoasa. Joaca-te, nu lua in serios practica, dar fa-o des. Este si foarte relaxant, de altfel, sa nu te iei in serios, dar sa exersezi constant. Vino cu explicatii hazardate. Importa idei din domenii diferite, vizualizeaza si expune-te la stimuli fara legatura. Inca ceva: lasa ceva neterminat (dupa ce te-ai concentrat destul la problema respectiva). Apoi dormi bine. E posibil sa te trezesti cu o solutie minunata. Creierul nostru lucreaza si in somn, uneori mai bine decat in stare de veghe.
5. Gandeste: genereaza multe, multe idei. Marii creatori au fost si niste mari productivi. Picasso a pictat peste 200 000 de panze. Einstein a produs peste 240 de lucrari de stiinta. Bach compunea cate o cantata  pe saptamana, iar Richard Branson, a carui ave­re face sa viseze toata planeta, a pus pe picioare peste 250 de companii (unele falimentare, ulterior). Ce ii caracterizeaza pe creatori? Produc multe lucruri si nu se tem de esec.
6. Fa legaturi: cum gandim creativ? Folosind analogia, lucrand simultan la mai multe proiecte, idei (astfel, cresc sansele sa se nasca idei bune dintr-un loc, care sa poata fi aplicate si in altul), substitutia (ca in matematica, ca sa vezi ce iese), combinatia, adaptarea si folosirea a ceva la… altceva. Combinarea lucrurilor indepartate ca functie sau concept poate duce la rezultate foarte creative, spune Keith Sawyer.
7. Alege: creativitatea este "capacitatea" de a face greseli si de a sti pe care sa le pastrezi, spunea Scott Adams, cercetator si el in domeniu. Adica nu orice ne trece prin cap merita retinut. Ideile bune sunt, prin definitie, simple, elegante (in sensul in care matematicienii spun despre o rezolvare ca este eleganta, adica simpla, fireasca, dar inedita) si utile.
8. Pune in practica: "Oricine a avut odata o idee buna, pe cand facea dus. Dar cel care iese de la dus, se sterge si face ceva cu ideea aceea, e cel care face diferenta". Bine spus! Sunt cuvintele lui Nolan Bushnell, fondator al companiei de succes Atari. Asadar, ideile trebuie puse, in practica, materializate cat de curand. Scoase in lume, sub o forma sau alta, pentru ca lumea le va proba valabilitatea (sau le va demonstra lipsa de valoare, lucru la fel de util, ca sa stii ce sa nu mai faci). Se stie ca gandirea creativa este o sosea cu dus si intors: gandurile duc la lucruri creative, facute, infaptuite manual, dar si o intensa activitate manuala provoaca gandirea la solutii. Gandirea este provocata de corp!
✖
Mulțumim pentru că vrei să fim prieteni!
Iuliana Alexa
Iuliana Alexa a fost redactorul-sef al revistei Psychologies de la aparitia primei editii a revistei până în anul 2019. Iuliana a absolvit Facultatea de Litere si este coach.