New Year's Resolutions – 7 strategii de schimbat "năravul"

www.shutterstock.com
Asemenea zeului Ianus (cel care a dat numele lunii ianuarie din calendar), zeul sărbătorilor și riturilor de trecere și al fenomenelor de tranziție. înfățișat cu două fețe opuse: una privea înainte, cealaltă, înapoi… la început de an, majoritatea dintre noi privim în urmă la ce am realizat în anul care s-a încheiat, dar şi spre viitor şi spre ce vom face mai departe.
Este greu de identificat cu exactitate când a fost stabilită pentru prima dată tradiția noastră de a face rezoluții de Anul Nou. Anna Katharina Schaffner, autoarea cărții The Art of Self-Improvement, observă referiri literare la auto-îmbunătățire chiar şi China şi Roma antică.
Când oamenii doresc să schimbe ceva în viața lor, deseori încep de la o etapă temporală, cum ar fi începutul unui nou semestru şi este cunoscut în literatura de specialitate ca "fresh start effect". Pentru marea majoritate a oamenilor cea mai mare piatră de hotar temporală este începutul unui nou an. Practica atașării obiectivelor la o anumită dată calendaristică era deja bine stabilită în anii 1860, așa cum se vede într-una dintre scrisorile lui Mark Twain.
"Ieri, toată lumea și-a fumat ultimul trabuc, și-a băut ultimul pahar și și-a depus ultimul jurământ", a scris el la 1 ianuarie 1863.
Rezoluţiile cele mai populare în 2021 au fost: renunţarea la fumat, reluarea activităţilor sportive, adoptarea unui stil de viaţă mai sănatos, pierderea în greutate. Cei mai entuziasmaţi de acest obicei par a fi americanii – 44% dintre ei au declarat în ultimii 3 ani, că îşi setează obiective noi de la 1 ianuarie, iar la polul opus se regăsesc suedezii care sunt ceva mai sceptici şi doar 12-18% se dedau acestei practici. Statisticile din 2020 ne arată că doar 50% din cei care şi-au setat rezoluţii le-au păstrat pe parcursul anului, iar printre factorii care duc la eşec putem enumera că: oricât de intens ne-am dori ceva, nu suntem pregătiţi pentru schimbare, nu ne monitorizăm progresele, ne supraestimăm capacitatea de planificare, şi lista poate continua.
În ciuda popularității rezoluțiilor de Anul Nou, studiile efectuate şi cunoștințele actuale despre acestea sunt limitate. Cu toate acestea cercetările privind obiectivele personale în general ne oferă o perspectivă mai bună asupra complicatului proces de schimbare a comportamentului cuiva şi concluzia generală este că accesul la informații, instrucțiuni și exercițiile privind stabilirea eficientă a obiectivelor, influenţează în mod pozitiv implementarea cu succes a schimbărilor dorite. Aşa că haideţi să vedem împreună ce putem face pentru a ne atinge scopurile!
"O călătorie de o mie de mile începe cu un pas" – spune un proverb chinezesc, aşa că prima regulă pentru a reuşi, este să ne stabilim aceste rezoluţii. Ele nu reprezintă o pierdere de vreme cum susţin scepticii şi chiar dacă nu reuşim întotdeauna să le ducem la capăt aşa cum ne imaginam la început, tot facem ceva mai mult decât dacă nu le-am seta deloc.
Momentul potrivit – cercetători şi studenţi din cadrul Universităţii Plymouth şi a Universităţii de Tehnologie Queensland ne îndeamnă să fim atenţi când ne stabilim rezoluţiile pentru Noul An, deoarece e foarte posibil ca starea de fericire şi relaxare din perioada sărbătorilor de iarnă, faptul că ne-am satisfăcut diversele pofte sub pretextul meselor îmbelşugate sau a întâlnirilor cu prietenii, să ne facă să subestimăm intensitatea viitoarelor dorinţe şi ispite cu care inevitabil ne vom confrunta (fie că e vorba de sedentarism, poftă de dulce sau orice alt obicei de care vrem să scăpăm).
În consecinţă ne putem relaxa aşa cum ne dorim de Crăciun şi să stabilim rezoluţiile cu câteva zile înainte sau după sărbătorile de la finalul anului, pentru a putea să ne estimăm corect puterile şi să ne stabilim nişte obiective realizabile.
Când ne notăm rezoluţiile este indicat să ne rezervăm câteva minute pentru a ne imagina ce vom face astăzi pentru a începe planul nostru, ce vom face în continuare și cel mai important, cât de bine ne vom simți să reușim în fiecare zi!
"Voi începe" în loc de "Voi renunța sau voi evita" – potrivit celui mai mare studiu de până acum privind New Year's Resolutions, oamenii care îşi stabilesc ca scop să adauge comportamente mai degrabă decât să șteargă unele mai vechi, au mai multe șanse să le mențină timp de un an.
Acest studiu completează alte cercetări psihologice care sugerează că este mult mai ușor pentru oameni să înceapă lucruri decât să renunțe la a face ceva. În momentul în care limităm sau interzicem o anumită acțiune – "nu voi mai mânca dulciuri" – creierul se poate fixa pe acel "lucru interzis" şi doar prin puterea voinței este extrem de dificil să suprimăm poftele.
O  abordare mai prietenoasă ar fi "voi mânca o salată de fructe în fiecare zi" – iar nutriţioniştii au dovedit că o gustare de fructe zilnic reglează glicemia şi ţine sub control pofta de dulce, deci vom renunţa la prăjitură mult mai uşor, nu din cauză că ne abţinem ci pentru că nu mai simţim nevoia.
Adoptarea rezoluţiilor realizabile şi realiste – uneori, oamenii se pregătesc pentru eșec țintind prea multe schimbări, prea repede. Obiceiurile pe care dorim să le schimbăm s-au cuibărit în rutina noastră poate în ani de zile, deci este nerealist să credem că vom scăpa de ele în câteva luni. Dacă era aşa de uşor o făceam demult, nu?
Cheia succesului este să ne propunem o rezoluţie generală, dar să ne concentrăm pe paşi mărunţi, concreţi, uşor de numit şi de monitorizat. De exemplu, dacă ne propunem să nu mai fim sedentari atunci ne stabilim ca scop trei plimbări lungi pe săptămână, în acelaşi timp ţinând cont de condiţia fizică în aşa fel încât să le putem duce la capăt.
Stabilirea obiectivelor pe termen scurt – deşi New Year's Resolutions se stabilesc pentru un an întreg, studiile ne arată că, obiectivele pe termen scurt, de o lună, se ating mult mai rapid şi mai uşor, iar recompensele din viitorul apropiat ne motivează mai mult decât ceva ce se va întâmpla sau nu peste un an.
Jurnalul de bord – monitorizarea este cheia succesului! Cum să ştim că facem ceva mai bine dacă nu comparăm şi nu urmărim evoluţia în timp?
De exemplu, un studiu din 2015 publicat în Journal of Medical Internet Research a constatat că aplicațiile de fitness pot motiva oamenii să facă mai mult sport. Urmărirea nivelurilor de activitate poate ajuta oamenii să depășească barierele percepute în calea exercițiilor fizice. Toate acele scuze pe care suntem tentaţi să le găsim s-ar putea să zboare pe fereastră atunci când ne monitorizăm progresul.
Indiferent dacă utilizăm o aplicație care ne urmărește cheltuielile, caloriile consumate, cât de lungi sunt sesiunile de alergat sau evaluarea săptămânală din partea nutriţionistului, există multe moduri în care putem urmări progresele.
"Schimbarea este inevitabilă şi este singura constantă" – afirmă filozoful grec Heraclit, ceea ce înseamnă că avem nevoie de flexibilitate în gândire. Scopurile noastre se vor schimba în permanenţă, la fel şi circumstanţele şi priorităţile. Pentru a avea succes este necesar să reevaluăm constant, să renegociem cu noi înşine, să ne iertăm pentru slăbiciunea de moment dacă apare şi să continuăm cu paşi mici drumul către ţelul nostru.
Inevitabil, greşeli se întâmplă atunci când lucrezi la o rezoluție. De fapt, un studiu de la Universitatea din Scranton arată că oamenii care au succes în a-și respecta rezoluțiile pe termen lung au tendința de a scăpa (definit ca reapariția unui comportament nedorit) de cel puțin 14 ori. Un ameţitor procent de 71% dintre indivizi au spus că greșelile lor le-au întărit de fapt dorința de a-și atinge obiectivele.
În loc de concluzie: "The best is yet to come." – Frank Sinatra
✖
Mulțumim pentru că vrei să fim prieteni!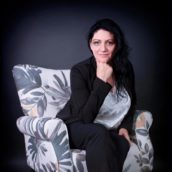 Ramona Georgiana Pascu
Ramona Georgiana Pascu este psiholog clinician şi psihoterapeut cu formare în terapia cognitiv-comportamentală. Îşi ghidează viaţa după motto-ul "Dacă în viaţă poţi fi orice, fii bun!" şi crede cu tărie în puterea exemplului. Pornind de la nevoia de autocunoaştere, aplicată permanent asupra propriei persoane, foloseşte în mod distinctiv o abordare holistică a cazurilor sale, îmbinând în practica sa metode psihoterapeutice şi de asistenţă medicală, cu rezultate vizibil de impact asupra pacienţilor săi. Îşi ghidează terapia cu blandeţe şi căldură, pentru ca aceştia să îşi descopere calităţile şi atuurile, să devină stăpâni pe propriile forţe. Îmbinând cu măiestrie vastele cunoştinţe în domeniul psihologiei, ale medicinei şi pura experienţa de viată, integrează în mod constant psihoeducaţia atât în terapie cât şi în viaţa personală. Astfel, cu fiecare ocazie reuşeşte să ne informeze, să aducă în atenţia publicului ştiinţa explicată şi aplicată şi să faciliteze pentru cei din jur acest frumos, dar anevoios, proces al dezvoltării personale.