GLAMOUR de noiembrie: editia aniversara de 9 ani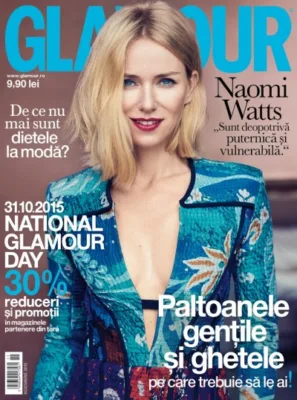 Luna aceasta GLAMOUR implineste 9 ani de existenta pe piata din Romania iar cu ocazia acestei editii aniversare, v-a pregatit o surpriza pe care cu siguranta o veti adora: National GLAMOUR Day, o zi intreaga in care te vei putea bucura de discounturi de pana la 30% in peste 275 de magazine de tara.
Naomi Watts si dezvaluirile sale despre viata de familie, colaborarea ei cu Matthew McConaughey, filmul care i-a marcat cariera si moda, cele mai hot piese ale sezonului (de la cele mai cool paltoane la modelele de genti in care merita sa investesti), un argument in favoarea disparitiei dietelor si cea mai sofisticata culoare a momentului in materie de machiaj: toate acestea te asteapta in GLAMOUR de noiembrie, din 24 octombrie la chioscurile de ziare din Bucuresti si din tara.
Naomi Watts, una dintre actritele noastre preferate, este o adevarata maestra a improvizatiei si o femeie care adora provocarile. Ea ne dezvaluie modul inedit in care s-a pregatit pentru rolul din The Sea of Trees, in care joaca alaturi de Matthew McConaughey, dar si care este filmul care i-a transformat radical cariera. Naomi vorbeste deschis despre varsta sa, familie, prietenele ei (printre care se numara si Nicole Kidman) si tinutele spectaculoase pe care le alege pentru covorul rosu.
Cu GLAMOUR de noiembrie, dam startul la cumparaturi! Sarbatoreste alaturi de noi NATIONAL GLAMOUR DAY si descopera cele mai sylish colectii ale noului sezon. Pe 31 octombrie, vei avea parte de promotii speciale si discounturi de pana la 30% in 275 magazine din intreaga tara, asa ca este momentul sa te pregatesti pentru cea mai glam sesiune de shopping din acest an. Intra aici pentru a vedea toate promotiile.
La capitolul fashion, vorbim despre viitorul tau palton, cea mai importanta piesa din garderoba in aceste luni si iti spunem care sunt cele mai frumoase modele ale acestui sezon. In plus, tartanul este prezent din nou pe lista favoritelor de iarna, iar geanta cu franjuri face furori in acest sezon, asa ca am selectat pentru tine cele mai cool modele.
Tot in numarul de noiembrie, iti spunem cum iti poti mentine privirea luminoasa si cum poti combate semnele de imbatranire din jurul ochilor. Vorbim si despre culoarea momentului, o nuanta deschisa de piersica, dar si despre cel mai chic ponytail. Mai mult, Oana Statache, beauty editorul GLAMOUR, a incercat luna asta cateva tehnici de relaxare si infrumusetare remarcabile si iti spune ce merita testat!
Mergem mai departe si pornim o adevarata dezbatere despre diete. In ultime vreme, femeile au invatat sa spuna nu dietelor restrictive si obsesiilor privind pierderea in greutate. In loc de asta, au inceput sa manance prajituri – si sa se simta mai bine ca niciodata.
Afla din GLAMOUR de noiembrie cum te poti face remarcata la job si care este eticheta post-despartire pe retelele de socializare. Plus: ti-am pregatit o intoarcere in La Belle Epoque, secolul elegantei absolute, si o discutie despre bluza cu funda, noul hit al sezonului.
GLAMOUR de noiembrie va fi din 24 octombrie la chioscurile de ziare din Bucuresti si din tara la pretul de 9,90 lei. 
✖
Mulțumim pentru că vrei să fim prieteni!