Daniel Craig, James Bond VIII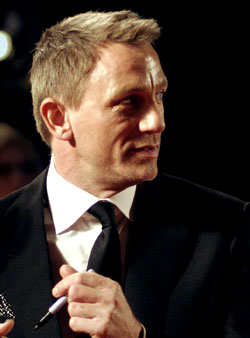 Daca este sa respectam tot adevarul, Daniel Craig vine pe urmele altor sapte actori, remarcabili fiecare pentru viata si cariera lor. Este primul James Bon blond, iar frumusetea nu este principalul sau atu. Distribuirea sa in acest rol a fost privita cu rezerva, dar a fost sustinut de cei care au facut inaintea lui acest rol si au creat istoria lui 007.

Cine au fost acesti actori? Majoritatea, britanici. Unii dintre ei, actori cu predilectie pentru teatru. Unii, cu titlu nobiliar in fata numelui. Toti cu biografii si cariere interesante.
1. Barry Nelson Who?
Barry Nelson (1917 –2007) este retinut in istoria cinematografiei ca primul actor care l-a jucat pe James Bond, in 1954, in adaptarea pentru televiziune a romanului Casino Royale al lui Ian Fleming.
S-a nascut in San Francisco, California, intr-o familie cu origini norvegiene. A inceput sa joace teatru inca din scoala, interpretand un rol de octogenar. In 1941, la scurt timp absolvirea Universitatii Berkley din California, a semnat un contract cu Studiourile Metro Goldwyn Mayer. A debutat in acelasi an, cu rolul lui Paul Clark din Shadow of the Thin Man (Umbra Omului de Tinichea). A urmat, in 1942, rolul Lew Rankin din filmul noir crime/drama Johnny Eager. In total, istoria filmului a inregistrat 85 de productii – majoritatea, pentru televiziune – in care a jucat Nelson. Ca un fapt notabil: a fost bun prieten cu tenorul Mario Lanza.
In timpul celui de al doilea Razboi Mondial, a debutat in teatru, pe Brodway, unde avea sa faca o lunga cariera. Intre multe alte spectacole la realizarea carora a participat, ramane de referinta comedia Floarea de cactus (1965), in care apare alturi de Lauren Bacall.
Filmul facut in 1954 se voia un episod-pilot pentru un viitor serial, proiect care nu s-a materilaizat. Barry Nelson a ramas, pana astazi, singurul actor american care a jucat rolul lui James Bond si se spune ca a creat un personaj tipic american, un… Jimmy Bond.
"Pe vremea aceea, nu auzise nimeni de James Bond. Ma scarpinam in cap si ma intrebam cum sa-l joc. Nu citisem cartea pentru ca nu auzise nimeni de ea."
Barry Nelson, intr-un interviu din 2004, pentru Cinema Retro
Zodia: Berbec (16 aprilie)
2. Sir Thomas Sean Connery – Nec plus ultra!
Sean Connery este cunoscut ca primul interpret al lui James Bond pe marele ecran. Nascut in 1930, la Edinburgh, Scotia, Thomas era fiul unei menajere si al unui sofer de camion. (Apropo: prenumele Sean i-a fost adaugat ulterior, in copilarie, de ctre colegii si tovarasii lui de joaca.) Dupa o copilarie modesta din punct de vedere material, prima lui slujba a fost de laptar, angajat la Societatea Cooperativa St. Cuthbert's din orasul natal.
S-a inrolat in Marina Regala, dar a fost demobilizat dupa trei ani, din cauza unui ulcer duodenal. Din scurta sa experienta militara s-a ales cu doua tatuaje pe care le are si astazi si nicio clipa nu s-a dezis de cele doua valori pe care acestea le afirma: familia si Scotia. "Mum and Dad" si "Scotlan Forever" sunt cuvintele pe care Sean si le-a gravat.
S-a intors la Cooperativa St. Cuthbert's, apoi a mai avut si alte joburi, printre care muncitor necalificat, sofer de camion, model la scoala de arta, tamplar intr-un atelier de sicrie. Pasionat cu bune rezultate de bodybuilding, a participat la concursuri si s-a remarcat, ceea ce i-a deschis drumul catre scena si ecran.
Filmografia lui Sean Connery este atat de cunoscuta si atat de consistenta, incat ma voi rezuma sa mentionez Premiul Academiei Americane de Film (Oscar) care i s-a decernat pentru rolul secundar – mai adecvat suna in engleza: "supporting role" adica "rol de sustinere" – Jim Malone din Incoruptibilii, un film cu Al Capone si Eliott Ness, realizat in 1987, avandu-i ca principali oponenti pe Robert De Niro si Kevin Costner.
A fost innobilat de regina Elisabeth II a Marii Britanii, in anul 2000.
In anii 1962-1967, 1971 si 1983, Sean Connery a jucat de sapte ori, in sapte filme rolul lui James Bond:
Dr. No (1962)
From Russia with Love (1963)
Goldfinger (1964)
Thunderball (1965)
You Only Live Twice (1967)
Diamonds Are Forever (1971)
Never Say Never Again (1983)
Zodia: Fecioara (25 august)

3. James David Graham Niven – The Moon's a Balloon
James David Graham Niven (1910 – 1983) a fost un actor de moda veche, stilat si distins, dar destul de subtil incat sa-l interpreteze cu mare succes pe Phileas Fogg, din Ocolul Pamntului in 80 de zile, rol pentru care a primit, in 1956, Premiul Academiei Engleze.
Nascut in Londra, a urmat Scoala de Marina Stowe, apoi Colegiul Marinei Regale, Sandhurst, desavarsindu-si prin aceasta educatie profilul de ofiter-gentleman. Mai mult decat cariera militara l-a atras, insa, actoria si, din 1932 incepe sa joace in filme. In 1934, descinde la Hollywood.
Dupa intrarea in razboi a Marii Britanii, in 1939, se intoarce in patrie si se inroleaza. Ca ofiter, are un aghiotant ce avea sa devina chiar mai celebru decat el: soldatul Peter Ustinov. Mai tarziu, in 1978, viata avea sa-i aduca impreuna si pe platourile de filmare in Moarte pe Nil.
De-a lungul cariei sale de peste jumatate de veac, David Niven a jucat in 112 filme, incheind, savuros, cu rolul Sir Charles Litton din miniseria de doua filme cu Pantera Roz (1982 si 1983).
Motivul pentru care l-am evocat este rolul principal, James Bond, pe care l-a jucat in 1967, intr-o noua ecranizare dupa Casino Royale.
Despre film, despre actori, despre razboi si despre discutiile particulare cu Winston Churcill, actorul povesteste in autobiografia sa intitulata The Moon's a Balloon.
Zodia: Berbec (16 aprilie)
✖
Mulțumim pentru că vrei să fim prieteni!