Catherine Zeta-Jones – Iubesc provocarile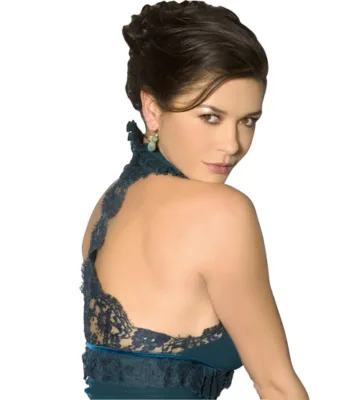 O putem vedea la cinematograf in rolul unui seducator agent secret rus in Red 2, un film ce imbina cu succes comedia si actiunea, si are o distributie formidabila. Indiferent de faima de care se bucura, pentru ea, rolul cel mai important este cel de mama si, desi este o aparitie spectaculoasa si rafinata, ne poate surprinde cu alegeri simple, banale.
La inceputul lunii august, publicatiile axate pe vedete anuntau posibilitatea destramarii unuia dintre cele mai faimoase cupluri de la Hollywood: Catherine Zeta-Jones si Michael Dou-glas. Se pare ca cel din urma deja parasise caminul conjugal, invocand problemele de sanatate ale Catherinei, diagnosticata ca bipolara si, de aici, un comportament caruia el nu ii mai putea face fata.
Cu siguranta, nu a fost simplu pentru cei doi sa se lupte cu cancerul si tulburarile psihice, Catherine Zeta-Jones declarand ca vestea imbolnavirii sotului sau i-a afectat propria sanatate si i-a accentuat boala, pe care cu greu a recunoscut-o public, fiind o persoana foarte discreta si rezervata, dar care spera ca, discutand deschis despre ce inseamna sa fii bipolar, va ajuta oamenii aflati in aceeasi situatie.
In cazul divortului, cuplul ar trebui sa imparta o avere estimata la peste 300 de milioane de dolari, dar daca se va ajunge aici, ramane de vazut, mai ales ca acum ceva vreme, intr-un interviu, Catherine Zeta-Jones declara ca a fost crescuta intr-un puternic spirit catolic, iar pentru ea ideea de divort pur si simplu nu exista.
Este un fan declarat al musicalurilor, in special cele pe care le-a vazut in copilarie – Mary Poppins (1964), Chitty Chitty Bang Bang (1968) – si este prietena foarte buna cu Bonnie Tyler, care a cantat la nunta ei cu Michael Douglas, amandoua fiind nascute in aceeasi regiune.
Cariera Catherinei include si o companie de productie, numita Milkwood Film, al carei nume a fost inspirat de piesa Under Milkwood, scrisa de Dylan Thomas, originar din Swansea, orasul natal al actritei. Talentul sau actoricesc i-a fost recunoscut prin acordarea diferitelor premii, iar in 2010 a primit din partea reginei Angliei distinctia Commander of the Order of the British Empire.
Psychologies: Cum erati cand v-ati inceput cariera, aveati acea intensitate fulminanta?
Catherine Zeta-Jones: La debut, da. Cand aveam 11 ani, imi petreceam fiecare secunda libera cantand si dansand, iar la 16 ani, am decis sa merg sa studiez la Londra. Eram foarte hotarata si ambitioasa. Acum sunt mult mai relaxata, ca stil de viata, in general. Am o familie si nu mai simt dorinta aceea arzatoare de a lucra. Cu siguranta, mi s-au schimbat prioritatile. Ce este interesant insa este sa o vad pe fiica mea, Carys, cum da semne ca ar vrea sa imi calce pe urme.
Care a fost decizia esentiala in cariera dvs.?
CZ-J: Cel mai bun lucru pe care l-am putut face a fost sa parasesc Londra, unde lucram in televiziune, si sa ma mut la Los Angeles. Pentru mine, asta a schimbat totul.
Cum ati reusit sa pastrati echilibrul familie-cariera?
CZ-J: Nu prea imi place sa folosesc cuvantul "echilibru" cand vine vorba de copiii mei. In final, ei sunt viata mea, iar res-tul vine ca un bonus. Inainte de a fi mama, totul se rezuma la a-mi face bagajele pentru filmari, care aveau loc in diferite tari; acum nu mai pot trai asa. Incerc sa imi programez munca intre perioadele cand ei sunt alaturi de mine.
V-ar placea sa fiti din nou pe scena?
CZ-J: In ultima vreme, chiar am primit destule oferte sa plec la New York pentru anumite proiecte, in general musicaluri. Dar asta presupune un angajament foarte mare. Perioada de repetitii, sa fii in forma pentru show… Ar trebui sa fie un rol pe care mi-l doresc foarte mult, astfel incat sa ii dedic cel putin un an. Poate ca durata nu este – in mod normal – foarte mare, dar pentru mine este importanta, daca ma gandesc la aspectul logistic: adica, ori ma mut la New York, ori zbor frecvent acasa. Asadar, o piesa de teatru sau un musical se afla in plan, dar nu stiu cand se va intampla asta si cum ma voi descurca.
Citeste continuarea interviului in revista Psychologies, editia septembrie 2013.
✖
Mulțumim pentru că vrei să fim prieteni!