"Colentina"- prima expozitie de fotografie a actritei Ada Condeescu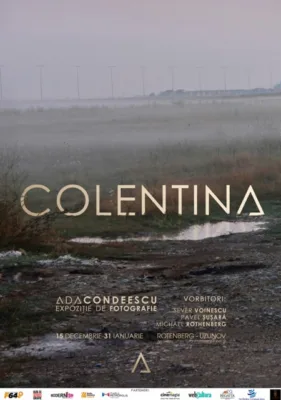 Ada Condeescu, unul dintre partenerii minunati ai proiectului I wonder (vezi aici pachetul pe care-l realizam impreuna cu Ada), nu conteneste sa-si surprinda publicul. Astfel, pe 15 decembrie, la ora 18.30, in cadrul Galeriei Rotenberg-Uzunov din Bucuresti, starul din "Eu cand vreau sa fluier, fluier", "Loverboy" sau "Dincolo de calea ferata", debuteaza cu un proiect fotografic intitulat "Colentina".
Expozitia cuprinde cadre care surprind printr-o poezie subtila, reusind sa redea starile complexe care se nasc din alaturarile dintre geometria urbana si crampeiele de natura.
Momente de inspiratie intr-un sezon plin, fotografiile au fost realizate in timpul filmarilor pentru "Dincolo de calea ferata", cea mai recenta productie a regizorului Catalin Mitulescu, o poveste misterioasa si tensionata de dragoste, la randul ei impartita intre scene dramatice si nuante comice, film selectionat anul acesta in competitia pentru Globul de Cristal la Festivalul International de la Karlovy Vary.
"Fac fotografie de multa vreme, inca dinainte de vremea studentiei. Este vorba de o mostenire de la tata, el mi-a daruit primul aparat foto pe film, iar in anul doi de facultate am luat premiul pentru imagine la Festivalul "Cinemaiubit" organizat de UNATC.
De altfel, profesorii si oamenii de meserie din jurul meu m-au incurajat mereu si asta a fost foarte important", spune Ada Condeescu.
Vernisajul expozitiei "Colentina" va avea loc miercuri, de la ora 18.30, la Galeria Rotenberg-Uzunov din strada Constantin Esarcu nr. 1.
"O vom reprezenta pe Ada Condeescu pe termen lung si suntem fericiti ca putem sprijini, ca intotdeauna, tineri artisti mai mult sau mai putin cunoscuti marelui public.
Aceasta expozitie este doar inceputul colaborarii cu Ada Condeescu, urmand ca in viitor sa participam la targuri si expozitii internationale de arta", spune Eduard Uzunov, co-fondator al galeriei de arta Rotenberg-Uzunov.
"Compozitia este elementul care ma intriga cel mai mult si care imi conduce privirea intr-o imagine. Nu ma limitez la un subiect, incerc sa compun cat mai mult in interiorul unei imagini, sa fac din asta un exercitiu vizual din care instinctul reda imaginea finala. Ma las in voia lui si imi place asta.
Vad lucrurile in mintea mea intr-o anumita asezare si din asta se naste si nevoia de a fotografia. Fac asta de mult timp, insa abia acum am simtit ca e momentul sa impartasesc.
E o zona deocamdata neexpusa a mea si mi-a placut perioada de mister, acum cred ca trebuie sa eliberez aceste imagini, sa aiba drumul lor", marturiseste Ada Condeescu.
Absolventa a Universitatii de Arta Teatrala si Cinematografica din Bucuresti, Ada Condeescu a primit roluri in filme bine cotate inca de la debutul sau in lungmetraj, cu productia "Eu cand vreau sa fluier, fluier", productie cu care regizorul Florin Serban a castigat Ursul de Argint la Berlinala.
Colaborarea cu Catalin Mitulescu a inceput inca din anul 2011, cu filmul "Loverboy", care i-a adus Adei Condeescu premiul The Heart of Sarajevo, trofeul pentru cea mai buna actrita al Festivalului de Film de la Sarajevo.
La gala de premiere, trofeul i-a fost inmanat de actorul Michael Fassbender si, cu aceasta ocazie, Ada Condeescu a fost felicitate de personalitati ale lumii cinematografice mondiale, printre care si Angelina Jolie.
Citeste mai multe despre cauza proiectului I wonder, in care s-a implicat cu multa generozitate si Ada Condeescu.
In anul 2013, a fost selectionata pentru cea de-a 16-a editie a programului Shooting Stars la Festivalului de Film de la Berlin, o initiativa care promoveaza in plan international cei mai talentati tineri actori europeni, carora li se faciliteaza astfel intalnirea cu membri importanti ai industriei cinematografice (actori consacrati, regizori, producatori de renume, directori de casting).
Printre rolurile importante de film ale Adei Condeescu se numara si cele din "Lupu" (2013), al regizorului Bogdan Mustata, sau "Love Island" (2014), al regizorului croat Jasmila Zbanic.
Ada a fost distribuita si in filmul "Fratii", care va avea premiera internationala in 2017.
✖
Mulțumim pentru că vrei să fim prieteni!