Primul centru pentru educatia de excelenta din Romania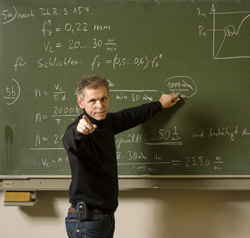 IRSCA Gifted Education lanseaza prin colaborare cu Central European University Business School si Johns Hopkins University Carey Business School proiectul consultativ de audit pentru dezvoltarea in Romania a primului Centru Gifted Education.
IRSCA Gifted Education anunta in calitate de organizatie client lansarea proiectului consultativ de audit al planului de dezvoltare in Romania a primului Centru Gifted Education, centru non-profit privat independent prin colaborare cu Central European University Business School si Johns Hopkins University Carey Business School.
Proiectul consultativ derulat pe perioada Ianuarie – Aprilie 2009, in cadrul unui "Global Consulting Project" va intruni eforturile unei echipe multi-culturale formata din 5 studenti de pe 2 continente.
Proiectul va dura 12 saptamani si include lucrul in multi-echipe virtuale, urmand ca in ultima saptamana (13-17 aprilie 2009) echipa sa se dedice lucrului alaturi de membrii organizatiei in Romania pentru a strange informatii aditionale, pentru a testa ipoteze si a obtine feedback asupra recomandarilor preliminare si pentru a da publicitatii raportul final al analizei.
Studentii MBA din proiect sunt sustinuti de profesori apartinand CEU si Johns Hopkins University care vor monitoriza platforma de invatare si vor oferi mentorat si sprijin in timpul proiectului. Acest program este parte a unei platforme largite de invatare in cadrul programului MBA Fellows al Johns Hopkins University care urmareste invatarea bazata pe lucrul direct la proiecte pentru a atinge rezultate masurate prin analize autentice ale performantei.
"In conditiile in care nivelul de educatie si dezvoltare profesional din Romania a ajuns cotat printre ultimele din Europa, necesitatea construirii unui astfel de centru neinfluentat de fluctuatiile politice devine imperioasa pentru viitorul national si pentru rezolvarea crizelor nationale sau globale.
Auditarea acestui proiect trebuie facuta atat asupra dimensiunilor centrului cat si asupra necesitatii programelor, necesitatilor de finantare, parteneriatelor interne sau externe si nivelului de implicare in programele de parteneriat ale tertilor si liniilor de dezvoltare strategica ulterioare pornirii centrului; va analiza potentialul de capacitate mentala si abilitate cognitiva de nivel inalt in randul tinerilor, reteaua de stakeholderi, posibilitatile de finantare initiala si ulterioara si strategia de finantare a proiectului, precum si gradul de posibila cooperare cu institutiile statului.
Auditarea proiectului se va face de asemenea asupra reactiilor anterioare sau posibile in viitor ale autoritatilor din Romania vis-a-vis de programul de dezvoltare a unei linii de educatie de excelenta, a legislatiei in vigoare sau aflata in stadiu de proiect, a gradului de aplicare a acestei legislatii si asupra necesitatii de pilotare din partea societatii civile si a retelelor de specialisti a programelor de reforma in educatie din Romania.
De asemenea, auditarea se va face asupra viabilitatii proiectului in conditiile dezvoltarii retelei de colaborare externa cu diaspora intelectuala si cu specialistii internationali. Proiectul va sta la baza planului strategic de reprofesionalizare a Romaniei." a declarat Presedinte IRSCA Gifted Education, Presedinte EDUGATE, Prof. Florian Colceag, MA .
"Credem ca rolul unei Universitati nu este numai acela de a asigura educatie, ci si de a contribui la aducerea cunoasterii in societate ca intreg. Prin proiectul Johns Hopkins University / CEU Business School Joint Consulting Project, realizam ambele scopuri. De asemenea, credem ca este important pentru studentii nostri sa intelega ideea potrivit careia comunitatea locala si tinerii care se vor transforma in liderii de maine sunt stakeholderi la fel de importanti intr-o companie ca si un actionar sau un patron."
Oliver Olson, MBA, MBA Program Director, CEU Business School
"Pentru a sustine interesele economice nationale ale Romaniei este de o importanta strategica dezvoltarea unui institut cu statut international pentru a cultiva o masa critica de talent si inteligenta in tara. Suntem incantati sa ne implicam in infiintarea primului centru national de educatie pentru copii supradotati. Prin parteneriatul cu comunitatea si sutinand copiii cu performante extraordinare sa-si dezvolte inteligenta si aptitudinile, suntem convinsi ca un astfel de centru va servi drept model pentru revitalizarea educatiei in Romania. Sprijinul oferit acestor copii se va transforma in final prin contributia lor intr-o forta pozitiva si transformatoare in societate." – a declarat Echipa de consultanti ai Johns Hopkins University & CEU Business School Joint Consulting Project.
Cu o traditie de peste 130 de ani, Johns Hopkins University ramane un lider mondial atat in domeniul predarii si al cercetarii. Aproape inca de la infiintarea sa, Johns Hopkins University a oferit o educatie de afaceri inovativa. Carey Business School se bazeaza pe traditia excelentei puse in practica si cercetare a Johns Hopkins University. Construita pe 9 decenii de programe de afaceri la Johns Hopkins University, Carey Business School si-a inceput activitatea in Ianuarie 2007, cu o donatie de 50 mil $ din partea Wm. Polk Carey, Membru Emeritus al bordului Johns Hopkins University si Chairman al companiei Carey & Company LLC, prin intermediul fundatiei sale, W.P. Carey Foundation.
WEB: http://carey.jhu.edu/
CEU Business School a fost fondata in anul 1989 de catre un grup de vizionari, printre care se numara filantropul George Soros si antreprenorul S¡ndor Demj¡n, fiind prima institutie educationala ce oferea programe de MBA de tip american in Europa Centrala si de Est. Inca de la inceputul activitatii, CEU Business School a dezvoltat standarde educationale aliniate modelelor occidentale, in acelasi timp pastrand permanent o savoare locala in paralel cu dezvoltarea economica a acestei regiuni. Cunoscuta initial sub numele de IMC (International Management Center), in anul 2002, Scoala de Afaceri a devenit parte integranta a Universitatii Central Europene (CEU – Central European University).
WEB: http://www.ceubusiness.org
IRSCA Gifted Education este o asociatie non-profit cu misiunea de a descoperi si dezvolta potentialul fiecarui copil si tanar. Membru WCGTC- World Council for Gifted and Talented Children; ECHA – European Council for High Ability; Asia Pacific Federation of the WCGTC, cele mai inalte foruri internationale in domeniul educatiei de excelenta (gifted education). Partener UNESCO. Initiator si prim fondator EDUGATE- Consortiul Roman pentru Educatia Copiilor si Tinerilor Supradotati si Talentati. Initiatorul legii educatiei tinerilor supradotati, capabili de perfomanta inalta – Legea nr.17/2007. Initiatorul primului Program National al Educatiei de Excelenta pentru o educatie de calitate in toate scolile romanesti, al retelei nationale de scoli afiliate CRED – Centrul Roman pentru o Educatie de Calitate, initiatorul campaniei nationale "Profesor de vocatie", al Institutului National de Studii pentru Educatia de Excelenta, al primei Conferinte Nationale asupra educatiei tinerilor si copiilor supradotati si talentati, al programelor de descoperire a potentialului tuturor copiilor, al programelor de invatare accelerata, consultanta, mentorat si de imbogatire a curriculei scolare.
WEB: www.supradotati.ro
✖
Mulțumim pentru că vrei să fim prieteni!