Viva! Charity Gala – sprijinul nostru devine speranta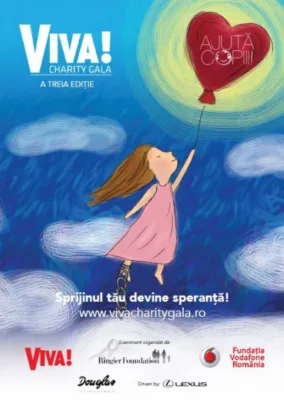 In urma cu patru ani, Fundatia Ringier lansa programul "Ajuta Copiii!", menit sa vina in sprijinul copiilor afectati de maladii cumplite, dar vindecabile. Din 2013 si pana acum, eforturile de strangere de fonduri pentru micutii din program au fost impulsionate prin lansarea Viva! Charity Gala, care a devenit unul dintre cele mai cunoscute evenimente caritabile din Capitala.
Programata initial pentru luna noiembrie a anului trecut, gala a fost amanata din respect pentru victimele tragediei din clubul Colectiv si reprogramata pentru luna februarie. Conceptul initial s-a pastrat: Viva! Charity Gala este centrata in jurul unei licitatii silentioase de obiecte de arta si de decor, cele mai multe unicat.
Considerati cel mai bine vanduti pictori in viata, Sorin Ilfoveanu si Stefan Caltia tin capul de afis al licitatiei organizate in cadrul noii editii Viva! Charity Gala.
Celor doi mari artisti li se alatura alti pictori, fotografi, designeri, dar si companii, ce au ales sa sustina evenimentul donand lucrari in editii limitate sau chiar unicat.
Astfel, poate cei mai celebri doi fotografi romani, Cosmin Bumbut si Alex Galmeanu, sunt prezenti prin doua compozitii alb-negru sensibile.
La limita dintre fotografie si studiu antropologic, Florin Ghenade doneaza una din piesele proiectului "Arbori Batrani", vernisata in noiembrie de Galeria Posibila, cea care pune la dispozitie si colajul "Last Day of Spring".
Lucrarea face parte din proiectul Taietura perfecta, construit in jurul lumii pictorului Stefan Caltia si a designerului vestimentar Valentina Vidrascu – cea care, la randul sau, este prezenta in cadrul licitatiei cu o ie lucrata manual.
Tudor Plaiesu, artist stabilit de ani buni in Germania, doneaza lucrarea "Symphony Inside", care intruchipeaza o silueta feminina, realizata in vin pe hartie Fabriano.
Unul dintre cele mai pretioase obiecte licitate in seara de 22 februarie este colierul Imperiale, donat de Le Midi, o creatie unica din 148 de perle cultivate si 3 trandafiri de coral sculptati manual, cu accente de jad.
Materialele pretioase, dar de cu totul alta natura, compun alta piesa de rezistenta a licitatiei, consola "Love Birds", realizata de Hamid Nicola Katrib din marmura Calacatta si lemn Wenge.
Designul interior este reprezentat in cadrul Viva! Charity Gala si prin sculptura "Serafim", realizat din lemn slefuit dintr-o veche usa a unei case din Sibiu, si prin doua piese superbe:
scaunul Lana pentru Photoliu, ce s-a bucurat de aparitii in publicatii precum Vogue Living, The Wall Street Journal sau The New York Times, si fotoliul Pogany, o creatie unica, realizata de decoratoarea Genoveva Hossu.
Catalogul de licitatii este completat de doua dintre companiile-sponsor ale Galei: Douglas doneaza parfumul exclusiv Sospiro Opera, iar Lexus Romania liciteaza un drive test de o saptamana la volanul noului SUV Lexus NX.
Si tu poti sa ajuti! Oricine poate sprijini cauza acestor micuti, donand un SMS de 2 euro la numarul 8828 sau licitand, chiar si de la distanta, unul dintre obiectele din cadrul Galei.
Descopera toate produsele donate pe www.vivacharitygala.ro!
✖
Mulțumim pentru că vrei să fim prieteni!